Crafted with natural and organic high-quality ingredients, SALT BY HENDRIX is an Australian-made botanical skincare range dedicated to performance-based, affordable luxury. With fashion-forward packaging that exudes luxury and style, these vegan formulas nurture the skin and soul with minerals, antioxidants and vitamins. 


Founder Kellie Collis' son suffered from eczema and she desperately began seeking naturally-derived remedies. On a mission, Kellie developed a formula that proved effective, and thus SALT BY HENDRIX was born. Originally consisting of body oils and bath salts, the vegan beauty range soon expanded to body products, hair mists, facial oils and organic roll-on fragrances.

Their popularity has risen, not just because of their effective products, but due to their commitment to conscious beauty. The SALT BY HENDRIX products are as much about wellness as they are about beauty. It is important to the brand to know exactly where the ingredients are sourced from, free from harsh chemicals and cruelty-free.


Some of the most loved SALT BY HENDRIX products include: 
Mermaid Oil: a highly moisturising formula rich in Omega's 6 and 9 to help support skin health, lock in moisture and stimulate cell regeneration. This superfood facial oil is feather light and easily absorbs into skin, leaving no oily residue behind.


Eye Babe:  to promote fresh, hydrated and youthful eyes. Created with a beautiful cocktail of plant-based oils, this lightweight beauty elixir absorbs easily into skin, helping to reduce the appearance of fine lines while preventing premature aging. 


Body Glow: Available in two shades, a gorgeous golden bronze and a luminous gold pearl, these body oils will intensely hydrate your body while coating your skin in a stunning natural lust-worthy radiance. 


With products spanning across skin, body and hair, this natural vegan beauty brand provides an uplifting experience inside and out. 

Buy now and pay later with AfterPay. 
Showing 20 products of 45.
---
Recent reviews on SALT BY HENDRIX products


SALT BY HENDRIX
SALT BY HENDRIX Grapefruit + Vanilla Body Polish
$39.95
Funky smell after use
I was really excited to try this product after someone from the Adore Beauty team recommended it to me in an online chat. I liked the grapefruit and vanilla smell when I first opened it, but after using the product twice and having had it open for 2 months, it smells very mouldy. Would not purchase again, considering this is an expensive product.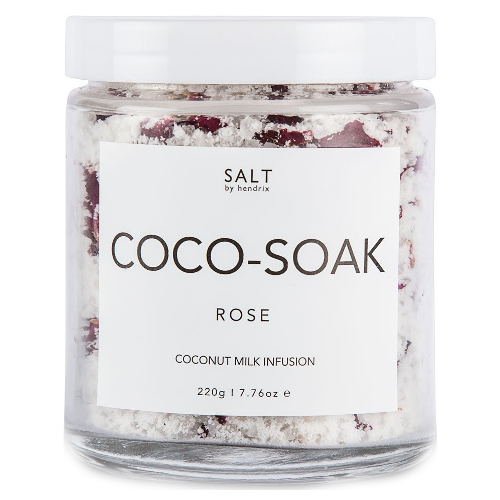 SALT BY HENDRIX
SALT BY HENDRIX Rose Coco-Soak 220g
$24.95
Gorgeous!
This bath soak is LOVELY! It smells very mildly of coconut, and the rose petals are so luxe in the bath tub; add a cheeky glass of champagne and you'd swear you were in Bali! The coconut milk in the soak powder moisturises skin so nicely, and really makes for a lovely self care session. Will definitely repurchase!