Alpha-H Essential Hydration Cream 50 mL
Frequently bought with
Please wait while we find a match
Questions & Answers
(3 Questions)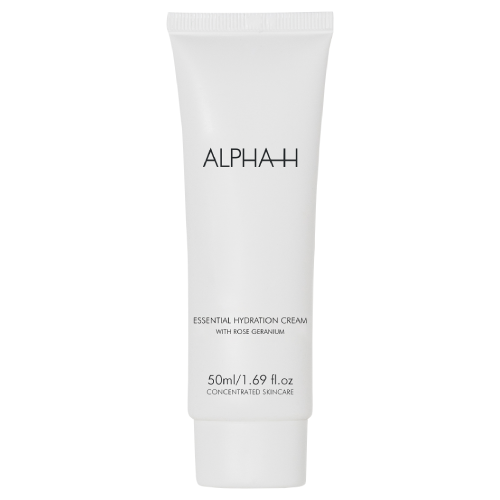 Alpha-H Essential Hydration Cream
Get an expert to answer your question about this product!
Ask a Product Question
82% recommend this product
Most Helpful Positive
Good
This leaves my skin so soft and smooth. Very hydrating
Most Helpful Criticism
Hydrating cream
i like this hydrating cream helps with dry patches on the face! very moisturising only need a little bit!
Very nice

I've only used a sample of this cream but the sample lasted about 5 applications.
It's a thick cream but absorbs quickly. It smells lovely & my skin felt wonderful even after the first use.

Good

This leaves my skin so soft and smooth. Very hydrating

Just amazing

This product is a beautiful light weight non-irritant moisturiser and smells absolutely divine.

Hydrating cream

i like this hydrating cream helps with dry patches on the face! very moisturising only need a little bit!

Ok night cream

Not the most luxurious night cream I have used, but not a bad effort. The scent however I find too strong and is the main reason I would no repurchase.

Good

This is a very moisturising cream and leaves my skin very soft. However I am not a fan of the essential oils in it

Favorite moisturiser

The texture is somewhat thick but it applies smoothly and is easily absorbed. I like the scent. It's a pleasure to use. I probably use too much as I enjoy it that much, but it doesn't clog up my pores or cause oiliness.

LOVE

This moisturizer literally saved my life, i have such dry and eczema prone skin but this helps soothe and re-hydrate amazingly, couldn't recommend enough!

Love it

Very hydrating & thick without feeling too heavy. Great under makeup too

Nice moisturiser but strongly scented

I like the texture of this moisturiser, and I'm always excited to find a moisturiser without shea or alcohol. The only thing that lets it down is the strong scent. I have to avoid this moisturiser if my skin isfeeling sensitised for any reason. It's a shame as the scent is in no way required.

Nice Moisturiser

Leaves my skin soft, smooth and hydrated. My skin has never been more healthy than when using this and the other Alpha-H products.

Love it

This moisturiser is by far my favourite. I'm in my mid 20's with combination/oily skin. This moisturiser doesn't make my skin oily however hydrates it and leaves my skin feeling smooth. Sits really well under foundation. Also smells amazing! You only need a small amount and it lasts for ages. Definitely recommend!

Thick

Quite a thick formula. Very effective on dry skin to lock in moisture. Unfortunately has a fragrance that some may not like.

Glides On!

I first tried this in a sample, and fell in love with it. It glides on beautifully and the smell is beautiful. I love using this product everyday, under my make up its perfect. Gives me just enough hydration, not drying at all.


Year round perfect moisturiser!

I've been using this for a number of years now and it's a product I never want to run out of! I have combination skin, some of which is dehydrated from years of harsh acne treatments. This moisturiser is ideal for providing richness to dry areas without making my t-zone oily.

Perfect for winter

I love this for winter or colder months when my oily skin gets dehydrated, this is rich but doesn't leave my skin feeling oily. My skin looks instantly healthier after putting it on.

very nice cream

A very nice, a lovely texture that feels very nice on the skin, leaving it hydrated and feeling comfortable, ready for the application of makeup. A very nice day cream

Meh

Wanted to love this product as my sister raves about it but I just don't think this product was for me. I am currently on roacctutane which leaves my skins pretty thirsty and dry. It soaks in well and has a nice scent but within half an hour my skin felt tight and dry. A very thin cream and doesn't take long to use if you need more moisture like me.