Alpha-H Essential Hydration Cream 50 mL
Questions & Answers
(3 Questions)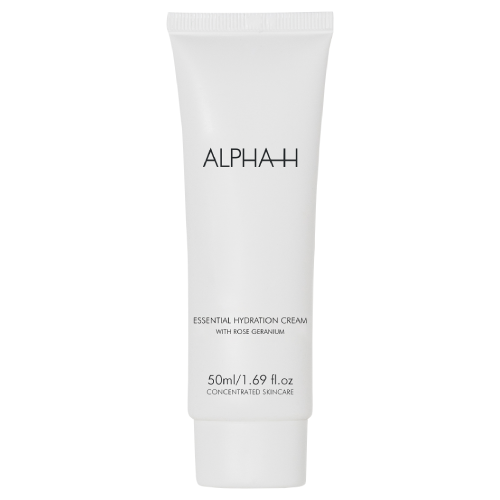 Alpha-H Essential Hydration Cream
Get an expert to answer your question about this product!
Ask a Question
87% recommend this product
Most Helpful Positive
My go to
My skin was so dry before using this product. This is now my go to cream.
Most Helpful Criticism
Smooth and light
I wanted to try a light moisturiser to wear under sunscreen . This suits my sensitive skin and does smooth and hydrate. Works well as a base before applying other products .
My go to

My skin was so dry before using this product. This is now my go to cream.

Perfect everyday moisturiser

Really light on the skin, not greasy but it keeps my skin subtle.

GREAT MOISTURISER

This is really good for my sensitive skin its very light and very hydrating.

Amazing product

I absolutely love this product. It hydrates my skin perfectly and makes it feel so lovely and soft. 10/10 recommend this product. No other moisturiser compares for me

Amazing!

This is such a nice moisturiser. I use this one at night time as it has no SPF, and it is absolutely amazing! Smells incredible and is so light and smooth on application.

Very hydrating

Had used this product for 5+ years. It is very hydrating and leaves the skin feeling supple and fresh.

Everything a moisturiser should be

I have combination skin and use this at night. It calms whilst hydrating and is especially good during winter when my skin gets distressed due to weather changes and office environments!

Great for dehydrated and sensitive areas

I got this as part of an Alpha H kit and really enjoy using it parts of my face which need a bit of moisture kick (around the mouth and eyes). It's actually a splendid eye cream and I had no irritation. I also quite like the rose scent but that's a matter of taste

Would not use this all over my face as it's too thick, but it blends well with other alpha h creams. Also good for sunburn or after mirconeedling

Smooth and light

I wanted to try a light moisturiser to wear under sunscreen . This suits my sensitive skin and does smooth and hydrate. Works well as a base before applying other products .

HYDRATING & SMELLS AMAZING

I found this moisturiser really hydrating and not heavy or oily at all.
I love the rose scent its not overpowering but smells so lovely!
I really liked the dispenser container also but it does make it hard to get the last little bits out of it.
Would recommend.

favourite Moisturiser

Absolutely love this product. I use it morning and night.
My skin is never too oily or dry. would recommend it to anyone with combination skin

Fabulous Product

This is by far the best moisturiser I have ever used. Really suits my combination skin without any increase in oily T-zone. Great in winter and summer and really hydrating.
Would definitely recommend this product.

Lightweight and dewy

Favourite moisturiser by far. It feels so lightweight going on, but packs a serious punch. Leaves my skin supple and smooth, perfect level of hydration to leave my skin as is or apply makeup over the top. 10/10!

Great to use when flying

Keeps my skin nice and hydrated on a long haul flight. It's a must-have for travel.

Smells lovely and goes on so smooth

This cream is rich but also light enough to wear during the day.
It smells divine and goes on really easily and is absorbed quickly (not oily!)
Love using it

Amazing

Leaves your face feeling smooth and tight.
Definitely can tell a difference in my skin.

Plump and perfect

Together with the Alpha H liquid gold, the essential hydration cream has changed my face. It has a light rose fragrance, it hydrates and makes my skin feels soft smooth and plump without feeling too oily or slick.

Soft and smooth skin

I find this moisturiser nourishing and softening. It absorbs nicely and is not drying on my middle age drying skin.
The rose scent is strong initially but dissipates quickly.
Will definitely buy again.


Love it!

A super soft and nourishing cream that instantly restores my dry skin by boosting it's mositure levels, making it look and feel super hydrated and glowy!

Like a drink for my skin!

I received a 7mL sample of this and really loved it! I have combination skin and it settled beautifully into my skin everywhere on my face. It has a bit of a different texture than other creams, possibly from high glycerin content, but that made it go on super smoothly and it was a nice base for makeup. A little went a long way and the sample lasted for over a week (usually twice daily on a few occasions as well). The only thing I didn't like about it was the rose scent, but it's subtle.

Great

I have dry skin and I love this moisturizer for everyday use. Worth it

Great

I have been using this product for over 2 years now and I love it. It doesn't cause flare ups of my rosacea and leaves my skin feeling great

Nice every day foundation for combo skin

I have dry skin and this moisturizer is a nice light one to use during the day in summer under makeup. I love the smell and the texture and I like the packaging which pumps out product through a hole in the top in the middle so you don't waste any and don't have to stick your fingers into a pot. I would say that I do still need to use a richer more hydrating moisturizer at night to supplement this one, but I think it is a good price point and I will probably repurchase again in summer,

Lovely scent and super luxe hydration

I received a couple of samples of this moisturiser and love it's rose scent! I used it after trying liquid gold for the first time and it immediately soothes and hydrated my skin. I had no redness or tingling after applying this. I found this super plumping and comforting. A great moisturiser for post Liquid Gold application or under makeup! I have fine lines and acne marks and this moisturiser improved my skin!

Good Active Moisturiser

I have really sensitive/dry skin with occasional redness so finding the right moisturiser is crucial!
I love this one, it's really juicy and hydrating and leaves the skin feeling soft but it's not too heavy.

Really great active cream for day and night.

Worth it

I received a sample of this moisturiser and it is divine. It smells beautiful and is so hydrating. I would definitely purchase the full size.


Beautiful Moisturizer

I received a mini of this as a gift with purchase and I will be purchasing the full size. It is rich, creamy and smells gorgeous. Went beautifully over my the Ordinary serums. Love this!

Sample - nice moisturiser

Received a sample of this with my last order. Love that the sample was big enough to get a few uses out of it. Really nice hydrating moisturiser. Perfect for people with dry skin. Its not light weight its on the thicker side but really left my skin feeling nice. Also love that the scent was very light and almost had no scent at all.

Plump and hydrated skin

Used this after cleansing my face this morning for the first time and immediately my skin felt really plump and hydrated. It has a thick white gel/cream consistency which is pleasant and melts as you apply to your face. It had MINIMAL scent (very light) which I loved.

Light and long lasting

This moisturiser stays on my face all day yet is so light on my skin. It has an amazing smell to it and my skin has never looked so good

Finally found my favourite face cream

I have oily combination skin so it has been hard to find a moistures that hydrates the dry parts of my face but doesn't make my oily areas very oily. I always feel hydrated after applying and it dries straight away leaving no residue. I am now on my 3rd one and that is saying something for me

Great for Added Hydration!

I love this product - It is super hydrating and my skin soaks it up, as if it's giving it a drink of water. I love that it is full of high quality ingredients that really has improved the quality and texture of my skin. I love to use this as a night cream so it can work it's magic overnight.

Not sure

I LOVE many of Alpha H's products but this wasn't great for me. The scent is very strong, but I could deal with that if it worked. It feels almost a bit drying for me however and even though I really want to like it, it doesn't seem to be a good match for my skin as I'm prone to patchy dry spots.

Good

I have been using this product for over 2 years now and I love it. It doesn't cause flare ups of my rosacea and leaves my skin feeling great.

Beautiful

I have normal skin, I have been using this morning and night, it has a nice rich consistency but isn't to heavy for me, it sits went under my makeup.
This moisturiser smells absolutely beautiful, I would highly recommend it.

Alpha-H Essential Hydration Cream

I have combination skin and this product is great for my skin type. The cream is lightweight and I use it once a day after using the balancing cleanser. The scent is lovely also.

Absolutely beautiful

I received a sample of this moisturiser and it is divine. It smells beautiful and is so hydrating. I would definitely purchase the full size.

Devine scent

I have combination skin and just started using AH Liquid gold. I purchased this as I was a little worried that the LG would make my skin to dry. The cream is thick and has a lovely rose scent. I find it too heavy for daytime use and if I apply it to my skin while my face is still warm from a shower, it sweats off and doesn't absorb. I wait to apply it just before I sleep and then I have no issues. It's been a month and I have haven't had any breakouts and I don't feel oily or greasy.

Moisture-rich face cream!

Super hydrating face cream! It has a unique pump system which makes it easy to apply :)

Awesome

Absolutely love this product. It's moisturising enough to calm my dry spots but not too thick for my oily T-Zone. This is my go to moisturiser.

Highly recommend

Am extremely happy with this cream. I have super sensitive skin and need a lot of hydration at times and this cream works wonders for my skin. I absolutely love the rose scent also.

Smells beautiful

This smells beautiful and feels divine on my face - nice soothing relaxing scents and smells before bed

Favourite Face Cream, Crappy Pump

I got a sample of this with a previous order and I loved it immediately so I bought it as soon as I could afford it. I never spend this much on face cream but this one was worth it. My skin feels amazing and has never felt better. Although the pump is a nightmare. I have to press it many times to get even a small bit out. It's as if its near on empty which I hope it isn't since I've only just bought it. But the cream is perfection. I hope they bring a bigger one out in a pump bottle like the cleansers are in.

Amazing!

I'm obsessed with all things Alpha-H so it's no surprise this moisturiser was amazing.
I loveee the scent, it lingers beautifully for a few hours after application.
It's so silky smooth and is perfect for my sensitive skin. I use it morning and night and have noticed a huge difference in my skin texture and brightness.
My boyfriend keeps stealing it so it must be good!

Great

This sits so well on my face; so hydrating and perfect under my foundation.

Great product

I tend to get dry skin, however ever since using the essential hydration moisturiser my skin is soft with no dry patches in sight. It's gentle & hydrating just as described and perfect for my sensitive skin

Nice moisturing cream

I use it during the day as found it light and non greasy. Perfect under makeup. Small amount goes a long way. It makes my skin hydrated and soft. Great for the sensitive skin. It smells nice but I would prefer less fragrance.

Love this!

This is a beautiful product; easily absorbed & smells devine!
I have used this product for a while now & it never disappoints.
The actual dispenser is disappointing though; you get half way through & it stops working, as the level of product has dropped below ... you need to unscrew the top & retrieve your cream.

Nice but not amazing

I liked this product the first few times I used it but after a while it just left my skin still a little dry. It's definitely a lighter moisturiser- probably good for day wear.

Nice product, shame about the packaging

Recently purchased this product after really liking the sample. It is thick but I like that as my skin is quite dehydrated. Unfortunately I really dislike the packaging - the pump is really annoying. It takes a number of pumps to get the right amount of moisturiser for me. The product is very nice, just wish it was in a normal package ie not a pump style.

This cream is amazing

This cream is so good and smells amazing.

I have combination type skin that sometimes feels a little dry. This cream although its consistency is thick soaks right in and removes that dry feeling.

It doesnt feel thick or too overpowering once it's on.

I would definitely recommend this cream and the whole Alpha H range!

Simple but effective

This is a lovely moisturiser that I use in the am as it's not super active ( I like to use all the active stuff at night) yet it's very hydrating & find my make up glides on beautifully afterwards.

Good hydration

This is a good simple hydrating cream. Didnt notice a huge difference in the long term look of my skin but while using it skin felt nice and hydrated.

Hydrating

I liked this cream a lot just not for day use in the QLD heat. It's very hydrating I have really dry skin so this really helped.

Hydrating

A thicker cream, i used nightly as it felt a little heavy for daytime in the hot humid QLD weather. would use it daytime in winter. Certainly lives up to the name... Essential Hydration.

great value

This is super hydrating and soft. It smells amazing - like you have just gone for a facial. It really does the job well I love it!

Just okay

I haven't been blown away by this cream. it smells great, but certainly doesn't calm my skin which is prone to redness. It also feels like it's sitting on top rather than really sinking in.

Great under makeup

I loved this product! It worked so well under my makeup and left my skin feeling hydrated and smooth. I also love the dispenser as your not sticking your fingers into a jar and spreading any germs.

Expensive but great for sensitive skin

I have rosacea and this cream calmed my red cheeks without making them greasy. However, I found the pump dispenser would often get clogged up and I would have to remove the lid and scoop it out manually. I also think it's too expensive for the amount, as well as the fact that I needed to use more to cover my skin compared to other moisturisers.

Amazing product

I have combination skin and this product is great for my skin type. The cream is lightweight and I use it once a day after using the balancing cleanser. The scent is lovely also.

VERY LOVELY!

Beautiful cream works very well as a night cream with lovely results. I have dry sensitive skin and it was perfect. My only issue was the smell, i dont like rose scents and this is very strong, but i would recommend.

Nice product

I have combination skin so I jump from acne prone to dry to both at the same time. This moisturiser is great for dryness but find it a little too thick and aggravating for my acne so I use only in affected dry areas rather than all over. I prefer the Alpha-H multivitamin moisturiser to this product but would totally recommend to combat dry skin.

Rich Hydrating Moisturiser

I've got dry and dehydrated, sensitive, red prone skin and since turning 25 have developed mild acne on my cheeks. This Alpha-H Cream feels really cooling to apply (which is great in the hot weather) and is rich and hydrating. During a low point for my skin this cream was the only thing that actually moistured and hydrated my face. My skin feels super smooth, soft and hydrated in the morning and leaves me looking plump, glowly and refreshed. Due to the humid and hot Qld weather I'd recommend only using in the evening. I love this product, the only reason I rate it 4 is because of the reaction I get when using on my intermittently mild acne on my cheeks. This cream seems to slightly aggreviate the acne on my cheeks, not a huge amount however I do notice it. I still use it even when my cheeks are having a bad few weeks, but I reduce my use to every few days instead.

Love this cream

Great for sensitive skin


Beautiful every day moisturiser

This cream is rich but not thick and absorbs into my skin so nicely. I apply before bed and again in the morning and I find it works perfectly under my make up. The packaging is great too as nothing goes to waste. I pair this with The Ordinary's Hyaluronic Acid serum for the ultimate hydration.

Excellent

Great product! Has a lovely and subtle perfume to it. Perfect for my very sensitive skin. Feels nice to wear and is helping bring hydration to my dryer skin. Very much recommend this product.

Fantastic

I love this night time moisturiser. Only need a tiny amount and it isn't heavy. Also love the pump pack which means no wastage of product.

Beautiful silky moisturiser!

I use this as the last step in my night time routine over serums and it is beautiful. Lightweight but super moisturising for my dry and sensitive skin. I also love the packaging as it keeps the product integrity intact and there is no contamination from sticking fingers into the cream or exposing it to air all the time.

Smells amazing

This cream is so lovely, it smells amazing and is very soothing and hydrating for sensitive skin like mine.

Not quite thick enough

I bought this as the balancing moisturiser and gentle exfoliator was making my skin dry so I needed something creamier. Although hydrating, I personally prefer thicker moisturisers as they feel a bit more luxurious.

Perfect for dehydrated skin

I've been struggling with dehydrated skin. I've found that a lot of moisturisers sit on top of my skin, rather than sink in to provide moisture.

With this, i've been using hyaluronic acid underneath, then applying the Essential Hydration Cream, and WOW it's been amazing!

It sinks in quickly and my skin has been staying hydrated all day. It helps my make up to sit a lot better on my skin, and makes the texture of my skin look more even and smooth as well.

Must purchase for those struggling with dry/dehydrated skin!

Highly recommend

My skin it's a mix but definitely loving it, I can feel and see it smoother and brighter
A must have if you considered price and results
Pretty good

Great for Dry Skin

This cream adsorbs well and quickly into dry skin and does not leave a greasy feel after using it. It creates a nice base for application of makeup as it takes care of all the dry patches on my skin.
The fragrance is pleasant and not at all overpowering.

Mixed feelings

I bought this because I have very dry, sensitive skin and get breakouts of eczema on my face, and from what I had read, it looked like it would be a good moisturiser for that. It's quite expensive for how much you get (and how much I felt like I need to use - although I do tend to slather moisturiser on!!). I did like how this felt, and I was hoping it would help with my eczema. After about a week of using it morning and night, my eczema was no better and, if anything, worse. One night when I put it on I could feel a burning sensation on my face, and immediately washed it off. I haven't used it since (about three days) and the eczema has suddenly cleared.

I think this is an amazing product, but if you have particularly sensitive skin, it's probably not for you.

Didn't work for my skin

Used religiously for a year and noticed no difference. Felt nice to put on though

Too thick for oily skin

I have oily combo skin and this product is a bit too thick for me. I have tried using a smaller amount but still feels quite oily and thick when applied. I personally prefer an oil-free gel type moisturiser and this is not suitable for me. This product is possible more directed at drier skin types.

Great moisturiser

Leaves my skin feeling silky and smooth! Great for night time when you dont need the SPF!

Not for me

I read lot of good about this product but wasn't a big fan. I get really dry face and moisturize before bed and this just didn't seem to do it for me. Dryness wasn't going away so swapped to different brand.

Awesome

so moisturising, not the best for oily skin but dry skin is amazing

AMAZING

This smells, feels, and works, just like a cream you would have applied at a professional facial! It is amazing and hydrating. Love it.

Not sure about this?

This made my skin feel good but after months of use I'm not sure if it did much else? I also found the container quite small, I have dry skin and found I would have to use quite a lot of the product, so I went through a lot of this.

Amazing

Thic cream is amazing, my skin feels so hydrated and soft, i can notice that my fine lines appear smoother. Its also smells beautiful

Saved my dry skin!

This has done wonders for my skin. It's so hydrating and the effects last all day. It also didn't make me break out. A little goes a long way so it's definitely worth the money.

Alpha-H is my new holy grail brand!!

I have used Alpha-H products for over a year now and continue to recommend them to my friends, family, who ever will listen!
The Essential Hydration Cream is a part of my nighttime routine and I adore it. The packaging is such a genius idea. And I love the product! It's a thicker cream but it's great when you're just feeling a little dull and limp. I apply this on my eyelids as well when I'm being too lazy to use an eye cream.

Highly recommend

I love all alpha h products but first let talk about the packaging its AMAZING luxury. This cream very hydrated is good for dry skin it's my daily morning routine I used as well before makeup made my skin smooth, hydrated my cheeks so soft I absolutely loved it.

Love the product

This product is amazing! Love this design.. Super hydrating.

Great all rounder for everyday hydration

I really enjoyed this moisturiser, great all rounder for everyday hydration on my combination skin. Will be purchasing again!

Awesome

I had a sample of this product and it feels amazing on the skin good for dry skin

Amazing

This is so hydrating and soft on the skin. I notice the difference right away and it literally smells like the cream they put on you when you have a facial!

Excellent

I purchased this product as I have post menopausal skin and my skin was looking dull and more dryer. The Essential Hydration Cream appears to be scented however it is not an overpowering scent and pleasant. I have found since using this product that my skin is more hydrated and less dull. I use this in the morning after I have cleansed my skin with the cleansing cube. I find this product is excellent and will buy again. I have purchased the cleansing cube, essential cream, liquid gold and the liquid gold night cream with the gold fleck's in it and I must say since I commenced using the Alpha-H my skin has improved ten-fold. I am truly impressed and will continue to buy Alpha-H. Absolutely love the products and find they work well with my other left over creams. Winner all round.

Hydrating and amazing scent

I have combination skin and battle with oiliness one day and dehydration the next. The dehydration has been causing flakiness lately and I've been searching for a moisturiser that will soak into my skin and keep it subtle and this does exactly that. Not only does it keep my skin feeling hydrated it's doesnt overdo it and make me feel oily; it's the perfect balance. I'm also a big fan of the scent. My only suggestion would be different packaging - I'd rather have more control over the amount of product and know how much is left but apart from that I'm a big fan!

ESSENTIAL!!!

My skin during the winter and coming into spring gets so dry and dehyrated and I read so many good reviews on this product that I decided to give it a try. I love Alpha H products and I was in need of a good moisturiser to really help hydrate my skin. I've been using this for the past few weeks now and boy oh boy I LOVE it!!
The product is lightweight and soaks into my skin beautifully. My cheeks are where I need my hydration so that i can get rid of some of the breakouts ive been experiencing lately and I am honestly loving this moisturiser. It sits gorgeously on the skin. I use it after my Vit C in the morn and after my Vit A at night :)

Amazing

This lovely product has helped my skin in so many ways. I see then redness, pigment and the overall hydration if my skin has improved. It's not heavy and soaks into the skin well.

Dont waste your money

The only good thing is the smell. Product is too think and cluggy that when i pressed down nothing came out. Everytime i use this product i have to unscrew the lid, which defeats the purpose of the press down. Cant say i noticed any Hydration in my skin from using this.

Nice mosituriser

This is a nice moisturizer, however nothing amazing. I found it a little thick for my slightly oily skin. Didn't see any amazing benefits

A little heavy

This is a little heavy for my combination/oily/sensitive skin. I only use it if I'm particularly dry or after sun exposure.

Still my go-to night cream

This was the first moisturizer I tried from Alpha H, and even when I try other Alpha H creams for night, I keep coming back to this one. It's simple but sometimes the basics are best! It's extremely soothing and your skin will just drink it up immediately. I have combo / oily skin and this doesn't feel heavy or greasy, it sinks in like a dream. I use every second night (alternating with Liquid Gold) over the vitamin A serum. Can even use for daytime before applying the Daily Essential Moisturizer (my sunscreen) if skin is feeling dry and tight. Will always have this one in my routine I think!

Not worth it

I tried this product as a cheaper version to ASAP Ultimate Hydration and instantly regretted it. I need more than double to not even nearly get the same hydration level. The tub some times doesn't dispense the product so then you tap it again and it spurts out too much. Don't love the smell. ASAP is just so much better and I just do not find my skin feels hydrated from this.

Love this stuff

My combination skin loves this moisturiser. My cheeks can become quite dry and this makes everything smooth and soft. I love the smell. Not sure if it will be too heavy in the warmer months. Not much comes out when you pump it...so you may need a couple of pumps. But if you can get away with one pump then this should last you ages.

Hydrating

A great hydrating moisturiser. Love the packaging although you can't tell how much product is left. The rose scent is a little strong but overall a great moisturiser