evo Conrad Boar Bristle Paddle Brush
Is this for you?
evo conrad boar bristle paddle brush is best for daily grooming to help maintain hair condition, and to smooth hair when creating updos. suitable for use on all hair types.
Frequently bought with
Please wait while we find a match
Questions & Answers
(2 Questions)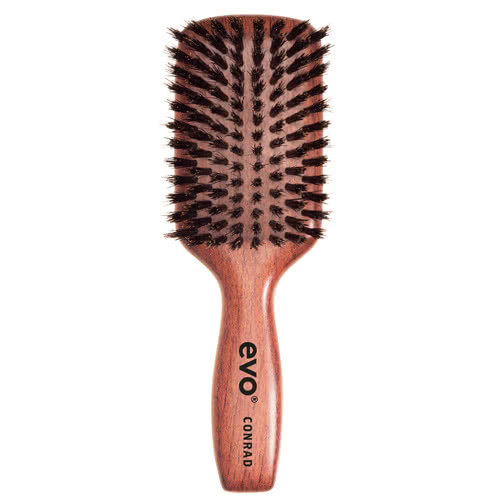 evo Conrad Boar Bristle Paddle Brush
Get an expert to answer your question about this product!
86% recommend this product
Most Helpful Positive
Amazing!
This hair brush is so amazing! It makes my hair feel so soft.
Can't even penetrate my medium- thick hair!

I have the EVO cylindrical boar bristle brushes for blow drying which are great. I purchased this with high expectations as a daily brush and sometimes using for quick blow dries. My hair is a medium thick, not even really thick, and the brush can't even penetrate to my scalp! It just brushes the top layer so is completely useless. Even worse it gives my hair terrible static so I can't use it at all. Such a shame.

Not a Fan

I've read through a few beauty articles (not exclusively AB) that boar bristle brushes are ideal for those, like me, with oily hair as the natural bristles move the oils further along the strand to prevent buildup at the root.
Through my experience with this brush, that's half true.. it definitely moves oils further down my hair, but it doesn't stop the buildup at all. I can usually get away with a little dry shampoo by Day 2, but using this brush exclusively, my hair was an oily mess. It doesn't seem to do much for me frizz-wise when drying my hair, and it definitely doesn't pick up enough hair when I'm brushing, meaning more handling = more oil.
I've only found it useful when I'm smoothing out my hair for something like a pony tail or bun, otherwise it makes my hair flat if it's down.

Not a fan

Im not a fan of this brush at all. Ive got quite thick hair and this doesnt for some reason do the job for me. Reading the other reviews i am starting to wonder if i am not using this brush correctly which is causing me dislike this brush. In saying that ive tried it a few times and i dont know why - it just doesnt seem the right brush for me

Perfect for giving your hair a nice brush before washing

Perfect for giving your hair a nice brush before washing. I love how wide this brush is. The bristles aren't too hard either which makes using it much nicer.

Amazing!

This hair brush is so amazing! It makes my hair feel so soft.

Great for de-frizzing

This brush does a great job at managing the frizz. But as someone with very thick hair, the boar bristle does not collect most of my hair, meaning It takes a little longer for me to brush my hair. Other than that, it's great.

who would had thought that a hairbrush could be so life changing

This hairbrush is just amazing! Who would had thought! I love this so much, it is great at taming my frizzy thick long hair ! My hair has a natural shine and when I first used this, I actually got asked by my mum what shampoo and conditioner I used (i used every thing as normal nothing new) and when I said it was the hairbrush, she was shocked!
Great investment!

Fabulous for taming frizz

Because my hair is so thick I don't blowdry with this brush, but it is great to smooth the hair down post-blow dry as it removes ALL FRIZZ. Life changing!

Best investment for your hair!

I bought this as I had heard the hype of boar bristle brushing but couldn't take myself to spend over $100 for a hair brush. I was sceptical as the price of this brush is quite affordable, but I'm so glad I took a chance on it! I use it so often and I found I don't have to wash my hair as often and it feels so much thicker, smoother and shinier!! I can't complain about the quality of this brush for the price - amazing

holy grail

I have very curly/wavy hair and styling it can be a pain at times, especially after drying it! this brush makes it a lot easier and the bristles are not too harsh on my scalp.

Smoothing and softening

This brush is perfect for styling your hair and finishing touches. I also keep it in my pure and swipe it over my hair a couple of times to refresh and smooth my hair. It smooths fly-aways and frizz wonderfully, and makes my hair soft and shiny.

Gentle styling brush that tames frizz

This brush is very good at taming frizz and pulling hair back into a style as it really smooths the hair out. I definitely use this brush more for styling than actually brushing my hair as it's too gentle to get down to my scalp or brush out knots deeper than surface level.

Finishing touch

Great for dressing hair and reducing frizz. Very gentle. But if you have thick hair like me, expect to have to comb it out beforehand because this will not get rid of knots. I still use it every day and notice a big difference.

Great Brush!

This brush is beyond gentle. It has a really nice, comfortable handle on it. Leaves my hair silky soft and tangle free. Great for brushing out curls for a soft beach wave look

Great for smoothing

I cannot rave about EVO brushes enough, they are strong unlike plastic and great quality! Perfect for my sometimes unruly hair. I believe its worth the money to invest in a long lasting brush.

Very gentle

This is a beautiful brush. I have curly hair so it can get quite tangled. This is the first brush I've used that doesn't hurt at all. It doesn't get through to my scalp so I use it mostly as a detangler and then use another brush for a full brush through.

Perfect small brush for straight thin/fine short-medium length hair

This brush is perfect for my straight thin/fine short-medium length hair, it glides through easily and smooths any kinks or bumps.

You must use a detangling comb/brush (I use the Wet Brush or Tangle Teaser) before using a boar bristle brush. The boar bristles distribute the sebum to moisturise the ends.

Brush is really well made and arrived in lovely packaging. It may shed a few bristles initially but that stopped after the second use for me.

Gentle but effective

Love this brush! Makes my hair feel so soft and smooth, and is gentle on girls who have sensitive scalps

Amazing

Amazing brush, makes my hair feel super soft and smooth.

Best brush ever

This is literally perfect and I honestly think it suits all hair types, I have fine hair that often gets oily at the roots and dry and frizzy at the ends but this helps tame both issues well and leaves my hair really manageable and smooth.

Great Quilty

Bought this for my daughters thick curly hair. It's great for brushing my 5 year old hair. No more screaming in the mornings with this brush! Smooths the hair while styling. It was smaller than I expected but that worked better for me.

Love this brush!!

I'm so happy I purchased this brush after reading the reviews! My hair gets very oily at the roots and this brush does help. I also love how when after I've blow dried my hair and want that sleek straight look this brush gives you that and helps smooth out fly always. Also great to get that sleek back pony tail. Seriously a great little brush!

Great little brush

I've got fine hair and struggle with dry ends. Boar bristle has a lot of benefits but quality makes a difference, and my cheaper brushes just weren't delivering. The Evo line caught my eye, as they have a good range of paddle, radial and vented ceramic brushes - you can get everything you need and have a very attractive-looking, coordinating set.

The Conrad is a great little brush - very good quality. I had some shedding right at the start but that stopped after a few uses. The bristles are flexible, so it's very gentle and entirely suitable for your regular, daily brush. It gets through my fine hair well enough, but people with medium or thick hair would probably want to go with the Evo Bradford, which is a larger, pin/bristle brush. This is a relatively small one too, which is hard to tell when you're looking online but something to keep in mind.

I'd recommend it to people with fine or short hair who want a good quality brush. Definitely worth the price.

Treat yourself, and your hair!

The evo Conrad Boar Bristle Paddle Brush is the first hair brush I have ever over-indulged in. I heard good reviews about Boar Bristle brushes in general and they have not disappointed. I like to brush my hair daily, and wash my hair weekly so this brush really helps in keeping my hair presentable in between washed, no matter the style.


Such a gentle brush!

This brush is beyond gentle. It has a really nice, comfortable handle on it. Leaves my hair silky soft and tangle free.

Very good for dry brittle hair that breaks easy

My hair is naturally frizzy and brittle, runs in the family, and to top that off it is bleached all over.
I have tried many brushes over my time. At first I was skeptical but as this brush was on special I decided to take the plunge.
IT DID NOT DISAPPOINT!! this brush has been very help in taming my frizz and assisting with minimising breakage and styling. Initially it kind of gives static to my hair but the more I brush it calms down and leaves my hair with a nice sheen

amazing brush

if you are looking for a boar bristle brush that won't damage your hair this is the best I have found. My hair is very bleached and damaged and if I spent a few minutes brushing it with this every day it becomes so much softer and less oily :) also the brush is super cute and small

A great quality brush! Gentle on hair and leaves it silky smooth

It's a lovely product and I would highly recommend investing in one. Your hair will thank you!

I bought this brush because it looked good tbh. Turns out the bristles are really high quality and it's lovely to brush your hair with.

I've had a Mason & Pearson before (which are super expensive) but I would have to say this brush is just as gentle and kind to my hair.



A great addition to Haircare routine

I have naturally oily hair and always struggled with oily roots and dry ends. Since using this brush I've found that I can go loner between washes as it distributes oils through to the ends.
As the brush is small and my hair is quite dense, I de tangle with another brush then use the Conrad in sections to massage scalp and smooth hair. A fantastic little brush and definitely glad I purchased.

High quality brush

I've been looking for a boar bristle brush as I heard it helps distributes oil - my hair gets too oily too quickly for my liking so I was hoping this would help. Instead I realised this brush is really lovely for styling, one brush and my bangs stay out of place which is really cool. The only issue is that the bristles aren't very long, and since I have quite a bit of hair (it's straight but there's a lot) I can't actually really get to my scalp.

The bristles are also really bendy (they're not soft soft obviously) so it takes a couple of brushes through and a bit of pressue to get the knots out of my hair.