Wrinkles Schminkles Eye Smoothing Kit 6 silicone eye pads
Is this for you?
Say goodbye to the visible signs of aging around your eyes with the Wrinkles Schminkles Medical Grade Silicone Eye Smoothing Kit, that works to lift and firm skin.
This overnight skincare treatment works while you sleep to help reduce fine line and wrinkles, crows feet and puffiness under around eyes, caused by ageing and sun damage.
Skin Concern:
First signs of ageing

Wrinkles and loss of firmness
Skin Type:
Dry

Normal to dry

Normal to oily

Oily
Frequently bought with
Please wait while we find a match
Questions & Answers
(1 Question)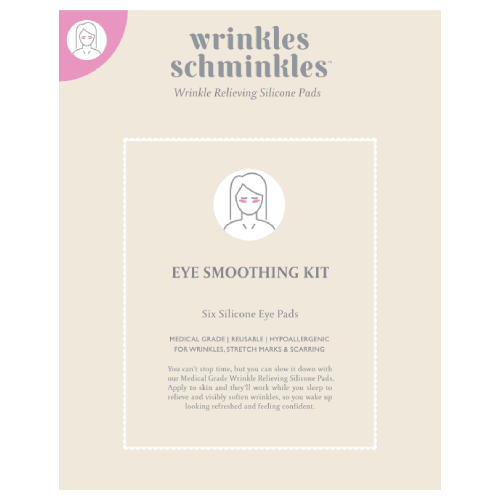 Wrinkles Schminkles Eye Smoothing Kit
Get an expert to answer your question about this product!
79% recommend this product
Most Helpful Positive
Good
This product offers a quick fix. It feels so nice and refreshing under the eye. Good.
Most Helpful Criticism
Okay for a night out
A great concept for a quick fix for a night out. Would still need to have a good skincare routine.
Less creepy - I mean crepey!

I received this as a sample and used overnight in place of an eye Cream. I definitely noticed an improvement in fine lines but i did have to reposition it a couple of times. I like it for something different and that it can be reused!

The pads kept falling off.

I was sent this product as a sample from Adore Beauty. Despite the fact that I used no product on my face the pads just kept falling off during the night. I then tried them again and applied them for a few hours during the day while I was sitting in one position and I didn't notice any visible difference. I wouldn't really recommend purchasing this product.

Good

This product offers a quick fix. It feels so nice and refreshing under the eye. Good.

Great so far!

These work very nicely. Had no problem with them staying in place and they seemed to diminish wrinkles. Was able to wear one pair for 2 weeks wearing every other night.



Bye Bags

These are so nice and refreshing under the eye. Great for those tired baggy days!!


Okay for a night out

A great concept for a quick fix for a night out. Would still need to have a good skincare routine.

It's fun to use

It's okay!! I don't think it's anything special but I still think it's nice. It's fun to pamper with sometimes!

Not bad but not amazing

I don't see anything amazing.. still good and will keep using it but it's nothing fancy!

A great idea

This product is a great idea and I really wanted to love it but it just felt like it was coming off the time. The first night they stayed and i did notice my sleep wrinkles weren't there in the morning which is great! I just think there needs to be more pairs because I think 10 uses per pair is a big stretch.

Love eye pads

These are so nice and refreshing under the eye. Great for those tired baggy days!!

Hoping this will be a great product

I purchased this product in the hope of diminishing my under eye lines/wrinkles. I am still hoping to see some change in this area, so will continue with regular usage and see what the outcome is over time.

Incredible

I purchased these recently in hopes they would help eliminate these two sleep lines I've been waking up with every morning under my eyes. They started getting deep enough that even throughout the day I noticed they were still there. The first night I used these eye pads they stopped the line all together, the second night I used them I woke up with what looks like new skin. After two nights of usi...

Read More

Chest pad is great

Apparently these are Medical Grade Silicone - I got the Chest and neck Smoothing Kits that you put on overnight to target lines and wrinkles around your chest and neck. I see a little difference but probably need to keep using for longer. The neck one is a little bulky I usually rip it off in my sleep some how without realising. Heart shaped chest one is better

Good idea

Great for a short term fix. Reduces the appearance of wrinkles temporarily but you do need to keep using for it to be effective. I dont know about 10 uses per pair as stated, without washing them this could be unhygenic especially for such a delicate area but if you wash the adhesive washes off....

But

Yes they do work, especially for side sleepers. However, despite removing all product from my skin with witch hazel before application and drying, I can't even get ten uses from one pad.

This smoothing kit has saved my skin... AND MY LIFE!

I can't recommend these highly enough - I am on to my fifth packet!
Sleeping on my side was giving me these horrendous horizontal lines across my face, and was making me look tired and old!
Literally the first night I used these, the next morning, the lines were less noticeable - to the point where I couldn't believe it!
After using them now every night. the lines under my eyes h...

Read More

Great

These work very nicely. Had no problem with them staying in place and they seemed to diminish wrinkles. Was able to wear one pair for 2 weeks wearing every other night.

Awesome

Love, love, love these little beauties!
Value for money compared to the single use eye patches.
Patches did not move at all over night. In the morning the under eye area was completely smooth and not puffy at all.
Looking forward to trying the Chest patches next

This is what I've been looking for!

These patches are absolutely worth it. Tried mine for the first time last night and almost couldnt believe it when i woke up that my usual sleep wrinkles (and there-all-the-time wrinkles) were gone! I put them on and then tested in front of a mirror to see if I'd create any other wrinkles if i slept on my side before i went to bed. Says you cant have any cream or anything on around your eyes when ...

Read More

Pads too strong for delicate eye skin

Pulling the pads off stretches the skin quite significantly, not just taking them off but readjusting for application. After just one use I have two new fines under my eye, frustrating. Also had dents where the pads sat when I woke up. Perhaps they need to be a little more gentle for the under eye skin.

Easy to use

I love these little beauties. Used at night they are great but you can also use them in the morning after washing your face, if you have the time. I find I only need them on for 10 minutes if I use them in the morning. After taking them off they need to be rinsed,washed and left to dry. I would love to try the others!

Results are amazing

I was skeptical about this product but the overnight results are incredible, my undereye area is left plump and with less noticeable wrinkles however with that said this is a temporary fix and results do not last.

Tricky to use

These patches work well when you master the application technique. The first few times I wore these I found them a bit uncomfortable and actually created temporary wrinkles due to them being incorrectly placed. I have got the hang of it now and they do leave the under eye area noticeably smoother. I recommend wearing them with a silk sleeping mask to keep them in place especially when they are at ...

Read More

Amazing

Yes it takes away the wrinkles. Going to purchase neck and hand patches.

Good eye treatment mask

I recently bought this and l I left it on for a few hours and could tell the difference when I removed it. I look forward to using this continuously and seeing an effect!

Disappointing

I am in my 60's- skin on my eyes is very wrinkled. I had previously used silicone strips on scars with good results so thought this was the answer. Found them stiff & uncomfortable to wear. I am a light sleeper so I only wore them a few nights then gave up on them

useful

This is an interesting product. The results after overnight use are spectacular, but they don't last. If I could afford it, I'd use them every night, but I think these will be for special occasions only. Easy to apply and remove.

Super interesting!

As someone with super sensitive skin, the fact that these are just straight up medical grade silicone really won me over - anything I can do to assist my skin without causing irritation is a win. I found these a little bit uncomfortable to wear at first, but that was because I placed them too close to my lash line - once I adjusted them, they were fine.

This isn't something I think I'...

Read More

Perfect to wear overnight!

I had only worn these for a few hours at a time, however I recently wore the masks overnight and it made such a difference! I even forgot I was wearing them. They didn't move at all, and were easy to peel off in the morning. I noticed that I didn't have as much creasing under my eyes, and my concealer went on really smooth this morning. I love that these are reusable and I'm looking forward to see...

Read More

Recommend!

These pads surprisingly felt very comfortable under my eyes. I left it on overnight ( could not feel it). Once removed from under my eye area it felt refreshed and smooth. Can't wait to use them on a regular basis!

Wrinkles, be gone!

I was a little skeptical when I first used this product. I had never used anything like this before, so I wasn't sure what to expect.

They were very easy to apply, and once on they stayed in place. They were comfortable on my skin and felt like my skin was becoming more firm. Sure enough, when I removed the masks (again, super easy, they peeled right off), I swear that the wrinkles ar...

Read More

Pamper product!

I like to put these eye masks on post-facial as I avoid the sensitive eye area with other face masks, but I still want to treat my under-eye area. I find them easy to apply and remove, and I love that they're reusable. They leave the skin under my eyes feeling soft and smooth.

Awful product!

I've used a similar chest product before (different brand, same idea of a silicone sheet) with amazing results. Decided to try these under my eyes. Honestly they were awful! So sticky and hard to remove that my under eye skin felt so damaged trying to get it off! Only to find it had left weird creases under my eyes. Fortunately they disappeared but it took all day. Only used once overnight but nev...

Read More