Ultra Violette Supreme Screen SPF 50+ Hydrating Facial Sunscreen 50ml
Is this for you?
Supreme Screen is a three-in-one that combines the protection of a sunscreen, with the hydration of a moisturiser, and the makeup-readiness of a primer. It's hydrating enough that you need one less skincare step in the morning.
Cruelty Free
Australian Made
Has SPF
Skin Type:
Dry

Normal to dry

Normal to oily
Frequently bought with
Please wait while we find a match
Questions & Answers
(2 Questions)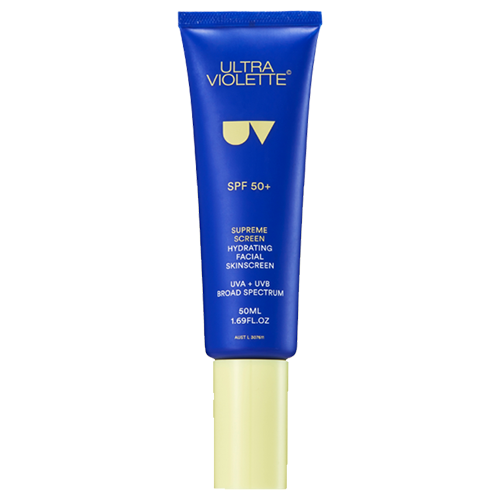 Ultra Violette Supreme Screen SPF 50+ Hydrating Facial Sunscreen
Get an expert to answer your question about this product!
98% recommend this product
Most Helpful Positive
So impressed
Protected my skin and made it extremely soft
Most Helpful Criticism
Have tried better
I had high expectations for this sunscreen but unfortunately it doesn't work for me. It comes out of the tube as a lightweight, beige-coloured cream and melts into an oil-like texture as it is rubbed into the skin. When I use the recommended amount, it sits on top of my skin all day and settles into fine lines. I also find that it stings on initial contact with the skin. I don't have sensitive skin, so I suspect this might have something to do with the fragrance in the product. I have had much more success with more affordable sunscreens - I would definitely choose La Roche Posay over this product.
SPF Staple

Searching for the perfect SPF to sit beneath makeup? Ultraviolette Supreme Screen is the one.

I was diagnosed with Melanoma at 19 (genetic), so I have been on a journey to protect my skin since then. It's really hard to find high SPF's that can sit under makeup but that are also affordable, reliable and accessible. I'm so glad I found this one as it really is great! I love the moisture it adds to my skin and the subtle glow it gives under makeup. I haven't experienced any breakouts or pilling as yet. I do suggest waiting 3-5 minutes before applying makeup though so it can really soak in and not affect makeup application.

So impressed

Protected my skin and made it extremely soft

Skins best friend

Beautiful top notch y good for dry combo skin like mine . Non greasy no white cast .

Great

My New Go-To SPF

I have very fair skin that is prone to breakouts and dread trying new products, but desperately needed a moisturiser with a high SPF to get me through ultra sunny days! I read all the reviews and chatted with Adore Beauty and was recommended this...and I love it! It is absorbed quickly, feels light on my skin and my makeup stays put over it! If you're thinking of trying it...take the plunge, it is worth it!

No more post traumatic sunscreen stress

Being newly into skincare and knowing that the best kind of SPF is something at all aside from nothing, the fact this also doubles as a hydrator and a primer means that regardless of whether or not I'm wearing makeup that day there's no extra steps or time between steps required (loves that when I continue to snooze my alarm).
No sticky residue, dries down completely within 40 seconds and a super pleasant almost liquorice-y scent means I'm no longer remembering having SPF smeared on my face by my mother on beach day when it comes to facial sunscreens. Well, almost no longer remembering.

Great 50+ Sunscreen with a nice light texture

I've just started using The Ordinary Products, and given that they don't have any sun protection products in Australia yet, I wanted to find something that I could use with it.

I'm very happy with this product, and glad I bought it. Leave my skin feeling soft and dewy.

Where has this product been my whole life?!?!

This sunscreen is amazing!
What put me off in the past with sunscreen was the foul smell and residue it left on my face which wasnt pretty so I was skeptical to try this, however I was left pleasantly surprised.
This product doesn't leave my skin with an oily residue and sits great under makeup!
Love that it is SPF 50+, safe for our reefs and cruelty free!!

Good for sensitive skin and eyes

The best sunscreen for combination and sensitive skin. The other sunscreens burn my eyes if they accidentally get into them and this is light, absorbs well and is perfect under makeup. I really love this sunscreen, it doesn't break me out and means I can do all the retinol and antioxidant treatments without a worry of getting sunburnt.

Do yourself a favour...

I was heading to Europe for holidays and thought it best to take a facial sunscreen (my face is prone to pigmentation with sun exposure and I am typically terrible at remembering sunscreen in my morning routine). I had heard and read good things about the brand so thought I would try it.
It is now my absolute everyday habit to put this on...not only because you should wear sunscreen but because I genuinely love everything about this product.
The texture is amazing, it works so so well under make up and I didn't get a hint of pigment during my 4 weeks in the sun. I purchased this in mid August and have used it generously everyday since. I still have about a third of the tube left 2 months later.
For this price point you will not get a better product. LOVE IT!

The Perfect SPF

After starting to use glycolic acid, which has a nasty little side effect of making skin extra prone to UV damage, I began the hunt for a suitable daily sunscreen. Supreme Screen by Ultra Violette is a game changer. I doesn't have the sticky, thick, greasy or gritty texture and dreaded tell tale white cast of other brands. It's light, hydrating and it sits beautifully under make up leaving a dewy glow. It's also SPF 50+ so I know that I am getting maximum protection every day. My new beauty staple.

Best Sunscreen

I tried this for the first time today and know that it is going to be part of my daily routine. It's not greasy or heavy. I like the texture.

Not for the Scent Sensitive.

I wanted to love this product. I love that it is vegan. I love it's also skincare. However it's fragranced. Now many won't notice, but if you are scent sensitive like I am then this isn't for you. Why is it an issue? Because scent triggers migraines and seizures for me so I cannot use this. The scent doesn't air off quickly either so I couldn't use it on my legs for example. If only it was fragrance free.

SPF 50+ hydrating facial sunscreen

I absolutely love this product! Have used many facial sunscreens before but generally make my skin break out and are too think. But this sunscreen is so good as it doesn't have white residue and leaves my skin so hydrated and super glossy which I love .

Huge fan

This is the greatest - such a hydrating moisturiser and you would not even know it has SPF! No residue, no chalkiness. Thought it was something I would only use on sunny/beach days and use the SPF serum other days but this has rapidly become my daily moisturiser. Absolutely love it.

Surprised that the hype didn't let me down

I HATE sunscreen. The texture, the smell, the white cast, the pore-clogginess. I've never in my life found one that I would willingly put on, and that's why, at the age of 29, it still is not part of my daily routine (sorry Leigh Campbell). After allllll the hype surrounding Ultra Violette, I decided I would give their Queen Screen a go, but then upon reading reviews decided that the Supreme Screen might be better for my skin (dry-leaning, but with an oily T-zone), as I wear makeup every day and some reviews said that Queen Screen made their makeup slide right off their faces (a complete disaster in my books).

I can honestly say that I have been wearing Supreme Screen every day since I got it, and it's been working with most of my foundations excellently (Georgio Armani Luminous Silk, Hourglass Vanish Stick eg). Some foundations (Laura Mercier Flawless Finish eg) do not love it, and will break apart a little if I use the Supreme Screen under it. It also doesn't like primer on top of it, which is a bit annoying as I have old acne-scar texture and like to try to fill in those pores. However, I do think that my skin texture has improved since I started using this sunscreen, so the "skin care" benefits it touts might actually be true (I have also been drinking more water and more careful with cleaning my skin thoroughly at night because I don't want o go to sleep with sunscreen on, so it could also be that).

I'm not sure if this is recommended, as it might reduce some of the sunscreen-properties of this product, but I've achieved the best results with it when I mix 3 drops of Kosas Tinted Face Oil in with two pumps of the sunscreen and mix it together. Then, if I want more coverage, I pop a bit of foundation or concealer on top and I'm sun-protected while still full-glam. Even if the SPF is reduced a little because of this, I say better than not using it at all, and that's been my alternative up until now. Highly recommend.

Best investment

I have been meaning to purchase for months.
This week I've started using it. I kid not - the best beauty product I've ever spent money on!! I can't count how many sunscreen products I've used. This is my top pick forevermore. Blends, sits & looks fabulous on my dry, reactive, fair skin. Feels beautiful to wear.

This is the best!

This is the best sunscreen ever! I have fair skin, so I have been using sunscreen reluctantly throughout my 20s (I'm not 32). Im glad I did, but I have really sensitive eyes, so with regular sunscreens or even other up market sunscreens, the sunscreen would migrate to my eyes around 10 am, and I would be wiping my eyes throughout the day. With supreme screen, I literally just apply like a serum, straight over the eyes and all and I never get irrigation. I will never use another sunscreen. I really want to try screen queen for days I'm not wasting makeup, but this is fantastic for work under makeup!

Love this!

After using the Ultraceuticals SPF moisturiser for a long time I decided to switch it up and found this new product. I am so glad I did because this product is lightweight, non-greasy and really hydrating. Works well under makeup too. Highly recommend this product!

Elegant

This sunscreen has the most elegant texture and feels amazing on the skin. It's hydrating for my skin type which tends towards dry and layers beautifully with other skincare products and CC creams (no pilling thankfully). Love the high SPF factor as well. I am picky about my sunscreens and this Supreme Screen is now my holy grail.

Really love this ! Not too heavy , but hydrating and great under makeup

Top Notch Product

I have used sunscreen on my face since I was maybe 16 and have very rarely gone a day without it. I've used SPFs that have broken me out something fierce and I have used SPFs that leave behind the smell and white cast and I have used SPFs that weren't worth the money. I was recently using the Mecca To Save Face which is SPF 50 and ran out. I've seen this brand on social media and thought I'd give it a go considering the reviews and how well received it's been, and I can safely say the product most definitely lives up to the reviews I've read. No white cast, no obnoxious or lingering smell (I like the fragrance in the Mecca SPF, but maybe as a perfume and not on my face - I like that this one doesn't smell anywhere near as intense) It leaves a nice sheen to skin and feels very hydrating and lush on the skin. The packaging and the pump is good because I know that the product is sanitary. As for the price of the product, its a bit more expensive than the Mecca but I think that its worth it, especially knowing that I'm taking good care of my skin and protecting it. I will most definitely be buying again, and maybe trying the luminising formula too!

Amazing investment

They say you should invest in your skin and I've done just that. I held off from buying sunscreen as I've used so many bad ones that made my skin greasy, slippery or caused my foundation to look weird. This sunscreen has such a beautiful texture, scent, is SPF 50, hydrates my extremely dry skin as well as priming it and works well with my foundation. It doesn't ball up weirdly and isn't greasy. This is a holy grail product for sure and I'm sad that I didn't find it sooner.

Beautiful hydrating and maybe even pore blurring?!

This is a gorgeous sunscreen.... it acts like a primer and moisturiser too and sits well under foundation. I still use my serum, rosehip oil, moisturiser and primer anyway as i have other products i love. I don't break out with this and I have oily but dehydrated skin. It's not drying and itchy like a physical sunscreen with zinc oxide in it. I highly recommend it. Love the packaging too - pretty sure it's the most fun and luxurious sunscreen I've tried. Only potential downside is that it being a chemical sunscreen, it works by interacting with proteins on your skin and so if you put heaps of skincare on first, there is a school of thought that you might not be absorbing as much of the SPF as you think - but not enough studies have been done to disprove/prove this anyway and I haven't noticed myself getting burnt when I use it.

Peeeerfect

I'd previously been using the clean
And wanted to upgrade for summer to a 50+ as I work outdoors

I must say I think I prefer this one. The cream is to smooth and actually does feel hydrating
I use a couple serums a light face moisturiser and then this every morning

Perfect under makeup

Love this sunscreen! I've never found one that I've liked under makeup that doesn't break me out, but this one is perfect. Non greasy

amazing sunscreen

does exactly what it should ! and more importantly doesnt break my skin out

First sunscreen I actually like!

Finally I found a sunscreen that doesn't break me out! I love the glowy finish this gives and it doubles as a primer under makeup (just make sure it has a couple of minutes to settle before makeup application) the sunscreen scent isn't unpleasant like some and it just make my skin look so healthy and radiant! Love love it!

Really great

I have been searching for an SPF 50 moisteriser for so long and this is really what I was looking for. Nice texture, feels rich and creamy without the stickiness or greasiness of sunblock.

Highly recommend!

Love!

I've been looking for sunscreen that could slot into my daily skincare routine. I wanted something that felt a little more like a luxury and less like a necessity - Sunscreen tends to feel heavy and oily!

This sunscreen looked oily when first applied but sunk into the skin nicely and I feel moisturised. I read on their website they recommend using 5 pumps. I think this would be WAY too much and I'd drown in the stuff! Hopefully I'm still getting enough protection from 1-2 pumps!

First sunscreen I actually like!

Finally I found a sunscreen that doesn't break me out! I love the glowy finish this gives and it doubles as a primer under makeup (just make sure it has a couple of minutes to settle before makeup application) the sunscreen scent isn't unpleasant like some and it just make my skin look so healthy and radiant! Love love it!

Fantastic

I'm always on the lookout for combined moisturiser/sunblock and think this one is a winner. Nicely hydrating and feels great on my skin. Highly recommend.

Truly a multi purpose product!

I have been on an ongoing search for a product which combines moisturizer and sunscreen in one. This is definitely the best product I have found. I was using cosrx àloe 50 + and then tried the Mecca 50+ hydrating sunscreen. They are both great products but I have to say that ultra Violette is very much my clear favourite. It is genuinely hydrating so you really don't need any other moisturiser during the day. You do need to let it sink in for about 5 mins or so but as the day goes on I find that it sits beautifully on my face, doesn't dry my skin out and provides quite a smoothe looking finish. It evens out my skin tone a little and gives off a slight glow. It is the most expensive sunscreen I have ever bought but I think it is worth it because this is the only sunscreen product I have found where I genuinely don't need to apply any other form of moisturizer during the day, and of all the sunscreen products I have tried, I feel most confident in wearing this product on its own (ie on days when I can't be bothered with foundation) than any other product. I am committing to this product now for sure!

Best sunscreen

I have been using daily SPF for years, and I honestly can say this is the best. I have always used high quality sunscreen, so they have always worked, but this one does not irritate my eyes. I literally apply it like serum, over my eyes and all and I still get no irritation. I have sensitive eyes so this is a lifesaver under makeup, so I'm not running my eyes with mascara on. I'm going to find it very difficult to ever use another sunscreen again. Great texture too!

Have tried better

I had high expectations for this sunscreen but unfortunately it doesn't work for me. It comes out of the tube as a lightweight, beige-coloured cream and melts into an oil-like texture as it is rubbed into the skin. When I use the recommended amount, it sits on top of my skin all day and settles into fine lines. I also find that it stings on initial contact with the skin. I don't have sensitive skin, so I suspect this might have something to do with the fragrance in the product. I have had much more success with more affordable sunscreens - I would definitely choose La Roche Posay over this product.

Have tried better

I had high expectations for this sunscreen but unfortunately it doesn't work for me. It comes out of the tube as a lightweight, beige-coloured cream and melts into an oil-like texture as it is rubbed into the skin. When I use the recommended amount, it sits on top of my skin all day and settles into fine lines. I also find that it stings on initial contact with the skin. I don't have sensitive skin, so I suspect this might have something to do with the fragrance in the product. I have had much more success with more affordable sunscreens - I would definitely choose La Roche Posay over this product.

Best I've ever tried!

It's super lightweight and moisturising without the oiliness and gives a lovely glow to the skin. Packaging is perfect - just one pump is enough for even application. Plus protects my skin from the sun and doesn't clog my pores!

Love this stuff!

Was looking for an all-rounder SPF and UVA protector and I love this. I have quite dry skin but prone to hormonal breakouts, and while this feels quite greasy, it doesn't sit like that at all on the skin.
It feels luxurious when I apply it in the morning. Definitely recommend!

Love It, Absolutely Love It

Hands down, the best sunscreen I've ever used on my face. It doesn't have the stickiness that I've found with other sunscreens and the smell is subtle.


Best Face Sunscreen!

I'm totally surprised by this product! Usually when a sunscreen says 'lightweight' or 'non greasy' it turns my face into a big blob of oil. Even with my oily skin it sits great on my face even with a small amount of liquid foundation over the top.
Having a family history of skin cancer removal and having had some suspect marks removed I'm glad to have found something to wear every day to work where I have plenty of intermittent sun exposure.


So nice but not for me

I love the feel of this sunscreen. It applies really nicely, blends in well and it's the most cosmetically elegant sunscreen I have tried (I've tried a lot!). It does not pill at all and sits so well under make up. I have combination, acne prone skin (oily forehead and dry cheeks and chin) and this has a really nice satin finish on the skin. The problem for me is that if I use it more than a couple of days in a row it breaks me out

Lightweight & moisturising

Hands down, the best sunscreen I've ever used on my face. It doesn't have the stickiness that I've found with other sunscreens and the smell is subtle.

Awesome sunscreen

This product is like a sunscreen and primer all in one. I use under my foundation to achieve a glowly look or on its own. Glides on to the skin and the smell is lovely. I use 2 pumps to cover my face. The only downfall is the size of the tube. I wish it were bigger.

LOVE! Wish it was a bigger tube, though...

I use this every day, especially work days. 2 pumps does my face and I usually mix it with 1-2 drops of UV Queen Screen to make it go a bit further on my jaw/neck and also to add a slight shimmer.
As mentioned, it's GREAT as a moisturiser and primer and I was drawn to it because UV added blue light protection - I work in front of screens all day.

Love the creamy,non-white cast too. I also don't find it oily during the day.
I just REALLY wish that it came in a larger tube and also had a lock function on the pump top as I worry that air could get in and dry out what product IS in the tube.


Very hydrating

It blends easily and feels very smoothing upon application. Love the tube packaging, makes it easy to travel with. Doesn't really have a smell like the Queen screen.

Amazing, Love it!!

Absolutely love this product. I use it daily and find that it doesn't make my skin oily and is easy to rub in. Also sits great under my makeup. Have repurchased multiple times and now have my mum and sister using this sunscreen.

Perfect for everyday use

This facial sunscreen is perfect for everyday use as it has a lightweight consistency. It looks and feels good under foundation and the smell isn't too strong compared to other facial sunscreens. I do have naturally oily skin, and during the warmer days, I do feel like this product makes my face appear a little oilier in my T-zone.

Light-weight Holy Grail

This is the first face sunscreen I have used which doesn't feel like I'm wearing sunscreen at all! It's very lightweight and doesn't feel thick or heavy on the skin. Highly recommend and have repurchased multiple times.

Close to perfect

This has one of the nicest consistencies for a heavy duty sunscreen. Its very light and applies nicely. I find it is moisturising enough for my normal to oily skin. It is great under makeup. I wish the tube was larger.

Velvety

I have sensitive skin that find alot of products too heavy. However, I found the Ultra Violette to be a lovely moisturising sunscreen that feels light, not sticky and certainly doesn't have a white cast. My only concern is that my eyes have been stinging a little when I wear it, so must make sure to stay away from the eye region and not to rub eyes during the day.

Use your sunscreen!

Love this! Every one should be using their sunscreen!

Good sunscreen

This sunscreen sets matte and goes on perfectly under foundation and/or primer. It looks and feels like a tinted moisturizer which is nice. I find the smell a bit off putting and would use the Screen Queen instead.

it works

Trying to find a sunscreen that doesnt leave my skin too oily is hard, but this works! There is a tiny bit of oil to it, but it doesnt make my skin break out in acne like other sunscreens

FINALLY

I love this sunscreen so much! Finally a sunscreen that doesn't feel or smell like actual sunscreen (this has put me off wearing it for so many years). Bonus that you're face isn't shiny at the end of the day too! Bit pricey, but worth it in my opinion.

Amazing

I have very dry skin that becomes flaky during winter
This works well to moisturize and protect from the sun and there is no bad sunscreen smell

slightly oily, but liked that

Does leave my skin slightly oily but I like that actually, make sit look dewy. Sits really well under make up. I think it is a bit overpriced though.

The sunscreen I've been looking for

I have never been able to commit to a facial sunscreen in the past. I've always found them blemish-inducing, either too oily or too drying, and they never sit well under makeup... Until I discovered this amazing product!
On application, this feels like a moisturiser. It's lightweight, hydrating, and absorbs quickly, but it doesn't pill or leave a white-cast on my skin. It also has a nice neutral scent (read: doesn't smell like sunscreen!). I have used this every single day since it arrived!

Do your skin a favour

I have fair sensitive, dry skin and I've tried lots of sunscreens. This is by far the best, with 50+ rating, moisturising, non- perfumed and gentle on my skin. It doesn't pill and works well on its own or with foundation. Sunscreen is one of the best treatments for preventing signs of age. This one is brilliant for daily use, I also use it on the backs of my hands.

Sits beautifully under makeup

I've always worn sunscreen on my face every day, and this one is next level. Non-greasy but hydrating, it feels weightless on my skin and sits beautifully under makeup.

Amazingly versatile!

I always wear sunscreen but have found that most 50 spf sunscreens feel dry on my face and make my skin flakey with continued use. This product? AMAZING. I've been using for 2 weeks now and it feels magical on my skin. Highly recommend!

Fabulous!

Another customer for life here! I normally hate using sunscreen. I usually find them greasy and they make me breakout, but not this! This is a pleasure to use. Lightweight, glides on beautifully and sits wonderfully under my makeup. It has a delicate, pleasant smell. I LOVE it!

Feels like moisturiser - so wearable!

Finally a SPF product that I will ACTUALLY use! This feels like an extra boost of hydration to the skin rather than a thick layer of sunscreen that weighs you down. Absolute win!

Cant.Get.Enough

I seriously cannot recommend this product more! It is the first sunscreen I have used religiously every single day. It is super moisturising, without being sticky or too heavy. It doesn't smell like sunscreen, applies without a white film and sits great under make-up. If you haven't tried it, you need to!

Actually wearing this everyday!

Despite it being the cardinal rule of skin care, I have too long neglected this important step, as I get off put by how sunscreens generally tend to feel and interact with my skin/makeup. I thought I would try this sunscreen however, after reading reviews, and I'm now wearing my suncreen everyday - and even reapplying! It's a pleasure to put on, and feels lovely on my skin. I love that this particular one also acts in the capacity as a moisturiser/primer, as it means that it's really easy to put on in the mornings as a no fuss start to getting ready. Feels light and hydrating, and I'm an utter convert!! Worth the price for the investment in your skin.

Not sticky

Good product. Leaves the skin hydrated but not sticky. Great under makeup.

Awesome Product!

I've been using this product for the last few weeks and it has been great! It's definitely moisturising and it protects me from the sun. It doesn't leave any white residue and is quite light on the skin which is what I wanted. It just feels like using a normal moisturiser but it protects you from the sun.

1-2 pumps is enough for my face and skin. I don't feel the need to use 4-5 pumps as recommended.

Would highly recommend this product!

This sunscreen is the bomb

I tried this sunscreen after taking a bit of a dislike to the Queen Screen sunscreen due to its oily/shiny look on my skin, and I have to say I am super impressed with this one.

Extremely moisturizing for me, and though I see this as being semi-matte, it is still much considerably less oily and shiny than the other one and gives my face that 'just right' dewy look.

Its a thicker consistency but it won't feel as thick on your face as you see it when you pump it. I love that it can be dispensed out rather than a dropper which I didn't like with the other.

It leaves no casty residue on the face and does not pill whatsoever- big plus. Absorbs very nicely into the skin with no tackiness either.

This is very much my favourite sunscreen of all time.

I highly recommend this sunscreen to others and will continue to repurchase.

Powerhouse 3-in-1

This is my first daily sunscreen (oops) and does exactly what I wanted it to - not feel, look, or smell like a sunscreen. The light tint of the moisturiser means that it isn't giving a white ghost effect, and the consistency is easy to apply. Being a moisturiser and primer as well means so much less effort in the morning, which is a definite win!

The product I've been waiting for.

I've searched for so long for an SPF product that's not a massive compromise, they're always greasy, pasty and they pill. So this is my new holy grail product! The consistency is spot on, not too thick, the primer is fab, and the tube is easy to use. Love love love.

Light weight!

I purchased this by reading the comments on the reviews, and I'm glad I did. I've got dry skin, especially with the cold, and this sunscreen has been amazing. It stays on all day, and feels like I'm wearing nothing, so light!

Makeup primer effect is added bonus

I brought this for SPF but given it is winter, the sun hasn't really been out. However I have noticed that the makeup primer effect of this product is awesome. I have used many primers before and hated them so this "side effect" from a SPF product was a great discovery. I will be purchasing again

My fave facial sunscreen

What is not to love about this! I have worn this just on top of a serum or face oil and on top of serum, oil-free moisturiser and face oil - and works perfectly either way. I have tried many sunscreens and this by far is my fave and sets the bar high! I prefer it over the queen screen serum. This one is just better suited for my oily and dehydrated skin. HG!

Good moisturiser great sunscreen

Not sure if the moisturiser is hydrating. The consistency is think like sunscreen but it absorbs right into your skin. My Estee Lauder Double wear slides off after a days wear on my nose and forehead. I'll keep using it when I'm outside I quite like it. Just not under my make up

Best choice out of the Ultra Violette range

I've tried all of the Ultra Violette sunscreens and have found this one to be the best. Even though i have more acneic combination skin, I still found it leaves a nice natural finish without being greasy or sticky. It absorbs well, acts as a moisturiser and doesn't trigger any breakouts for my skin. I'm not a fan of inorganic filter sunscreens and the queen screen might be a tad too glowy for me, the supreme screen seems to be the best pick for me out of the 3. I wouldn't be afraid of the hydrating label or claims if you have oilier/acne prone skin- would still recommend people to check it out.

Wonderful sunscreen

Great for my dry skin, and no sunscreen type odor or shine. Very happy with this product.

Amazing!

I'm yet to find a better sunscreen than this!! You only need two pumps for your face, neck and chest to be covered. It's a bit oily at first but dries to a silky matte feel and it's definitely hydrating. I'll definitely be repurchasing.

Great all rounder

This sunscreen is an absolute delight. Great under make-up, no cast or thickness at all and 3-4 pumps gives you the protection and coverage and a great glow as well. I prefer this to the screen queen as it hasn't got any glitter / highlighter through it and doesn't have the strong rose smell. It's also more of a cream consistency than a serum so I find the application so much easier.

Holy grail!

Hellooo new holy grail sunscreen. The texture is absolutely amazing, it's thicker than I expected it to be but it goes on perfectly and you're able to feel what areas of the skin you've covered and what areas you might have missed. I was worried it would be a bit too oily for me as I have combination skin, however I shouldn't have worried because this sunscreen is absolute perfection. It hydrates without leaving a shiny sheen on my skin, and just makes my skin look smooth and healthy. I honestly forgot I was wearing it. The scent is a tiny bit too strong for me, but I got used to it. This is something I'll be more than happy to wear every day.

My Top Sunscreen

Cannot believe I didn't know about this earlier. I used to hate wearing sunscreen because of the grease, smell and sometimes colour. The UV sunscreen doesn't have any of these issues. I'm so happy now I can wear sunscreen everyday - the most important skincare product! There are a couple other products that are also quite good but more expensive than this.

Best sunscreen ever!

I purchased this sunscreen about 3 weeks ago and I'm obsessed. It is super hydrating and makes me look so glowy and dewy. Sits really well under my makeup and is great for everyday use. Will definitely be repurchasing.

Great for dry and dehydrated skin!

As someone with dry skin I love supreme screen! It is very hydrating and sinks into the skin nicely. My makeup goes over the top well. The only down side is that it will occasionally pill around the perimeter of my face (not sure if I'm applying too much!). Other than that, I can't fault it and wear it everyday - even if I'm sitting inside all day!

Highly recommended sun protection

I have heard great things about this brand, I chose this particular one because I prefer a matte finish. I like the pump bottle design and how easily it glides on skin.

The best SPF I've tried!

I'm someone that wears SPF rain, hail or shine. So it's feel and wear is really important to me. My skin is fairly oily, and many SPF's have me turning into an oil slick half way through the day. But not this one! It feels hydrating, but never oily. Drys down really well, and wears well under makeup. It's definitely my new go to!

So good

Such a great facial sunscreen that doesn't make your skin breakout or leave it shiny and tacky. Absorbs beautifully into the skin and is a great base for your makeup

LOVE IT!

I am a sunscreen fiend and this is by far one of my favourite products. It is so light and smells much nicer than other face sunscreens I have used. I don't wear a lot of makeup and tend to be on the drier side when it comes to skin types and this gives my skin a really nice dewy finish, which I LOVE.

excellent

from the moment I ordered online the system pumped out my goods to the door step in 48 hours fuss free....excellent service

Great high SPF sunscreen

Took this sunscreen away on holidays with me and loved it. Moisturising but doesn't feel heavy on the skin. Will purchase again.

Best facial sunscreen!

This is hands down the best facial sunscreen I have ever used. I've always struggled to find one that would look okay underneath makeup, not pill/ball up, and not make me look really oily/shiny. This actually feels really nice on the skin, and I leave it for a minute to absorb before applying makeup (no primer needed). No pilling, great makeup base and doesn't make me shiny! The only con is that I find this is quite expensive for the amount of product you get - the brand estimates that it should only last you about 40 days if you are using the right amount! I'm using less than the amount that the brand recommends (2 pumps instead of 5 pumps) so it should last me longer than that. I love it so much that I will keep purchasing.

Believe the hype!

I really like this product! I'm always a bit hesitant about using products that are spammed all over Instagram but I am glad I tried this one.

I find the formula is thin (but not runny) and still moisturising. I have combination skin and I don't find this makes me oily.

I think it is worth noting that I find it smells like sunscreen - which doesn't bother me.

Definitely will repurchase.

Doesn't feel like sunscreen

This is lovely. It feels light and not like an ordinary sunscreen. I find I am wearing sunscreen more regularly because it's nice to use, which is the whole point!

Perfect for my combo skin

Love this, sits under foundation nicely without moisturiser a tiny bit oily but setting powder fixes it. No sunscreen smell and def no white cast, best of the bunch.

SPF50

I love that this has SPF50! High level of sun protection for a product that really sits nicely with makeup. Doesn't pill or look too greasy

Ultra Violette Supreme Screen

This sits on the skin nicely and has amazing application. It does not make your face greasy or sticky.

LOVE!

I was also super reluctant to try new suncreams after being a loyal purchaser of another brand but after seeing the hype I decided to give this a go. This is an AMAZING product, it is light weight, non oily and gives a nice moisturising feeling. I've seen a different in my skin when using this an really love it :) Can't go without it

Very good

Very nice product and sits beautifully under my make-up. Definitely on the pricier side for a sunscreen but also saves me having to use a moisturiser or primer

Love love love!

I adore this sunscreen! It's perfect for my combination/oily skin. I usually use 2-3 pumps and it goes on smoothly with no white cast at all.

The fragrance is subtle and doesn't bother me at all. Makes my skin look and feel great!

Very Moisturising Sunscreen

I had been on the look out for a sunscreen that provided an excellent level of SPF along with high moisturising properties and this one ticks all the boxes. Being an Aussie girl I know the harshness of our sun and the importance of SPF, but I haven't been a daily wearer of sunscreen (in the past!) because many of the ones I tried were thick and gluggy and just felt so yukky on my skin that I wouldn't bother. I needed one I could wear makeup over and where my makeup stayed put all day and didn't slide off or pill. The Ultra Violette is a lovely light cream that glides on easily. Just one pump covers my face and neck and is my last step after all my serums and moisturiser before I apply makeup. It smells nice, feels very comfortable, is very hydrating and I feel good knowing I am looking after my skin with an excellent product and a high powered SPF. I also love knowing it was created by two clever Aussie girls and I am very happy to put my money behind this fabulous product. Because it is on the expensive side for a sunscreen, I only use it on my face and neck and use a Cancer Council sunscreen for all other areas. That way it will last a good long while. My future self and my skin is thanking me for taking sunscreen seriously!

Love it!!

This is a super hydrating lightweight sunscreen that gives your skin a nice glow. Give it 1-2 minutes to settle in and it's perfect under makeup. Love it, about to buy my 2nd bottle!!

Great

This is a great daily sunscreen, doesn't feel too thick and offers great protection

Best sunscreen I've used

Adore this sunscreen.. SPF50, no greasy film & sits well under my makeup (Hourglass Veil Primer & Estee Lauder Double Wear).
It also doesn't pill over my layers of serums & moisturiser!
Love it.