Ultra Violette Supreme Screen SPF 50+ 50ml 50ml
Skin Type:
Dry
Normal to dry
Normal to oily
Questions & Answers
(5 Questions)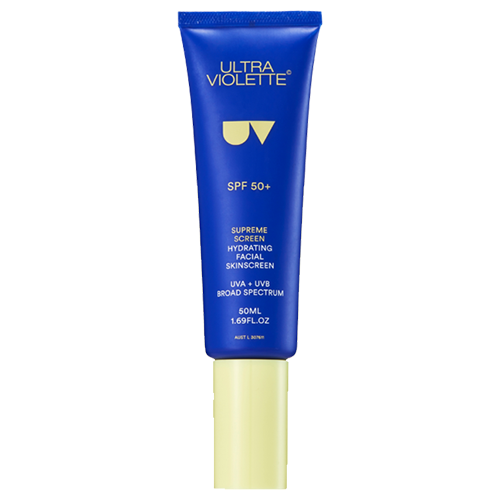 Ultra Violette Supreme Screen SPF 50+ 50ml
Get an expert to answer your question about this product!
Ask a Question
100% recommend this product
Most Helpful Positive
Great
This is a great daily sunscreen, doesn't feel too thick and offers great protection
Most Helpful Criticism
DOES THE JOB BUT A LITTLE TOO OILY.
Sadly this product made my skin a little too oily when combined with my foundation.

I will continue to use on days when I am not wearing make-up as it feels nice on the skin and doesn't;t break me out.

I think I will give the oil version a go next.
Great

This is a great daily sunscreen, doesn't feel too thick and offers great protection

Best sunscreen I've used

Adore this sunscreen.. SPF50, no greasy film & sits well under my makeup (Hourglass Veil Primer & Estee Lauder Double Wear).
It also doesn't pill over my layers of serums & moisturiser!
Love it.

Love it

BEST sunscreen ever. I don't need a moisturiser with it, it smells gorgeous and leaves my skin like satin.

An Amazing Cream!

I bought this cream and let my mum and sister try it. Both immediately bought it after using!
It goes on super smooth and is an incredible base for foundation. I wear it on its own on the weekends and it has a beautiful sheen to it which makes your skin glow.

My Favourite Product!!!

I am obsessed with this sunscreen!!!

I have really severe rosacea so I'm very sun sensitive but haven't been able to find a sunscreen or sunscreen-inclusive product that doesn't make my skin burn and flare up, so it's been a real lose/lose situation. This sunscreen however works like a dream! I have ZERO reaction to it, in fact my face seems to love it if that's even possible! It also forms an excellent base for my makeup and has even made foundations that previously separated and balled up on my skin blend beautifully!

For anyone who has sensitive/troubled skin, this stuff is just- incredible. I'm so happy I splashed out and bought it, a definite repurchase and a definite recommendation to anyone and everyone!

DOES THE JOB BUT A LITTLE TOO OILY.

Sadly this product made my skin a little too oily when combined with my foundation.

I will continue to use on days when I am not wearing make-up as it feels nice on the skin and doesn't;t break me out.

I think I will give the oil version a go next.

love

Super nice consistancy and blends into my skin beautifully. Def an everyday essential

Great product

I have very fair, sensitive skin that falls in the combination/dry category (dry cheeks, oily t-zone). Sun protection is a daily must for me but I react badly to many sunscreens. Not Ultra Violette! This product is protective and hydrating. It goes on beautifully, with no greasiness or oiliness to be seen. I will be repurchasing for sure.

Maybe the only SPF i've ever enjoyed

I was really nervous to purchase another SPF because i've never had much luck with them (I have acne prone skin). This sunscreen is rather lovely, a nice amount of hydration and doesn't cause any breakouts or blackheads for me. More than happy wearing this every day.

Finally!

After trying a plethora of spf moisturisers I've found the one. Minimal scent, no white cast and provides light moisture without being greasy. A little shiny on initial application but soaks in soon after. I have normal to dry skin. I have previously struggled with breakouts associated with sunscreens but not from this. My daily prior was Alpha H spf 30 which I have now switched to this as it is slightly less greasy

Best sunscreen ever

Smells good and goes on so beautiful. The colour comes out nude but doesn't leave any colour or cast on the skin. Feels so hydrating. Definitely worth the price and will buy again. Keen to try the serum version too xx

This is what I have been waiting for!

Finally a product that combines a moisturiser and sunscreen into one, without being heavy and greasy!! It has a lovely consistency and goes on really light and easy. Minimal shine, with a slight tint. On no makeup days I have no need for any other tint/powder/primer etc. I will sometimes layer a serum underneath if my skin is feeling a little dry, but otherwise this is a one stop shop. Love it.

Excellent sunscreen

I heard so much about this sunscreen so I just had to give it a try. I was so impressed. The sunscreen is a nudy-pink colour which was a nice change from the usual white. It applied like a moisturiser (maybe a tad thicker) but still absorbed well into my skin. What I loved the most was that it didn't pill with any other product I used underneath. My makeup applies fine and I don't really need a primer either. Big thumbs up from me!

My favourite UV product of all

As a previous sunscreen hater I've now tried all the UV products and love them all. Clean is great but still an extra step (#lazy), Queen was lovely but I found the serum plus a moisturiser a bit much but it wasn't hydrating enough alone. Cue Supreme... moisturising but not thick or gluggy, perfect under makeup and leaves skin looking amazing. I'd recommend trying all the products but if you only pick one, choose Supreme. My only criticism is why was this not around 15yrs age so 35yr old me could still have 20yr old skin...

Lightweight and perfect under makeup

I have always struggled to find good sunscreen moisturiser, but no more! This product is the perfect lightweight moisture combined with sunscreen that sits perfectly under makeup. I highly recommend this.

Better than Queen Screen

I tried this out and compared this against Queen Screen - and for someone with dry/combination skin, the Supreme Screen wins!

No strong scent, love the packaging, but probably too expensive to repurchase!

Amazing for sensitive skin

I purchased this sunscreen after reading the reviews, it really is amazing. I recently starting using a retinol at night time and it was recommended to me to start wearing a sunscreen. I have tried to in the past and always ended up with little pimples everywhere and could find one that sat well under make up. This sunscreen is expensive but worth it. Feel really nice and gives a dewy finish that I love. Will definitely repurchase!

Best SPF product I've ever used! Not like a regular sunscreen

I have combination skin and find it difficult to find a sunscreen that doesn't leave me oily. Supreme screen glides onto my skin with absolutely no sticky residue or lingering oiliness. I use it everyday in place of my moisturiser. Couldn't recommend it enough. Amazing!

Love it!

Love Supreme Screen - it goes on great under makeup & smooths out my skin, without making it oily!

Definitely recommend to family and friends

I really like this product I use it daily in the morning after cleaning and toning for the days I don't want to put make up on but still have moisture and be protected from sun and out doors as I want to prevent aging so this is perfect in my skin care regimen

Holy grail product

I have always used face sunscreens as I have fair skin and I am prone to pigmentation. I never like using sunscreen - it's more of a 'have to' than a 'want to'. But this product is excellent. It is so light and doesn't feel heavy on the skin. It doesn't leave that awful greasy sheen that sunscreen can leave and it sits under makeup so well that I am happy to wear it all the time. I will keep buying this product from now on. 10/10

Non-greasy and light sunscreen

I have been trialling loads of different sunscreens because I'm in my mid-40's and starting to suffer with pigmentation. The vitamin C treatments I use mean that sunscreen is a MUST. Most of the one's I've tried are either really thick, or greasy and not a great base for foundation
This one has such a lovely feel, is easy to spread (I use 2 pumps) and have now eliminated a primer as I find this acts as a great primer anyway.
Will definitely keep buying this one from now on.

Supreme? Queen? Both?

The Supreme is a great, comfortable, foundation base. I also have the Queen and can't decide which I prefer. Sometimes mix a dollop of both and apply together. I rarely go out without foundation, but if you're a bare-face girl, I'd probably recommend the Supreme as its not as glowy as the Queen. I was a terror for not wearing sunscreen on face because I couldn't bear the feel of it. Both these Ultra Violettes have converted me.

Awesome product

Finally a sunscreen that is compatible with all my skincare products and foundation. Very hydrating and gives my skin a glow. Love this stuff. Will buy again!

Finally found the perfect facial sunscreen

This product is so amazing. It hydrates better than some of my pricey face creams and provides the nicest dewy looking skin. It has a nice, subtle smell and doesn't cause any clogged pores/breakouts. I've even sent a few to family and friends in the US.

New favourite!

Sunscreen has been a part of my daily routine for a while now, so I have tried out a few different ones over the years. When my alpha h one ran out, I thought I'd give this a go, and I'm so glad I did! This is the best face sunscreen I've used. It's lightweight and doesn't make me break out at all, which is so good!

Outstanding product!!

Love, love, love this!
A little goes a long way.. super long lasting, top level spf, fab moisturiser.. and amazing primer.

THE HYPE IS REAL

I still can't believe how amazing this is. I live in the tropics, so I wanted a sunscreen/moisturiser that wore well under make up and had skin care benefits. This is honestly my HG sunscreen now.

Great sunscreen

I've bought the Ultra Violette Queen Screen SPF 50+ and I like this one more. (just because the shimmer is not my thing)

This feels very lightweight when applied, smooth and hydrating.
Great product!

Pricey But Worth it

This product is a bit pricey, but it's completely worth it. I am very pale, I don't wear make-up but I apply sunscreen religiously. I have dry/normal skin, and it did give me a bit of a shiny look, but I always use translucent powder after any sunscreen I apply.

It goes on so easy, and it very light-weight. It doesn't leave me feeling like I'm wearing sunscreen, like other products can.

Incredible!

I've used countless sunscreens in the past and though they may all do the job, none felt comfortable on my skin. Then I discovered this! I have oily, congested skin and this Ultra Violette one does not leave a shiny finish or sticky feeling. Also works great as a primer.

Wow

Regretted buying this because I got the serum one also. Wanted this for my bag, but WOW. It melts into my dehydrated skin and won't leave you greasy. Hands down best ever sunscreen. I'm addicted!

Believe the hype, people!!!

First of all, ordered this Wednesday, received it Thursday, thanks Adorebeauty!!

I have spent a fortune on facial sunscreen over the years, and no matter what they've promised, they've never quite lived up to the promises.
Enter Ultra Violette Supreme Screen!! It actually looks and applies like a primer. A proper primer! One that you don't have to wait to 'sink in' (other facial sunscreens).
And a great primer at that. My skin looked good even with just the primer!

I LOVE this product.

The other bonus too of course, is that it's a beauty minimalists dream - one product replaces 3!!

BUY IT! LOVE IT!

In love!

This is the product I needed in my life. Having read all the glowing reviews, I was so excited to try this, and it's absolutely lived up to my expectations.

I've got very pale combination skin so I need a sunscreen that is high SPF but won't dry my skin out or make me too oily. Somehow this product fits this impossible brief - it's so lovely to apply and sinks in immediately. My makeup looks perfect over the top, and lasts all day too. Super impressed!

Ahh-mazing!

Ok.. I am little obsessed with this sunscreen. After hearing all the hype about it, I knew I had to buy it and see what all the fuss was about. It is an intensely hydrating sunscreen with absolutely no white cast or horrible thick feeling. It also doubles as a primer and was the perfect base for my liquid and powder foundations. Super impressed with this sunscreen will now be my staple going forward.

Love it!

I have tried various sunscreen moisturizes and this is definitely my favourite so far! I have a normal type skin - but it can get a bit oily towards the end of the day. I have tried through so many sunscreen moisturizes and they tend to make my skin look extra shiny/greasy especially towards the end of the day. With Supreme Screen I have not experienced this.The product blends in so well and leaves my skin feeling hydrated but not greasy. Another thing that I love about this product it does not feel heavy on my skin. I use mineral powder on top of it and it sits so well. I haven't tried it with a liquid foundation yet. The smell of this product is also amazing! Overall, I highly recommend this product.

A NICE EVERYDAY STAPLE

I have been using this sunscreen for a few weeks now and so far I'm really loving it!
It is really hydrating and works well under make-up.
It does have a slight scent but nothing too over powering.
Really keen to try the serum version.

Nice and hydrating sunscreen

I really like this sunscreen. I apply it after my serums in the morning and I find I do not need a moisturiser underneath it because it gives enough hydration (and I tend to get quite dry). I am a big fan of Ultra Violette's Queen Screen too - I'm not sure which one I love the most, so I have both and alternate. The only thing I don't 100% love about Supreme Screen is the smell, but it goes away shortly after applying and it doesn't bother me enough to remove a star.

amazing supreme sunscreen

I've recently discovered this brand and I absolutely love it. As it is SPF 50+, I don't find myself stressing needing to reapply more often. I love how hydrating this product is and will definitely continue using this

Non greasy

I've always hated wearing spf cause my skin was oily and hated the feeling of it on my face cause it would just get worse and breakout.
I just started using this last week. It's light weight, feels hydrating and I have piece of mind that I'm protecting my skin from the sun and preventing ageing.
Thank god they brought something out like this.

light and clean feel

I have only used this products for a few weeks but am loving it. I apply it after moisturiser in the morning and it is very light and has a moisturising effect as well. Living in NQ I am very aware of the sun and am glad to find something so protective that feels great too.

Great high SPF moisturiser

I purchased Ultra Violette Supreme Screen about 3 weeks ago. I bought it in the hope that I could use it as my normal daily moisturiser and so far it seems to be doing the trick.
I use it every morning after The Ordinary Hyluaronic Acid B5 serum and I've found it keeps my skin hydrated all day. No white sheen, not greasy. It has a satin finish on my skin, rather than a dewy finish.
I don't regularly use foundation so I can't say if it is a good base for makeup.


WOW. Everyday - FOREVER

I love this sunscreen - and I hate sunscreen. Its an amazing final step to my skin care routine daily, before makeup. Depending on how my skin feels that day I sometimes use over the top of moisturiser, but it can easily act as a replacement for it too. It fills in pores as well, though I always do use a primer over the top for extra makeup stay. It isn't oily or greasy and smells lovely. So happy with my purchase.

I will NEVER look back!

Oh. My God. This sunscreen is AMAZING.

I hate wearing sunscreen. I wear it only because I care about my skin and want to protect it. Never have I found a sunscreen that I enjoy wearing or that works with my makeup - until now.

Supreme Screen was very hyped, but even still surpassed my expectations.

Not only is it reef -safe and cruelty-free, but it does EXACTLY what I want sunscreen to do.

It's hydrating without being greasy or oily, it primes my skin, protects me from the sun with SPF50+, doesn't look like I've had a run-in with PVA glue, and ACTUALLY SITS NICELY UNDER MAKEUP.

I tested this sunscreen under every product I use in my daily routine - every active, serum, toner, foundation, BB cream, concealer, you name it. Did it pill or ball up? Nope. Did it split and settle into fine lines? Nope. Did it behave? YES. My BB cream is especially horrible for balling with everything I wear to the point where I didn't even want to wear it anymore, but not with Supreme Screen.

Honestly, I'm so happy about this product that I would sing it from the rooftops. Do yourself a favour and buy it. I'll be buying it for as long as I possibly can.

LOVE LOVE LOVE LOVE

HOLY GRAIL! I love this sunscreen.
It dries down perfectly and keeps the skin hydrated. No need for moisturiser in the morning with this baby!
I just wish that is was fragrance free; the scent is not strong it is just that I prefer products without fragerence.

Holy grail sunscreen

I have been searching for a reef safe, cruelty free, cosmetically elegant sunscreen for literally years. I am so glad Ultra Violette has come through with this formula. I have oily, dehydrated, acne-prone skin so I like to be hydrated without feeling greasy during the day, something which I have not been able to achieve with a sunscreen until now. This makes my skin feel hydrated and look so healthy and glowy without feeling super greasy or increasing oil production throughout the day. I can use only this during the day as it truly is a multi-tasking product. Also, the pink tint kind of scared me but it totally disappears when rubbed into the skin. Seriously, I have found my holy grail!

Best sunscreen on the market

I've tried almost every spf50 there is, and this beauty takes the cake. Amazing texture and feel, subtle fragrance and non pore clogging it's now the only brand i'll use.
Fabulous worn alone or under make up, it gives you gorgeous skin.

Get some.

I am a sunscreen obsessive and never ever ever go without it. However I often struggle to find really high protection sunscreens that don't either dry my skin out or pill up over my many layered serums. Supreme Screen works really well for my skin type, it's very creamy and hydrating, and doesn't pill or go clumpy even if I apply lots. I also love that it acts as a primer as well, makeup applies beautifully over the top and lasts well. This is my new favourite sunscreen and I will definitely repurchase.

My pick of the Ultra Violette line up!

My skin is normal-combo, and I can definitely get a bit shiny in the tzone by end of day, most days. I'm also prone to dehydration, and my preference is always to address and prevent the dryness that comes with dehydration as much as I can.

So - Supreme Screen is the best option for my skin type, of the Ultra Violette sunscreens. It's a bit of a goldilocks of SPFs - not too light, not too heavy, just right. It feels hydrating enough where I need it, without being too rich where I don't.

I can't give it the full five stars because it doesn't impress me as much as my HG (which costs double the price, so go figure), that said they're pretty similar in terms of texture, protection, and hydration. I'd love for this to contain more goodies like hyaluronic, maybe some niacinamide... Ultra Violette if you're listening I have a lot of ideas :P

If you're quite prone to dryness as opposed to dehydration, I'd recommend giving Queen Screen a whirl instead - although I notice both this and Queen Screen do both sit well on top of moisturisers!

Dream Screen!!!

I have been using Supreme Screen over the top of my multiple-step skincare routine religiously for weeks now and I can honestly say it's the best. I normally get a bit oily by the afternoon but it completely removes that and my skin looks so much better because of it. Looooooooooove it

Sunscreen holy grail

For someone who hates the look of sunscreen, especially when it creates that whitened look and/or finds it hard to find one that works with foundation.

Ultra Violette sunscreen is your new best friend and mine!

It worked perfectly under my makeup (no balling), hydrates like a moisturiser and didn't leave me looking like a ghost!

Not to mention, I have allergies to sunscreen / sensitive skin and this product is one of the very few on the market that I didn't react too!
I've finally found my sunscreen holy grail!



Just right

I was lucky enough to get to sample all three of Ultra Violette's sunscreens, and while I was trying them I felt like sunscreen Goldilocks - too hydrating, not hydrating enough - until I found the one that's just right for me, Supreme Screen.

It's supposed to be a moisturiser, SPF and primer in one, for me I found I still wanted to wear moisturiser with it, even though it wasn't too drying without it!

My favourite thing about this is how well it plays with others - I tried a sunscreen from a different brand last week and it did not work nearly as well with my skincare and makeup, which looked like complete rubbish after 30 minutes.

No white cast, and no stickiness or greasiness. This works so well for me I'm seriously considering a tube for my desk, my bag and my bathroom.