Skinstitut Moisture Defence - Ultra Dry 50ml
Frequently bought with
Please wait while we find a match
Questions & Answers
(No Questions Yet)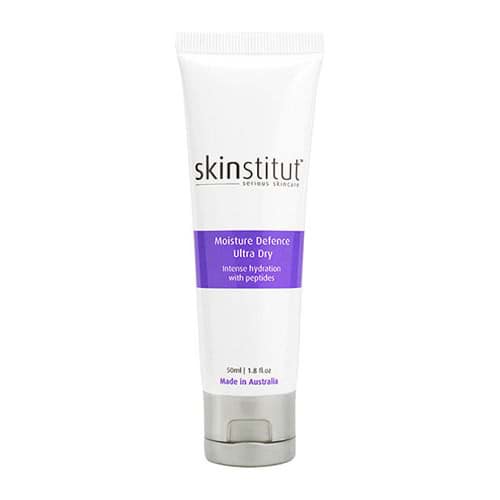 Skinstitut Moisture Defence - Ultra Dry
Get an expert to answer your question about this product!
Ask a Question
90% recommend this product
Most Helpful Positive
Thick and moisturising
Perfect moisturiser to use a few times throughout the week over winter time
Most Helpful Criticism
Good for dry skin
This has helped the dry bits on my skin however cause its so moisturizing its always left a few small red spots like my pores cant breathe through it, but i do like it for winter and when my skin does feel really dry, Would use it once a day instead of 2 times a day.
Great size bottle for a great price.
Thick and moisturising

Perfect moisturiser to use a few times throughout the week over winter time

Best overnight moisturiser

I love using this moisturiser overnight on my slightly dehydrated skin. It refreshes and rejuvenates my skin and I can feel the dryness disappearing.

Amazing!

I have dry, dehydrated skin! I often find moisturisers make my skin feel too oily which makes me not want to use them. UNTIL I found this product! I use it morning and night after I've cleansed and it leaves my skin feeling soft, soo hydrated and not at all oily. I've been using since October and still love it as much as the first time I used it!

Good

This gets absorbed right into my skin and foundation applies nicely over it. This is super hydrating

Lovely moisturiser!

Such a great moisturiser for extremely dry skin! It's very creamy and thick, it soaks in well and makes your skin feel smooth and hydrated.

Thick but Thin.

A super thick consistency on its own but it does spread. When I need a little hydration I mix with Laser Aid. When I feel like a croc I use it on it's own. I have had a little purge in my hormonal problematic area on my chin, this was expected though as I purchased the Moisture Defence to target some eczema in the same area - winning.

This moisturiser delivers!

This is a super thick and rich moisturiser, but absorbs nicely into the skin. I bought it for winter as I felt like my usual gel-like moisturiser from this range wouldn't cut it. I have repurchased twice and really like it.
It doesn't irritate my skin and doesn't break me out. I use more on my cheeks, forehead, neck and chest rather than my t-zone as it is thick and I have combo skin.
Only issue is the size of the bottle! Wish it was bigger because I lather it on at night time!

LOVE

Love all skinstitut products! I have very dry skin, and since using this, I have noticed a big difference in my skin texture and feel. Definitely recommend!!

Wouldn't use it again

This moisturiser has a thick consistency, i found it struggled to soak into my skin.
Sat on top and felt very greasy,
As a lover and dedicated skinstitut cleanser user, i was a bit disappointed


Beautiful for dry skin

This is a great moisturiser that leaves my dry skin hydrated without being greasy. Definitely recommend!!!

Best Moisturiser for Dry Skin

I just purchased this Moisturiser because my skin has been so dry during winter and it is amazing!
Previously I have used the Normal Skin Moisturiser which is perfect for summer if your skin is dry. After using this so the last week my skin is no longer flaky!

Did not penetrate into my skin

having sensitive dry skin, I was excited to try this product as so many people use this brand and love the results. I was disappointed with my purchase as after using this for a week, hoping it would penetrate into my skin, it just wasn't able to. It left my face slightly moisturized and at first i thought i wasn't applying enough but even when i applied quite a bit,the results were still the same. Probably great on others but unfortunately not for me.

Great!

I get really dry skin so need an intense moisturiser. This one is thick but you only need a little bit of it and it's spreads nicely. I've noticed it has kept my face moisturised all throughout the day and night but doesn't leave my skin feeling sticky or oily.

Moisture Plus!

I have extremely dry skin, I use this product day and night. Love how heavy it is. My skin soaks it right up.

Ultra Moisturising

Great moisturiser for night time, or through the day if you're going make-up free; I find it's a little heavy to wear under my foundation.
This is a staple for Winter, especially if you're outdoors or in artifical heating.
For reference my skin is combination: dry, but with an oily T-Zone.

Skin is Feeling Hydrated Already!

I have very dry skin and have tried quite a few products that claim they are 'intense hydrating', but this face moisturiser actually does what it says! It applies really well, isn't greasy and my skin is feeling hydrated already! My only small criticism is that it is a little expensive for only 50ml as I think it will only last me a month or so (but I am wearing it twice a day).

Super hydrating

I always use this in winter when my skin dries out like crazy. It's just super hydrating and feels good on the skin. It's well priced for how good it is.

Lovely

this product is honestly amazing! It nourishes my skin and makes it feel so hydrated and soft! I definitely recommend this product to anyone and everyone, especially if you have dry skin!

My winter go to!

I sue this moisturiser whenever my skin needs some serious hydration. It instantly feels so luxurious and soft after use and helps with any flakey skin, didn't inflame my skin at all!

LOVE LOVE LOVE

This product is ah-mazing!!

Definitely see an improvement in hydration.

I just started using the Skinstitut range to help hydrate my aging skin. I have some dry spots starting and my old favorite brand of 15 years isn't doing the job anymore.

I bought the Skinstitut cleanser, scrub, peel, moisturizer, suncream, serum and mask. It's only been 1 week but i defiantly have noticed improved hydration. My only issue is that I had a break out.

I like this moisturizer and scrub the best.

Love My New Skinstitut Moisture Defence

I've always looked after my skin with good moisturisers and have only just started using Skinstitut products and I'm so happy I have. I us my Moisture Defence cream as a night cream and I mix it with Skinstitut Multi-Active Oil which helps my Moisture Defence glide across my skin like silk. Moisture Defence a lovely cream, doesn't make my face feel tight and I don't feel like I have anything on my face at all. Being a mature lady I need a cream for dry skin but this cream moistures my skin without being heavy. Lovely product.

Love this stuff!

I have really dry skin so this mouisteriser is a blessing. It goes on beautifully and doesn't leave a residue on your face. I've used it for a while now and when I try other brands I always come back to this stuff. Only shame is it doesn't come in a bigger size.

excellent

this moisturizer is honestly amazing! it doesn't make my skin look oily at all but keeps it hydrated all day. doesn't make me break at either, not too thick or thin its honestly perfect

Heavy moisturiser.

I have dry/normal skin. It worked well, although I wouldn't repurchase as there are better moisturisers on the market.

excellent

love this so much it is so perfect and doesn't make my skin oily or breakout at all

Excellent for dry and sensitive skin!

I love Skinstitut products!
My skin is very very sensitive and tends to be dry too. This moisturizer is perfect for me! It protect my skin and leaves it soft and moisturized. I love the smell, it's pleasant and not artificial. Great product!

Holy grail for dry skin

Love this moisturiser - have always had dry skin (especially in the T zone) and could never find anything that would hydrate my skin. I use this every day and can't imagine not having it in my regime

Good for dry skin

This has helped the dry bits on my skin however cause its so moisturizing its always left a few small red spots like my pores cant breathe through it, but i do like it for winter and when my skin does feel really dry, Would use it once a day instead of 2 times a day.
Great size bottle for a great price.

Good hydration

I have eczema skin and this is great on my face. It doesnt irritate and it gives good hydration.

Great for dry sensitive skin

I've been using this for a number of years. Its very hydrating and soaks in nicely without being greasy. I wouldn't recommend this though if you have oily skin, but this is great for very dry skin. I then put a sunscreen on top of this product. Added bonus is buying from adore beauty where its much cheaper than retail. I also have sensitive skin and have never had a reaction with this.

Nourishing Night Cream

I bought this as part of a pack. Would not normally pick something for Ultra Dry skin. It is really lovely though. It doesn't feel greasy at all more light and nourishing. It smells botanical but not overpowering. Love the simply tube packaging that is easy to deal with.

Dry skin

Very very hydrating for dry skin in winter months. Would not really recommend to oily skin types as it is likely to get greasy and oily on you

Highly moisturising non greasy

Great daily moisturiser
Doesn't leave any greasy film feel and absorbs quite quickly
Nice smell and feel

Lovely product

Great product for drier skin. Team up with the rejuvenate serum and you have a hydrating combination

For super dry skin

I have crazy dry skin and this moisturizer has made my skin so much better. I hardly see my skin flaking now. I sometimes mix my vitamin C serum in it too. Totally recommended

Love it

I use this moisturiser every night mixed in with retinol. I have seen a improvement in my skin since using this product.

Fixed my dehydrated skin

I use this morning and night and love it! I've bought really expensive products in the past to try and help my dehydrated skin and nothing has worked like this moisturizer. My fav part is that it even has minimized the fine lines on my forehead!! Can't live without this product!

Extremely hydrating

So hydrating and nourishing

Hydrating

Super hydrating all year round !

Perfect for dry skin

Fixes dry skin spots instantly!!

MOISTURIZING

Leaves skin feeling so nourished and hydrated

Hydrating but smell not for me

I purchased this cream after reading the reviews. Whilst it did add moisture to my dry skin, I wouldn't purchase again as I'm not a fan of the smell. The smell isn't terrible but does have an artificial fragrance to it.

Amazing

Love this cream. My skin is generally very dry. After using this, it feels amazing and I notice a massive improvement.

Love it

I use this at night, really lovely nourishing moisturiser.

Super hydrating

Easily absorbed and leaves skin plump and youthful. Great for the winter months when we can get a little dry

Fab every day moisurizer

I have really enjoyed using this moisturiser, I find it absorbs quickly into my skin without feeling oily or greasy, which is a great thing considering it is for Ultra dry skin. I don't feel as though I usually have dry skin but coming into the cooler months I definitely notice a change in my skin texture. As others have mentioned, the scent is a little off putting. It's not a bad smell, though I think it would be a lot more appealing without that artificial fragrance scent.

Great starter moisturiser

I have been using this moisturiser for over a year and I think I need something stronger now.

It is great if you decide to start for a new moisturiser but just like shampoo; I tend to change my skin products regularly as well.

great everyday moisturiser

i have dry skin, and i needed a moisturiser that would hydrate my skin and help enhance the texture of my skin from all the dryness. this does the job. However, i do feel like i just that extra hydration so i get that plump, hydrated feeling. Which this moisturiser doesn't quite provide. Still a good day time moisturiser to wear under makeup though.

Very hydrating

I think this moisturiser is worth the money, leaves your skin feeling soft and plump, especially by morning. Just not keen on the smell.

Wonderful product

I suffer from terribly dry skin especially in the cooler months. Sometimes it will get so bad that it will crack and become rash-like, then leave small scars once healed. I have not even had a hint of that happening since switching to Skinstitut, more so this product. It is so moisturising but sinks into the skin quickly and beautifully.

Perfect for very dry skin

I have eczema, very dry, sensitive skin. My Clinique moisturiser serves me well during the hot months but outside this weather I need something more to last the day. The Skinstitut moisturiser keeps my skin hydrated from day to night. Its a tad heavy and takes a lil while to absorb but I wouldn't consider this an inconvenience. I find it hard to find products that fit my skin type and offers what I need so I'm very happy with this product. I highly recommend it to anyone with my skin type.

Such a nice product

This is one of my favourite products from Skinstitut. Before buying, I was worried it might have been too heavy or oily for my skin which is normally quite moist in summer, but it's great. Soothing feeling when you apply and feels great if you've got a bit of sunburn too

Great moisturiser

I have mature skin and find this a great night time moisturiser.

Great for a rich night cream

I have normal skin but use this for a rich night cream is great with the skinstitute pure vitamin c

Good for short term use

I have dry and sensitive skin.. This was great at the start, however after i've used it for a while it started irritating my skin and causing breakouts along the jawline.

Amazing! Loved the formula

My skin is very oily and I started getting some fine lines and rough skin after I became 18 as I wear makeup on most days. Back then I was using other moisturisers but they never hydrated my skin this well. It's been a year since I have incorporated this into my daily and night time skincare routine and my skin looks healthier than ever. I have had no more fine lines since then and the previous ones seem non-existent. This product also doesn't feel greasy and the consistency is great too. Totally recommend it.

Love it

I've been hunting for hydrating moisturisers that don't cost a fortune and finally found it. Super hydrating, non-greasy, light cream that is easy to smooth on. My makeup goes on easily after it with no smears. A must buy for dry skin!

Not good for sensitive skin

I have dry, eczema prone skin. I purchased a line of skinstitut products, and found this moisturiser really disappointing! It is extremely thick so not good for a morning moisturiser, and is heavily fragranced (which anyone with sensitive skin knows is a no-no!). I don't know why they would do this! Otherwise it would have been good as a nightcream. But I didn't find it that hydrating... unfortunately I threw it out.

Awesome Mosturiser

This is a great moisturiser for my sensitive skin. Only need a tiny amount but makes my face hydrated and soft. Also isn't heavy or oily like a lot of ultra dry moisturisers. I am committed

Better moisturisers around

I have very dry skin, although this product feels okay I have used much better moisturisers for dry skin

Wouldn't use anything else

Love love love this product. I get dry skin and this product keeps it feeling good all day and night long. A lot of products irritate my skin due to the ingredients but I've had no issues at all with skinstitute

Skinstitut moisture defence ultra dry

This is a great moisturiser for dry skin if you don't want to be left feeling like You have clogged pores or left feeling oily! It does the job! If you have extremely dry skin and are wanting a thick heavy moisturiser then another product would be best suited! It's great for my skin in winter as im aging and starting to feel the effects of dry skin.

Great for dry skin but may break out skin

I recently purchased this moisturizer and used it for three days, only using a small amount on my chin, cheeks and nose (dry areas).
Instantly my skin felt moisturized and less itchy, redness on my cheeks is slowly fading. Yet, I have noticed several Whitehead pimples popping up on my chin area. Like large and pus pimples.
This may be due to me firstly applying the moisturizer to my chin then spreading it around my face? Or my face just adjusting to the new product.
I'll continue to use it as I like how it feels on my skin, i like the brand and only products i use plus my skin is less dry. Hopefully, it doesn't continue to break me out.

Amazing! Especially for dry skin!

I absolutely love this product! It does wonders for my dry skin! I have noticed the texture of my skin improve also! I will puchase again when I run out

For extremely dry skin

This one is best if your skin is extremely dry rather than just slightly . If it's only slightly dry use the normal moisturiser over this one

Super Soft

Although this product initially feels lovely and soft, almost with a slight wet/velvety feel to it, i dont find it has the hydration a person with dry skin would be looking for. It doesnt feel like my skin is drinking water and it certainly didnt make my skin look it either. I found it to just sit alot on the skin and wipe off easy.
Its an average product but not a bad buy at only $34...you could do worse.

Great for dry skin

Bought this for my partner who suffers from really dry skin. Since using this his skin has showed a huge difference. Will definitely buy this again for him.

Light, thick, soak in moisturiser

I was recommended Skinstitut by an online AdoreBeauty consultant for my 50 year old dry, sensitive & red skin.

This product has fragrance added & at least one ingredient containing alcohol.

It's a relatively thick cream that soaks in well and sits comfortably on my skin. I'm not sure it's moisturising enough for my skin as it still feels tight around the edges. Perhaps combined with the Repair Balm and used overnight this might produce the "super hydration" promised.

A Great Moisturiser

This moisturiser proves to be better than expected. I have dry skin around the mouth and the neck, and this cream seems to nourish those areas effectively, making them feel refreshed and protected. The subtle gorgeous scent of this cream is an added bonus. A must-have moisturiser for me.

Super hydrating

This product is amazing - verrry hydrating without being oily or sticky. It also makes my skin look a lot plumper.

A little definitely goes a long way with this - you only need a tiny squeeze! I mix the Vitamin C powder in with this product each morning and night, and my skin feels a million bucks!

It is good however..

I like skinstitut products and bought this one for winter. It was good for hydration without an oily residue, all fine really except, - I wasn't happy to see that it was not fragrance free. I am mindful about the chemicals going into my body so to see "fragrance" included in the ingredients didn't make me feel great.

Good but small amount

I have a lot of the Skinstitut products and most of them are great so I only use this one maybe once a week or fortnight when I feel my skin is getting a little dry. Really lightweight feeling and it does give heaps of hydration and moisture. Great for dry patches.

Smells fresh & extremely moisturising

I love the cucumber smell of this! It's such a fresh scent making my face feel so clean after cleansing & moisturising.
Only a tiny bit is needed & it goes a long way & leaves skin feeling moisturised all night long.

Really hydrates my dry areas

This is amzing for hydrating my dry areas. It has improved my dry, flaky spots

Great for when skin is really dry

I used this after spending a few weeks in hospital which made my skin very dry and irritated. It worked great to rehydrate it but it's too thick to add in my regularly daily routine

Holy grail!

I love this skincare line and the moisture defence is basically my holy grail. Ideal for skin that is coming out of a harsh and drying winter and needs hydration stat. My skin felt smooth and replenished after just one application.

TIP: A little goes a long way. Use as the last step in your routine and don't forget the neck and decolletage.

So far so good!

I've been using this cream every night, mainly under my eyes as I have quite dry under eyes - and so far it seems to be doing a great job. I wake up and my skin feels super soft and I've even noticed a difference when applying makeup - it's not as dry! Great purchase :) definitely worth a try!!

Great for dry spots

This product is great for dry spots but to thick to use on my whole face. I have dry, sensitive that's also prone to breakouts.

Okay product

Bought this product to try and found It was an okay product but not my favourite I find it really thick and it takes awhile for it to absorb into my skin

Great for sensitive skin

This is perfect for sensitive skin, ultra calming and hydrating, and no skin tightness after application. However, my skin is more combination and this can leave me looking a little oily if used during the day.

Fabulous moisturiser

I love using this moisturiser at night on my slightly dry and slightly aging skin. The scent is wonderful and the product absorbs quickly into my skin, leaving it feeling soft and supple. I have been using this product for some time and have been very happy with the look and feel of my skin after using it.

Great for the winter months!

I have extremely dry and sensitive skin and this product works great in combating these skin concerns. It is quite thick so during winter it works well but during summer I find it's too thick to have over your entire face especially if you're sweating. So on hot days I just apply it to the dry areas; nose, cheeks etc...

Feels amazing

Such a good moisturiser, love the feeling of it as I rub it into my skin. Leaves skin feeling thoroughly plumped and moisturised. I usually use after my retinol serum and vitamin c powder

Great spot treatment

I use this for dry / flaky spots on my face. It works great to rehydrate them but by skin is for to sensitive and prone to breakouts to use this on my whole face.

Happy Chappy

Firstly, I LOVE Skinstitut - my skin is so radiant, I am forever receiving compliments since I've starting using their range!

I used to have fairly oily/breakout prone skin but things changed after taking medication for cystic acne. My skin has since become dry and I was worried if I used a thicker based moisturiser, it would make the acne return. To my surprise- it was the complete opposite! My skin is radiant, dewy and doesn't feel dry at all. Highly recommended!!
The only thing I can fault- I wish it came in a larger size as I cleanse and moisturise twice daily.


Great product!

I love this moisturiser, I have tried the oily skin one & that was great as well but find this one being thick is so much better especially during the winter. It also doesn't make my skin oily! I love that you don't need a lot as well.

LOVE THIS!

I have normal / combination skin. But at night after my cleansing ritual my skin becomes super thirsty! I started using oils and then expensive serums in conjunction with expensive night creams but I still didn't feel hydrated, I just felt kind of greasy and my skin would breakout in spots. Then I changed to Skinstitut moisture defense - Ultra dry and it works, I don't need any serums or oils anymore! It's so hydrating that I feel it works as an anti age cream too (bonus). It absorbs nicely, smells good and I only use a small amount at night after cleansing

Thick and potent - great for under eyes

This product works well for my super dry and sensitive skin. It is very moisturing and a little goes a long way. I like to focus this product on my under eye area.

Perfect for dry skin!

I LOVE this moisturiser. I have dry, sensitive skin and my skin just loves getting lathered in this thick moisturiser. Not only is it really affordable compared to other moisturisers I have used in with the same quality, it really hydrates the skin and gives me a beautiful dewy complexion.

Good moisturizer, not for really dry skin though

I originally used the basic moisturizer in the Skinstitut range but during winter needed something more hydrating so switched to this. It definitely provided more hydration but I still ended up needing a serum as well. I have sensitive skin, prone to breakouts and this hasn't caused any irritation. My skin has remained clean and clear. Overall I am happy with this moisturizer but I probably will try something else for more hydration.

Amazing moisturiser

I have eczema and very dry sensitive skin and this cream is amazing. Very thick and does not irritate my skin at all. Highly recommend!

Winter

I would recommend this for winter. This is very heavy and takes a while to absorb but it's amazing for winter.

Smells nice

A thick moisturiser that I used for night time, smells great and did moisturise when I needed it to, but it did cause me to break out a little bit, so beware if you are prone to pimples.

Winter Moisturiser for super dry skin

I love skinstitut products. They form a big part of my skincare regime. I already use the normal skin version of the moisture defence, which I love but wanted something more hydrating. I have combination skin with an oily T zone but dry cheeks and nose (to the extent that my nose peels in winter), This ultra dry version is significantly thicker and heavier than the normal skin version. It does moisturise quite well but I find I get some little pimples here and there. I don't usually suffer from acne.I wish they would make an in-between version for "dry skin". I think I would suit that better. Still I would purchase this product again for the winter months.

It's okay

I find this moisturiser quite thick and heavy and I also find I need more than a pea size amount as it doesn't blend easily. I've been adding two drops of the facial oil in to it to make it blend better. My skin does feel moisturised though so it's doing it's job!

It's alright

I love thick moisturisers and this is that. But nothing else to rave about. Just an average moisturiser. I did notice some pimples coming along whilst using this but I was tying out another product at the same time so I'm not sure which caused them.

Intensely moisturing

This is a great moisturiser for dry skin, although it's a very thick consistency so I found the best way to use it was to rub it between my fingertips before applying it to my face - that way it went on much smoother.

Not a fan

It did what it meant to do, moisturize my skin, however it also gave me pimples and clogged pores on my forehead. The smell is overpowering and I really am not a fan.

Heavy on the skin

As a person with dry skin, I do like this moisturiser, however its not my favourite. I did find it to be a tad on the heavy side and feels slightly uncomfortable on my skin. (It transfers onto my pillow quite easily- it doesn't sink into my skin like other moisturisers do.)