philosophy the microdelivery exfoliating facial wash
Skin Concern:
Dull, dry or dehydrated skin
Pigmentation, uneven skin tone
Skin Type:
Dry
Normal to dry
Normal to oily
Oily
Questions & Answers
(No Questions Yet)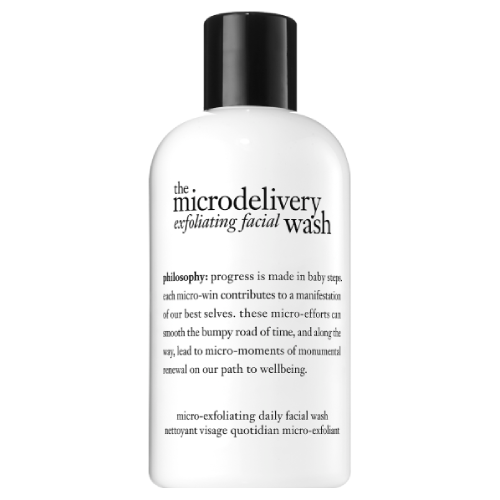 philosophy the microdelivery exfoliating facial wash
Get an expert to answer your question about this product!
Ask a Question
85% recommend this product
Most Helpful Positive
Gentle
Been using this product for almost one year and I can definitely see a difference.
Gentle

Been using this product for almost one year and I can definitely see a difference.

Great

I have used this cleanser for YEARS and it is absolutely, hands down, the only face wash I will use. I have had more compliments on my skin than ever before in my life. I am 68 years old and am constantly told that I look YEARS younger. I truly believe this product has been a huge help in keeping a youthful appearance. You cannot beat the value if you get the 32 oz size

Gentle exfoliation

This gives a lovely light exfoliation due to its gel-like consistency and really fine granules. It does a good job of exfoliating without feeling like it's too rough. Great value for money too - I use it twice a week and I feel like this will last me at least a year!

Not for my sensitive skin

This was a bit harsh on my skin. Redness, tight. Can see how it would do well for someone with normal - oily skin though.

So Good

Love this exfoliating face scrub.
My skin has never felt so smooth and soft since purchasing this late last year.
A little goes a long way, I have had this over 6 months and I am only just starting to run out!
Great to use as a body scrub also.
Gently yet extremely effective so it does not irritate my sensitive skin.
Really is like the name says microdelivery as it leaves skin feeling renewed just like a microdermabrasion does.
An absolute favourite.

Brilliant

Love this. Smells yummy and leaves my skin feeling and looking fresh. Gentle enough to use every morning

Another philosophy product I tried

But didn't decide to buy the full-size version

10/10

I enjoy this product I got it as a sample and I was totally amazed by it. Made my skin feel so smooth and soft and smells so good too !!

Philosophy can do no wrong!

I love incorporating this one into my skin routine. I use products with exfoliants in them daily already so I often just use this once or twice a week. But fine to be used on the regular. Leaves the skin feeling squeaky clean but not with that tight feeling!

Love the brand

This is very first exfoliator and I was really worried my sensitive skin would freak out, but its actually a really nice product, its not too harsh and its helping with those horrible white dots a I get on my face!

Great Exfoliate

I love this product, I was sent a sample size and then ordered the full size as soon as that ran out. I have combination skin, regular breakouts and a lot of congestion around my nose that this really helps with. It smells really nice and is really good value for money. I do agree with another review left here that the product is very thick and it is a little annoying trying to get it out of the bottle at times. I leave it upside down in my cabinet to help this. Other than that it's great!

Fine scrub

This is a great physical exfoliator, the particles are very fine.
I do find it a little scratchy sometimes, but those used to facial scrubs will like this.
It has an orange scent which is nice.
This reminds me of the Microdelivery Peel, which is also great, but this is one step so it's faster and more convenient.
The only problem is the product is so thick that I cannot get it out through the lid and I have to unscrew the cap completely to get it out of the bigger opening.


So good!

Adore sent me a sample sized bottle of this as part of their birthday promo and I LOVE IT. It's a good deep scrub without stripping my skin - my skin feels so soft afterwards and not at all dry. I can't wait for my current scrub to run out so that I can switch to this.