Olaplex No.5 Bond Maintenance Conditioner 250ml 250ml
Is this for you?
Change your hair game with a genuinely restorative conditioner. Specially formulated with Olaplex signature ingredients that restore the bonds in the hair, Olaplex No.5 Bond Maintenance Conditioner delivers on hair that looks healthier, feels more manageable and is more resistant to damage.
Cruelty Free
Vegan
Sulphate Free
Hair Concern:
Breakage and split ends

Colour protection

Dull, lacking shine
Hair Curl Type:
Curly

Straight

Very curly/African/Caribbean

Wavy
Frequently bought with
Please wait while we find a match
Questions & Answers
(3 Questions)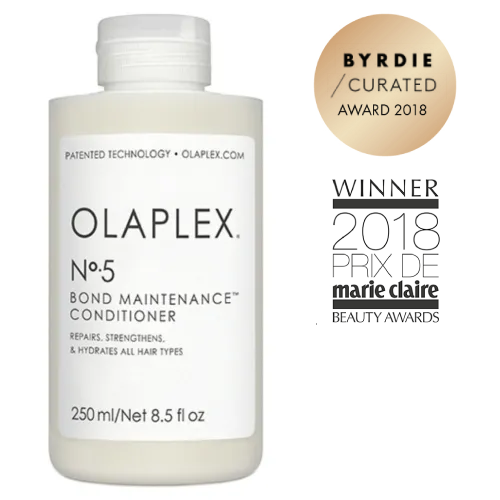 Olaplex No.5 Bond Maintenance Conditioner 250ml
Get an expert to answer your question about this product!
96% recommend this product
Most Helpful Positive
Feels like a mask
This conditioner works like a mask I love it!
Most Helpful Criticism
undecided
not sure if I like this, it makes my hair feel kinda weird, like a bit thicker but at the same time a bit dry
Feels like a mask

This conditioner works like a mask I love it!

Thick and rich

I feel I do get results from this, if I skip this and use a regular salon conditioner I feel it drys out quicker before the next wash. Only downside I found it a little too thick to easily apply though mid to ends but in saying so was easy to leave in for a few minutes and didn't drip out.

Nice smooth hair

I have been using 3, 4, & 5 for the last 6 weeks and have noticed my hair feels smoother and not quite as frizzy. My hair is thin and very curly, so still get some frizz.. hopefully that will ease more and more as I use this more.

Quick results

I have dark brown, really thick and long damaged hair from colouring and straightening so much. After the first use of this conditioner I instantly seen results, my hair was smoother, less knotty, healthier and shinier. I love the creamy texture of the conditioner and smells really nice too. A little bit goes a long way too so you don't need to use too much

rich

like this a lot, the scent, the richness, leaves my hair so smooth!

HAIR SAVIOUR!!!! HOLY GRAIL

I had really damaged hair due to bleaching, I had tried SOOOO MANYYY products before this and nothing had made an improvement!! Within a week of using this shampoo & conditioner my hair felt so much healthier, was super shiny and was far less tangled. HIGHLY RECOMMEND!!
WORTH.EVERY.CENT.

undecided

not sure if I like this, it makes my hair feel kinda weird, like a bit thicker but at the same time a bit dry

Love love love

A little goes a long way so don't fret over the price, it is worth every penny. I have noticed a massive difference in my ends. They are so much smoother and softer now as opposed to when they were dry and damaged from colouring and styling! Also, it smells divine!

Excellent conditioner

This product is amazing! You only need the smallest amount. I use it with the shampoo 2 times a week and it has changed my hair. I have dyed my hair blonde for 15+ years. It has grown more in the last 6 months (since using this product with the conditioner) than it has grown in years. It is a game changer. I recommend it to everyone, particularly if you dye your hair!

Luxurious

I use this with the shampoo and my hair has become so silky and healthy now! I am so happy!

Liked it

I was a skeptic. This is a great product. I was surprised to notice a difference in only one use.

makes my hair feel dry

I bought this in conjunction with no.4 and strangely, this makes my hair feel dry! It feels rich when I put it on, but when I rinse it out, my hair feels kinda straw like

THE BEST

This conditioner was recommended by my hair stylist. She said if I'm to decide on 1 thing from her recomended product list this should definetly be it.... and I'm glad I did.
It hydrates my colour treated,south asian curly, dry hair like no other.. I have tried everything I could find in drug stores to give my dry damaged hair some life and this is the only one that worked like a charm. The smell is divine and it results in great smooth and soft hair.. love it.. I wish it came in a bigger bottle (like a 1litre bottle) :) worth every penny!

Not amazing like the shampoo

I've been using this product for six months and have noticed 0 difference in my hair. The conditioner is also not that moisturizing so i feel like I always have to go in and use a second conditioner after it. For the price point and brand, I expected a little more.

Amazing

I love this conditioner. Works really well with the shampoo. leaves my hair feeling very clean and smooth. also helps to take away the frizz from my hair

Highly recommend

This conditioner is so great for dry hair! I have used for a few months now and can really see the difference. Highly recommend along with the shampoo!

Great

Love the conditioner, it leaves my hair silky smooth. Great for dry and frizzy hair. I use it together with the shampoo and they are amazing. Definitely recommend.

Great

Fantastic conditioner that works really well when coupled with the shampoo. I have long brown hair that is medium thickness with oily roots and dry ends. This smoothed my hair really nicely and gives my ends the moisture they need. Leaves your hair looking and feeling lovely and healthy

Doesn't compare to the shampoo!

This product was great, but compared to the shampoo - it let me down a little.
The shampoo is amazing, you need the SMALLEST amount so you really get your money's worth but the conditioner you need a lot of, I couldn't afford to keep buying and getting my money's worth.

Salon quality hair every time you wash!

I have thick, dark brown hair with a very bright blonde balayage. I use Olaplex 5 as my go-to conditioner with Olaplex 4, washing my hair every 4-5 days only.
My hair is always so soft, shiny and smooth. I often have to remind myself to not touch it so much. Just remember - A little product goes a long way!

The only thing I would say is that I do need to tone my hair more regularly as I am not using a colour shampoo now.

great for dry frizzy hair

my hair is long (to my hips) a small amount goes a long way this lasts for ages! my hair is no where near as frizzy when i use this with the shampoo. this saved my hair even if its a litte expensive

BEST conditioner

The best conditioner I have ever used! My hair gets super dry and tangly and this does an amazing job at hydrating and repairing my hair. Nothing works as well as this at making my hair soft, shiny and looking healthy! Another plus is that
you don't have to use a lot of it I find so the price
is worth it!

magic!

I just got done leaving a review for no4 and I def could not leave without giving my experience with No5! I have very coarse curly blonde hair finding a conditioner that is moisturizing enough for my curls without weighing them down has always been the biggest issues with conditioners Finally after using no5 I have found my true love! My blonde hair has a glorious frizz free shine since no5 has drastically cut the frizz also it's amazing how moisturizing it is without weighing my hair down. My hair has bounce my curls are in heaven and I will never go another shampoo or condition without Olaplex! Seriously it has changed my hair in the best way! Also the use of no4&5 with no3 = hair goals! I promise the investment is worth every penny!!!!

Great conditioner

This conditioner is so lovely! It smells amazing and has really helped my hair with breakage

Love this for my very dry damaged hair

Best conditioner I've used - a staple. Yes it is pricey but lasts a really long time. This is perfect for my very dry, damaged and thin hair. Love it. Note it is super thick. If you have thick hair prob not a winner but for my fine hair it is perfect

smoooth

it leaves your hair so smooth in just minutes. i use it just once a week and does the job. i have dry and colored hair but after using this they get so smooth

my go-to!

My absolute go to brand for conditioner and shampoo. This product is amazing!!

love this

Love this conditioner, its nice and thick, you dont need much, my hair is really thick and it coats every strand. it feels nice afterwards, my daughter has started pinching it!

Do it

Great conditioner that works well with the No5 shampoo. Highly recommend getting the pair!

Amazing

I have seen amazing results when using this in conjunction with the shampoo. You only need a tiny amount. It has really saved my hair!

love

I love this. I have dry and coloured damaged hair and this leaves my hair sooo soft and moisturised. My only complaint is I wish it came in a bigger bottle because I go through it in about 2-3 months. But I often need a lot of conditioner to detangle my hair. Even though it is expensive I'll probably keep buying!

It's a yes from me if you can afford it...

I've only started using this with the no. 4 shampoo and the pair works well together. After my hair is dry you can really notice the strength and shine. My roots are my natural colour (brown) and my ends are bleached blonde. Can I just say my natural hair looks so healthy and amazing when I wash my hair with Olaplex products. As for my bleached hair after using the no.3 - no. 5 , they have really improved the integrity of the hair. LOVE

Great product

I love the number 3 treatment and wanted to give the newly released shampoo and conditioners a try. The conditioner is a thicker one that I normally am used to, I do store the bottle upside down as per the instructions and that helps dispensing it. Even though it is thick it does not weigh my hair down and does a good job nourishing my dry ends. I do feel it helps with maintaining the health of my hair (colour treated and damaged) and look forward to seeing continued results.

Great with the Shampoo

I have both the No.4 Shampoo and No.5 Conditioner, both of which I love. I have thick and long wavy hair which I only wash once a week, which is something it took me a while to train my hair for! When I first started using the conditioner, I found my hair getting quite greasy. Then a colleague told me her hair stylist had told her to only apply to the very ends and not near the scalp at all. Works like a dream!

Pretty good

I used this in conjunction with the shampoo and no.3 at home treatment. This one would have to be my fav out of all of them.
I usually leave this in for 5 mins before a wash it out and works just as good as a deep conditioning treatment.
Def repurchase and the scent is nice and subtle.
Keeping my dry bleached hair from further damage


No change in my hair

Have used the No.3 product after reviews. I have naturally thick curly hair which goes frizzy with humidity and rain, even with products. After 3 times, I see absolutely no change to my hair. Maybe it only works on straight hair!

I tell anyone who will listen to use this

Another Olaplex winner! I think my hair felt stronger after the first wash. All I hope is that they bring out No.6 as a leave in conditioner then my regime will be complete!

Lovely product

Nourishing conditioner that doesn't weigh my fine hair down.
Perfect to use with Olaplex shampoo.
Definitely recommend!


Repeat Buyer

Love the product, cant stand the packaging.

My hair is much improved by using this brand.
You need to store it upside down.
The conditioner is very thick it can be hard to get out.

Despite the packaging the contents are worth it.


Soft and Stronger already

I started using this conditioner 2 weeks ago and I can definitely feel the difference already! My hair is constantly soft instead of a straw-like feeling. I have also noticed that when I brush my hair, i see less breakages! Highly recommend especially if you have been dying your hair for years. Smell is great which is always a plus!

Gold standard of conditioners

I've been using olaplex no. 3 treatment for about 10 years and tried the no 5 conditioner when my hair was really damaged, I was using fanola purple shampoo so I just got the conditioner. It's a really restorative conditioner without making your hair super heavy and flat. Even though the bottle seems small you only need a small amount so it lasts as long as a normal larger bottle would. Definitely worth the money.

The best for colour treated hair

Bought this and the shampoo after having great success with the no. 3 treatment. My hairdresser uses olaplex too, and recommended I try this. My hair has stayed healthy throughout a transition from box dye black to lighter brown with using this system. I let this sit for a few minutes while I shave my legs etc, and my hair feels amazingly soft and silky afterwards.

Recommended to 3 friends already!

Ok so the first wash was just ok.
Then I tried it the second time and wow, my hair feels so strong! And thick and luscious, I just can't believe it. Definitely worth the money!!!

Love this conditioner!

After one use I could instantly feel an improvement in my hair! My hair is thin and delicate and after using this conditioner my hair was so much more manageable, I could easily brush it without knots.

Amazing product

Amazing product. Made my hair feel amazing after the first use. Helped with frizz and split ends.

So good!

My hair is bleached and thin and at risk of breakage if I'm not taking care of it. I used an average shampoo and conditioner and my hair felt super dry. So I bought the Olaplex. Left it in for the 3 minutes and combed it through. ...WOW! My hair felt soft and bouncy and shiny and stayed that way all week. It now feels healthy and strong. A seriously good product. I'm sticking with this one

The best conditioner

The best conditioner I have used. Quickly I have seen a big improvement in the health/strength of my hair. Smells great and a little bit goes a long way. Had for 15 weeks now and only used a quarter of a bottle

Awesome conditioner!

I highly recommend this product! I have coloured blonde hair, which can get dry and brittle, but using this together with no 3 & 5 has strengthened my hair, and leaves it feeling healthy between salon visits. I have been using no. 3 for a long time, and the new shampoo and conditioner has really helped my hair to stay shiny and healthy - and grow! Only complaint with the conditioner is that it is quite thick and can be hard to dispense from the bottle so you will need to store it upside down.

Stand button on head

This is a great product, easiest to get out of the bottle if you stand it on its head in the shower. I would say of all three products (no.3-5) this is probably the least important, but it is still a really great product. no product build up which is important for me as i have thin hair - it also smells great! bonus1

In love with this conditioner

Hands down best conditioner I've ever used along with the shampoo and treatment. Only need a small amount and leaves your hair feeling so amazing and my frizz after washing has been very small ever since I started using.

Best of the best

I adore this conditioner. I use it in conjunction with the treatment and shampoo and my hair has never looked better. Great value for money as you only need a tiny amount!

omg wow!!!

WOW. im so happy i stopped using drug store shampoo/cond and started using these. my hair is so healthy its unbelievable. i no longer have to blow dry my hair for the frizz (luckily my hair is already dead straight) because i have no frizz at all.. i dont even need trims as often because the ends of my hair are so much healthier.

i do, however, need to use a lot more conditioner rather than shampoo since my hair is pretty long. but thats on me not the product. its still great will continue to use . worth the money! your hair will thank you

Love it!

I love the consistency and thickness of this product. It not only compliments Olaplex no 3 and no 4 perfectly, but really hydrates the hair making it less frizzy and fragile. A little goes a long way so I feel it's great value for money too.

Not Wow'ed!

I purchased this product after my hairdresser recommended it. The standards I set for it was extremely high especially after how happy I was with Olaplex No. 3. I use it in conjunction with the No.3 and No.4 and sometimes in replacement of No.3 for a deep cleansing treatment. Unfortunately I am just not sold on it. Wouldn't buy again.

Game changer

This conditioner is absolutely amazing. It really does repair my dry, bleached hair!
I love the sticky consistency of the product, it melts into my hair and when I wash it out my hair feels brand new!
I am able to style my hair a lot easier and my hair is actually soft, without feeling weighted down.
Definitely worth the price. It will last a long time, as you don't need much!

Love it

Such a lovely thick conditioner, a little goes a long way. Feels magical after step 3 and 4. Have also used for a mid week cowash and it doesn't weigh the hair down



amazing for blondes

I've been blonde for many years now and this has honestly saved my hair since my hairdresser suggested i start using it. It restores your hair bond and limits breaking!

Super Nourishing

I love the texture of this conditioner, it's thick and nourishing! A small amount goes a long way and it easily attaches to your hair. I have very fine, colour treated (read bleached) hair and it doesn't leave my hair flat or greasy, like a lot of drug store conditioners do. But at the same time it feels hydrated and soft. Everything you want in a great conditioner!

Can't live without it

My poor hair has gone through so many colour treatments that my hairdresser won't let me change it anymore. It is fairly frazzled on the ends but an hour with olaplex and a shower cap on top helps keep it feeling strong and smooth. I wash my now blonde hair twice a week, once with the olaplex treatment, and once with toning s&c and this seems to keep it light and strong at the same time.

THE BEST

Best Conditioner and also goes a long way worth the price. This product works so well with the treatment. Has helped my hair grow!. Worth paying for only need a little bit lasts about 4 months.

Love it

I bought this to go with my number 3, after being so impressed by the results and this didn't disappoint either! I've only used it a few times with the shampoo but my hair is already noticeably softer, and feels less dry/damaged will be repurchasing!

Amazing product makes your hair luxuriously soft

Amazing conditioner, leaves hair soft and silky. Product is thick and creamy and so very nutritious for your hair. This product is a must have.

Great overall

I really liked the olaplex treatment so were super excited to see this come in! Not a great product by itself but amazing when used with the shampoo and treatment. Makes your hair super silky and tangle free.

Amazing!!

I was skeptical about getting this due to the price but it is worth the money! Best conditioner ive used and has really helped my hair long term

Best conditioner for fine hair

I've been using this conditioner along with the Olaplex shampoo and at home treatment and my hair has never felt so soft! For so long I have struggled with extremely dry hair and constant breakages but this has improved all of that! My hair is very fine and tangles easily but not anymore whilst using this conditioner! My hair looks softer and just feels stronger.

LOVE

I have only used twice so far after using number 3 and oh my. My hair is so so soft and shiny. I adore these products already.

Great conditioner

I was hesitant about spending this much on a conditioner but a little really does go a long way and my hair loves it. I have pretty easy hair, but it does tend to dry out a bit and it's coloured so this conditioner really treats it - nourishing and moisturising without going over the top. Love the smell, a new favourite.

will repurchase!

I expected to love this conditioner and I love the Olaplaex 1-3 and this did not disappoint. A little goes the longest way and my hair is so soft and the ends are really healthy looking after.

new fave shampoo

I was expecting to love this new olaplaex shampoo and i wasn't disappointed. it didn't dry out my hair and a little goes such a long way I used too much my first wash, you only need a small amount and it lathers nicely.

Will be repurchasing

It does wonders, I was iffy about the process when purchasing this but I do not regret it because you are getting your money worth. I have very dry, bleach ends and thin hair and it feels like my hair has restored itself. It is a thick conditioner but doesnt weight it down once you wash it out which is a bonus because most conditioners tend to do that when you put even just tiniest bit. This one doesnt. I've been using this for 2 months now and I know once I finish the shampoo and conditioner, I will repurchasing. Beat investment ever.

Best ever - hair is soft again!

So after bleaching up from black and my hair being so damaged and dry I was very excited to start using this.
You don't need much product at all - it's very thick ! The fragrance is amazing but most importanly the results - i can't run a comb through my hair usually.
After using the shampoo and conditioner my hair is sort, smooth, manageable and I feel like it is breaking less.
This was recommended to me by a friend and I can't thank them enough!

Amazing for hair loss and to grow long hair

This range is amazing ! I bought this after using the olaplex no 3 treatment and saw the incredible results of my hair not falling out . I have fine hair , colour treated and have keratin straightening . My hair was severely damaged by hair dresser years ago and I had to have extensions as it became so sparse, dull and for years it would not grow past my shoulders until I found the Olaplex no 3 treatment. This range is amazing. The conditioner is thick and yet it doesn't weigh down your hair. I use about a five cent price for the shampoo and double for the conditioner . It really is amazing to rebuild your hair . It gives shine and helps with fly always however since using this and olaplex no 3 treatment I have so much new hair growth that I also alternate with the oribe shampoo conditioner for brilliance and shine and oribe styling products for brilliance and shine which adore beauty also sell . Thank you Adore for stocking such high quality products that actually work ! I had such beautiful hair and have been devastated that nothing has helped repair it until now . Please try this range it is amazing! And please try the olaplex no 3 treatment your hair will be so full and long and healthy, you won't regret it .

Gorgeous

I've been using this (with the shampoo) for a few months now. I've noticed that my hair isn't as easily damaged or as frizzy. The smell is also gorgeous.

Perfect conditioner!

I cannot get over how amazing the shampoo and conditioner are. Olaplex did such a great job on them. I have quite fine hair and most conditioners weigh it down and make it look super oily, but I haven't had that problem with the Olaplex conditioner. My hair looks and feels amazing and you literally need the smallest amount of product for a big payoff. Price is a bit $$$$, but it's definitely worth it!

unbelievable

I was so pleased when I saw that Adore was going to stock the shampoo and conditioner, I had been waiting to purchase as I prefer buying everything through adore.
I already have been using No.3 religiously for years along with the 1 and 2 whenever I colour my hair. I have long balayged hair that is naturally a level 5 so I have quite a lot of lightening. I find the Olaplex keeps my hair stronger, it still breaks but my hair never 'melts' off like it used too before I discovered Olaplex. It has helped me grow my hair to almost bra strap length.
So anyway, the conditioner is truly amazing. It is so creamy it's almost like a treatment. I'm pretty sure I'm using too much, I need to stop treating it like a regular conditioner that I just load up on. I've used it twice now and I really enjoy it. I'll keep using it until it's no longer on the market xx


Another great Olaplex Treasure

Used in conjunction with No 3 treatment and No 4 Shampoo- this was a great conditioner. I found it best to only used a pea size- with frizzy hair I always thought to use more. Its light but effective (particularly if you have done a treatment previously before shampooing/conditioning.) Smells good and a little bit goes a long way. Its a strong yes from me!!

Blown Away!

WOW!.........I cant even......
I was excited when I heard Olaplex were creating No.4 and No.5.
I received my Olaplex No.4 Shampoo and NO.5 Conditioner a week ago and I am in love!!
At first I was a little put off by the price, however, you only need a small amount - I use a 20c piece size amount for my hair which is just below my shoulders.
After 2 washes I can feel the difference!!
A MUST HAVE!!

It's the best!

I cannot get enough Olaplex in my life! 3, 4 and 5 have been heaven sent. The condition of my hair has never been better.

I love it! So does my hair

I've bought both 4&5 and I love them both! The condition of my hair has never been better. Smells lovely, I just can't get enough Olaplex in my life!