Official Stockist of Medik8
Medik8 products ship within Australia only.
Medik8 is a pioneering skin research company, working in the field of 'sensitive skin green cosmeceuticals' that give results ... without the irritation! The carbon-neutral company uses natural ingredients whenever possible and is dedicated to bringing professionally formulated, highest quality, and 100% paraben-free skincare products to market. Medik8's development team consists of biochemists and pharmacologists with over 40 years of combined experience in skincare research and product formulation.
All the brand's products are processed in small batches to ensure freshness, stability, and potency. Medik8 incorporates the best ingredients at the correct strength to address common skin problems such as hyperpigmentation, blemishes, and hypersensitivity. For example, a particular antioxidant actually loses potency when in concentrated form. The development professionals at Medik8 research the correct concentration that will deliver the best results.
Medik8 is proud to tailor its formulas to different skin types and needs. Through intensive trials, Medik8 has determined that vitamin C, vitamin A, hydroxy acids, and sunscreens are the best ingredients for age-defying skincare. Such ingredients remain stable and are effective at addressing dry lines and wrinkles while moisturising the skin.
www.adorebeauty.com.au is pleased to offer Medik8 products as recommended by Alexandra Raymond. Medik8 products contain high levels of active ingredients and are recommended for use in professionally monitored regimes
Showing 20 products of 62.
---
Recent reviews on Medik8 products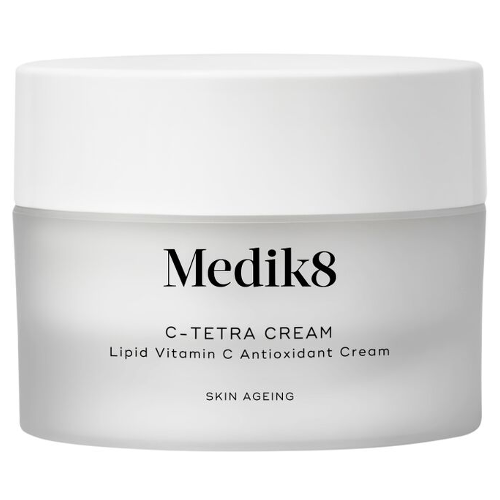 Medik8
Medik8 C-Tetra Cream 50ml
$98.00
GOOD MOISTURISER FOR SENSITIVE SKIN
With the sensitivity of my skin, it was a gamble buying this as my skin can be highly reactive. I'm so glad my skin took it well! I didn't get any irritations. I also liked that it's a moisturiser with no sunscreen as I am really picky with my sunscreen - being a physical sunscreen, not chemical!
I love the vitamin C smell in this cream, and know that it's doing good for my skin with all the antioxidants packed into it. Also love that it's vegan and cruelty free! We need more of these products!
The scoop it comes with is also great for hygiene!
Hydrating but light enough for the day!