Skin Type:
Dry
Normal to dry
Normal to oily
Oily
Frequently bought with
Please wait while we find a match
Questions & Answers
(No Questions Yet)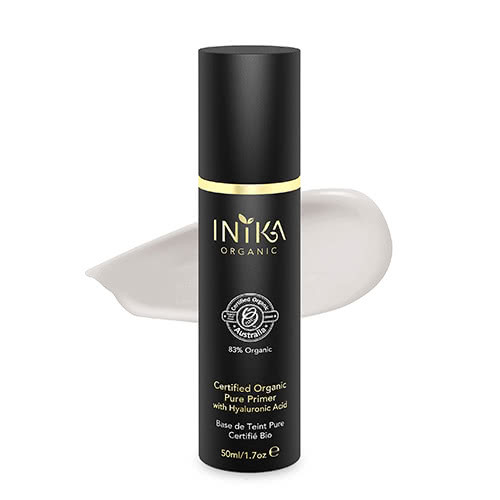 Inika Pure Primer
Get an expert to answer your question about this product!
Ask a Question
79% recommend this product
Most Helpful Positive
Great primer
Received this as a sample but I really like. Great texture,smells lovely
Most Helpful Criticism
average
love how glowy it makes my skin look, although on my nose where my pores are larger it doesn't minimise them enough for my liking!
average

love how glowy it makes my skin look, although on my nose where my pores are larger it doesn't minimise them enough for my liking!

Great primer

Received this as a sample but I really like. Great texture,smells lovely

Perfect primer!

This primer is so nourishing, and the ingredients are so good for you, and ethical as all are certified organic and cruelty free. This primer smells wonderful, and is long lasting and really grips the foundation.

Does the job

I like this primer but it isn't make or break, I can do without it

Average primer

This primer was my go for a while before I knew anything about make up. I realised later that it was just a nice moisturizer, but it caused congestion and didn't make my make up look any nicer or last longer. I don't think it is worth the money honestly. A thicker moisturizer with HA will do the same thing for far cheaper.

Dewy

This primer smells amazing and it gives the skin a dewy glow

Great

I bought the sample option to try and will definitely be buying the full size from now on. I have sensitive skin and am so happy I had no issues with it. It smells lovely, very happy with how it felt on my skin, and made my make up look smooth and natural.

Love

I love the texture of this primer feels great on the skin and smells amazing. Very happy with this purchase

Really nice but a bit too pricey for me

Really like this primer! It feels nice and seems to work well under my makeup. I love that it's organic but I do find it a bit too pricey. Not sure if I would keep buying it because of the cost

Mineral

Very soothing and hydrating for dry skin. I feel like my flakes are less visible when I wear this primer. The mineral base is also not irritating to my skin

Gorgeous primer

I love the feeling of this primer - it's very silky and applies beautifully. I notice a big difference when I wear it (not usually to work because I don't want to use it all up!) but wear on weekends and it keeps my makeup in place for longer

Great soft product

Lovely. Applies beautifully, feels nice on skin. An all round great primer. Would recommend

It's good.

Smells amazing, leaves skin super soft and foundation/ bb cream/ powder glides on top

Nice feeling primer

I have only just started trialling this product as a sample and for my combination oily skin it seems to absorb well and doesn't leave my skin feeling oily by the afternoon. I will continue to use and may even consider purchasing. Love the cruelty free stance too!

Very nice

Inika Pure primer.

I found this primer was very easy to use > i applied it straight after my Alpha-h Moisturiser and it didn't clump/ball up on application.

My t-zone did put it to work and unfortunately the product couldn't hold away my shine. i am sure everyone is different but for me > This one is a miss for me

acne/blackheads/large pores/oily and dry skin 32 y/o female

Nice Moisturising primer

I recieved a generous size sample of this primer, it is quite different to what I usually look for in a primer. It is quite thick and moisturising. It doesn't have that silicon feel like a lot of other primers have, this feels like a face moisturiser that doesn't leave the stickiness or heaviness. I would recommend to dry gals. Completely love how Iinka are cruelty free!!!!

Not for me

The product smells great but is rather basic compared to other products on the market

A beautiful dewy natural primer

The primer smells heavenly and glides onto the skin beautifully. However, it is a little pricey. I am uncertain about whether I will get this again.

Love this primer

This is my favourite primer, it's always feels so lovely to apply, the smell is really nice aswell. This primer provides a nice foundation for makeup too. I feel that this primer helps to moisturise and hydrate my skin aswell.

Great!

This primer has a nice scent and does provide a nice base for makeup. It's quite a large sized bottle too

Didn't do it for me

This primer smells beautiful and feels good going on but this doesn't work as well on me as some of my other primers. My face tends to look a little dry and cakey by the end of the day. I tried this as an organic alternative to my current fave (Bobbi Brown vitamin enriched face base) but this doesn't stack up. I have oily skin so I can't imagine this would work well on someone with drier skin. Not impressed.

The loveliest smelling primer

This primer has the nicest refreshing scent and is so good for your skin in so many ways . This is a great everyday primer and a little goes a long way. It gives your skin a nice glow before applying makeup. Not tested on animals too !

I'm not sure about it.

This is a nice, silicone-free primer. I'm not, however, sure it's suitable for me.

I bought it use under mineral powder foundation and it's alright for that purpose.

But...it seems to make my skin feel a bit dry and tight by the end of the day. The primer itself contains several humectant type ingredients in it that may not be ideal for the very-low humidity environment I live and work in.

I will persist with it, mainly due to its price. But I'm uncertain if I would ever repurchase this.

Moisturizing and hydrating

I like the lightweight feel of this primer. It makes my skin feel hydrated and also moisturzies. Helps my makeup last longer too

really good!

I barely wear makeup but I use tinted moisturiser every now and then, I got this as a free sample in a pack and I have three of them, well.. had two of them and im down to my last one and im holding on to it! its light weight and works wonders with my tinted moisturiser!

Light and moisturising

I received this as a little freebie/sample. Love it! Light, moisturising and helps my makeup last the whole day. One of the best I've used so far.

Protects and hydrates

This primer gives you a dewy more youthful look with Hyaluronic Acid. It protects and hydrates and really helps your inika mineral foundation last all day

Lightweight

Easy to use, nice and lightweight

Healthy and perfect!

Very good primer.So silky on the skin and looks healthy.It gives a really nice healthy finish.I have sensitive skin and this helps my skin so much!

fantastic!

i like this primer, it smoothes nicely on the skin and you don't have to use too much.

Moisturising

I tried a sample of this and it smells absolutely Devine. It is very hydrating and great for sensitive skin! As an oily girl I could only get away with this in winter or when using a matifying foundation.

Not normally a fan of primer, but this is good!

Made my makeup last so much longer during the evening. I have dry/sensitive skin as well, and I'm usually scared of using extra products on my face, but this was beautiful; no irritation, redness or itchiness. I also love that it's cruelty free. If you're looking for a primer, I would definitely recommend this one!

Only Primer I Use

This primer is perfect for me! I have sensitive acne prone skin and since I've startted using Inika primer and their other products on me, it has reduced a lot

LOVE THIS PRODUCT

I have been using this product since i got introduced to it by a friend who owns her own beauty salon. I have sensitive skin where i am allergic to aloe vera but this product does not react with my skin at all and it smells lovely and you only need to use 1-2 pumps at the most. I wont use anything else

definitely recommended

Lovely product - works well, feels good, smells good!

I have been using this primer for about 2 years now. It feels lovely on the skin and is a good base before applying foundation. A little bit goes a long way! I have also used it as a moisturiser or in place of foundation if I don't want to wear a lot of make up. Highly recommend.

This primer is skin food that feels and smells amazing!

I use this every day as a moisturiser and as a primer when using foundation. My face never feels quite right until I have this on my skin. It is not oily but feels amazing and after applying my skin feels soft and smooth. I love that it's nourishing my skin with beautiful organic ingredients.

A primer with natural ingredients at last

Love the packaging and pump, the consistency is perfect and I am not putting silicones and artificial products on my face. Nourishing without being oily. A tiny single pump does my entire face. My skin is sensitive and a little oily (on my nose). Love Inika Primer