evo Fabuloso Platinum Blonde Intensifying Conditioner 220ml Tube 220ml
Hair Concern:
Brassy tones (blonde/grey hair)
Breakage and split ends
Colour protection
Dull, lacking shine
Hair Curl Type:
Curly
Straight
Very curly/African/Caribbean
Wavy
Questions & Answers
(3 Questions)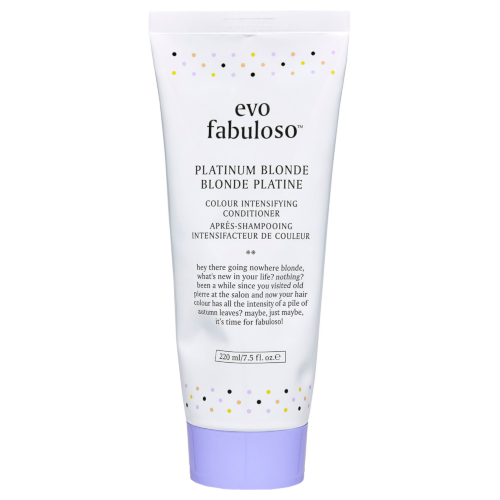 evo Fabuloso Platinum Blonde Intensifying Conditioner 220ml Tube
Get an expert to answer your question about this product!
Ask a Question
91% recommend this product
Most Helpful Positive
great tonal value
smells great, gives great tonal value to lack lustre blonde locks
Most Helpful Criticism
Smells amazing! Very concentrated for a conditioner
The Evo conditioner smells amazing and is quite strong. I like to mix it with a treatment or other conditioner. If you are looking for a strong toning conditioner I would advise you to find a shampoo instead. This conditioner tones to a nice blonde but it does not have the same effect as purple shampoos does.
great tonal value

smells great, gives great tonal value to lack lustre blonde locks

Holy grail product for blondes

This tones away brassyness in your blonde hair and leaves it super soft. It doesn't damage or dry out your hair like purple shampoo's do. If you are blonde or even very light brown you need this product!

Another great Evo Product

I love this product and the fact it is a conditioning toner. Perfect for my hair and keeps all my brassy tones at bay. Is a staple in my bathroom when washing my hair. Great work Evo!

Toning conditioner

Left my hair much more nourished than most purple toning treatments and worked to keep the brassiness at bay.

Amazing!!

This product is AMAZING! I have naturally dark brown hair which can often become brassy and orange from my blonde highlights. This conditioner keeps my blonde highlights looking fresh, natural and blonde.

I have been using this product for two years and always receive compliments about my hair colour and how natural it looks. I use this once or twice a week and leave it in for 5-10 min to really eliminate any brassy tones in my hair. It also conditions my hair and keeps its hydrated. Unlike many other purple shampoos I've used it doesn't strip my hair and make it dry.

I would recommend this product to anyone with blonde highlights looking for a good purple conditioner to brighten and tone their coloured hair. Even though it's a little expensive it lasts for ages.

Best in the biz

I have not come across a better product! So hydrating and smells sooooo good! cleans the brass right away!

Surprised

I hear of all these toning products that are amazing at toning blonde hair but I am always let down due to their inability to tone, making my hair dry and brittle or turning my hair purple. Then I found Evo Fabuloso Platinum Blonde Conditioner and I am blown away. My hair colour was instantly creamier (not ashy), felt stronger and so soft. My hair felt a little hard after it was washed but once I had dried and styled it it was beautiful. I will continue to buy this product and I have already told my friends about it.

Smells amazing! Very concentrated for a conditioner

The Evo conditioner smells amazing and is quite strong. I like to mix it with a treatment or other conditioner. If you are looking for a strong toning conditioner I would advise you to find a shampoo instead. This conditioner tones to a nice blonde but it does not have the same effect as purple shampoos does.

Fabulous conditioner for blondes

I love this conditioner! My hair is long and fine with blonde highlights, it's prone to oily roots and dry ends. I find this conditioner super conditioning and use it about every third or fourth wash, or more often if my blonde goes a bit brassy. It's so effective that it removes any brassy tones quickly and leaves my hair beautifully conditioned and soft. I find a bottle lasts for ages, making it good value!

You need this if you are blonde

Conditions hair as well as toning them. Love this product so much. Doesn't overtone either.

Blondw hair best friend

Love this conditioner so much. Takes my hair from brassy to fresh. Depending on hair I use anywhere from every wash to weekly. Last a long timw too

All around amazing

This is a must have for all blondes, it tones your hair great and leaves it feeling soft and amazing!! It also smells soooooo gooooooood.
A couldn't live without product!!!

A blondes best friend

I have been using this product for years and wouldn't use any other toners! It's so gentle in the hair and makes my hair look fresh every time I use it. I only use it every 3rd/4th wash as the colour holds well

Fab for fresh looking blonde hair!

Love Fabuloso for my blonde hair. The product smells delicious and works wonders to keep the brassy tones to a minimum.

A squeeze bottle is definitely a plus— the airless pump container was temperamental at times. I would often need to twist the pump several times to make it pump product out for some reason? I've dropped a couple of the airless pump Fabuloso bottles in the shower and the pump and spring came right out and I couldn't get it to pump out any more product. Very frustrating.

Great Toner

I absolutely love this brand! I use this toner once a week and it makes my hair such a beautiful blonde colour, and leaves it soft and smooth. I would not recommend using a huge amount if you have fine hair as it has a tendency to weigh it down a bit

Great to tone brassy blonde

I've been using this product for 2 years and I've tried many toning hair products before settling on this one. This conditioner tones out the brassiness and leaves my hair soft. So happy to have found a great product!

My go to

This is great for in between salon visits. I use once or twice a week and leave on for 5 mins then rinse. Gets rid of all brassy tones and smells lovely. Also great that is doubles as a conditioner, once less step!

It works!

I have fine, balayage hair and find that this product eliminates the yellow/brassy tones in my hair really well. The trick is to massage the conditioner in thoroughly (I find rubbing strands between my palms is the best) and leave for about 3 minutes before rinsing. It is so moisurising and does not make my hair brittle or dry.

Best toner ever!

This us the only purple toner to use on highlighted hair! It keeps my hair healthy and doesn't dry it out like most purple toners. Great product! Will not use another purple product...

Love love love

This is the first blonde toning conditioner that 1. Works! and 2. Doesn't make my hair brittle and more damaged. My hair is not platinum blonde but I still use it to remove brassy tones. The longer you leave it on, the more white it will get. BUT my only con about this product is that I find it doesn't stay in my hair for very long. I have to use it more than I'd like to but that might just be my hair.

Intense colour for a conditioner

I am so glad this lived up to the hype. All the reviews said how intense the colour is, and I was skeptical before buying due to it being a conditioner. I am so pleased with how it turns out and doesn't over-tone the hair either. I shampoo then towel dry my hair, smother the conditioner through from roots to tips and leave in for about 10 minutes. It doesn't make my roots feel oily either. Love this product, will definitely buy again.

perfect blonde

I don't know about the change in tube, the product is the same apparently. I will say for a simple tone this is great, doesn't make my hair ashy which i prefer and seems to get rid of those yellow tones.

A must-have for blondes

I've tried many toning products but they usually send my bleached hair silver, grey or purple. When I first used this, I thought it would do the same thing as the colour is dark purple but I was wrong! It leaves my hair soft and returns my hair to a nice, clean blonde. Will definitely purchase again.

Platinum hair saviour

My favourite product to use on my blonde hair, keeps it looking fresh and icy.

I have told every blonde I know to buy

This is the best toning product I have used. Unlike most shampoos this conditioner does not strip the moisture from your hair. I find it works best when I towel dry my hair first and then apply. Three minutes is ample and it's easy to wash out. I haven't experienced any product buildup and I'm almost through my first bottle.

The ultimate toning conditioner

I have tried every blonde toner on the market. If you want quality product that perfectly tones your blonde hair as well as conditioning your hair at the same time, look no further.

The results speak for themselves. Use on your hair once a week and you will be one happy, vibrate blonde <3 <="" div=""> 3>

My go-to for a nourishing blonde toning treatment

Forever and ever my go-to for maintaining my blonde locks. I honestly can't imagine life without this product.

It maintains my blonde tone perfectly! As well as maintaining my hairs condition. It leaves my hair shiny, toned and conditioned. I cannot find another product like it on the market.

I simply shampoo my hair and then apply the Fabuloso evenly throughout my hair, comb it through and leave on for 3 mins. voila! Hair perfection achieved!

Love!

I love this product and have been using it for years. The smell is amazing and it leaves my hair feeling so nice. I try not to leave it on for more than 5 minutes as I don't like my hair to go too ashy. I have thin, dry-ish hair and tend to find that products make my hair quite heavy, but this doesn't at all. I try to use it once a week.

Miracle for blonde hair

This is a miracle worker for dry brittle bleached blonde hair! Extremely nourishing

Good but not great

I liked the results and my hair felt super soft but the consistency made it difficult to spread evenly, therefore I ended up using a lot of product. I do have thick hair though!

Good for lightest blonde

This works well if your hair is platinum lightest blonde. I find it works well for those areas of my hair, but because I get foils it clings to some areas and doesn't show on others. So I have other toning products I prefer.

Need a lot to notice a difference

I find that when I use this I need to use a lot and leave it on for quite a long time to notice much difference in the brassiness of my hair. It does work and it makes my hair feel really nice afterwards, but for the price I would probably go for something different next time.

Couldn't live without

This is by far the best blonde toner/conditioning treatment i have ever used. I use this maybe once per week and its prefect to get a nice shy blonde and your hair never goes purple. Will keep using this!


Good for coloured hair

This leave your hair so smooth and manageable. Your hair coloured looks so natural, shiny and beautiful!

Tones brassy hair

I found this to be good to tone brassy/ golden tones in my hair. I found it not as nourishing so added my own conditioner to make it more conditioning for my hair.

Bin You're Purple Shampoo!

This is ultra conditioning and brightens your hair like nothing else I've ever used!

Works wonders on coloured hair!

I have highlighted blonde balayage and this conditioner toned the brassy colour it sometimes had and made me sometimes dry hair feel nourished and smooth. Product also smelt amazing.

Hair is so soft!

I have dark blonde hair that I straighten quite a bit which makes it turn brassy pretty easily. I wasn't expecting much but this made a huge difference in toning down the warmth in my hair from just one use! It says to use gloves (I didn't) and it didn't stain my hands whatsoever, I left it on for 3 mins and my hair was left so soft! Usually toning products dry my hair out which causes frizz in my hair but this was the total opposite. Love!

Great for reducing brassiness

Love this product!! I find it softens brassy tones and conditions my hair really well. It's my go-to product for maintaining my blonde!

Great toner and end colour

I absolutely love the colour my hair is after I used this product. I'm not looking to have platinum or ash blonde hair but it just tones my hair perfectly. I actually use it with the beige toner as well and together it produces such a nice colour. Hair is soooo soft after using and the smell is amazing.

fabuloso - the name says it all!

I absolutely love this product! This product helps me maintain my light blonde/beige colour in between salon visits. I am on to my 5th bottle and it is the only blonde product that I've consistently repurchased. I generally find that purple shampoos dry out my hair and/or don't really reduce brassiness effectively. But Fabuloso is extremely conditioning to my fine hair and the colour correction is perfect for me. I generally use it once every 10 days, and use it in the shower for about 5 min.

Perfect blonde toner that is also hydrating

Pump bottle which is super easy to use. Creamy texture that coats rather than lathers the hair, feel super hydrating and non drying. Eliminates yellow brassy tones without turning your hair purple. Perfect product for blonde hair.

Highly recommend

I was recommended this rather than using a purple shampoo and found it very effective - tones and leaves hair conditioned and not dry at all. Instructions say to use gloves but I don't and have never had an issue, so I find it easy to use too.

Yasss!! Yellow no more!

What an amazing purple conditioner! I usually find purple shampoos are quite effective but the conditioners do nothing, not with Fabuloso!! It's is fabulous! No more yellow :)

Best anti brass treatment

Very good treatment and anti brass conditioner and also leaves your hair soft and strong. Don't leave it on too long or it will deposit more colour and leave you darker, I find mixing this in with normal conditioner is the best way to use it as it's pretty strong!

Amazing

This is absolutely amazing! My hair feels so soft and has now got shine added to it. It definitely tones just enough but the best thing about it is that it makes it incredibly soft and I don't seem to have as crazy hair when I wake up. So great, I might buy 5 bottles next time so I don't run out!

Better than any other

This is by far the best blonde conditioner on the market. It keeps my colour looking amazing and acts as a hair mask at the same time. We all know how knotty blonde hair can get after we wash it but this stuff seriously smoothed my hair out and got rid of all the knots, left it looking super healthy and smells great! Can't fault it.

Better than purple shampoo

I recently received a sample size of this conditioner and when I saw the colour of it I didn't have high expectations as I have been using an extremely deep purple coloured shampoo to tone between hair appointments, however, after using this for the first time I was extremely impressed and have just purchased a full size, I recommend this as it tones your hair without leaving any purple or grey colour it really "cleaned" out my brassy colour, I am not a fan of ashy tones so I love the clean blonde this gives me, plus, it leaves your hair so soft and fresh, I highly recommend anyone with blonde hair giving this product a go.

Purple magic!

I bought this on a bit of a whim and so thrilled with my choice! After a recent holiday to Bali my hair was looking brassy and the ends were very dry (even after a trim). First use I noticed an immediate improvement to the texture of my hair. Second use I was inundated with compliments from strangers (while our shopping) about the colour of my hair! This is purple magic.

Great toner and makes your hair really soft

As a toner it works amazingly, doesn't over tone like a shampoo. And it's beneficial for your hair leaving it on as a mask, unlike the shampoo toners which dry your hair out like crazy. If you have really light, dry/damaged blonde and looking for a good toner that's great for your hair this is it. Price range is a bit up there for not a great amount of product and in comparison to a shampoo toner alot more expensive as you have to use heaps more conditioner than shampoo in my opinion, so it doesn't last long.

Great for dry hair

I have dry, thick hair that naturally throws warm tones. I used to use a purple shampoo, but since discovering purple conditioner I am converted!

This product is much more hydrating than purple shampoo, it is quite treatment-like and I never find it drying. It's very effective at keeping my hair ashy, and I would say I have very warm hair tones naturally.

I use it once a week on average, or every 2nd - 3rd wash.

Hydrating

Definitely tones down brassy tones in my hair, and it also leaves me hair feeling so soft.

Hair is so smooth!

This is awesome. I've only used it once but the results from this one use are worth raving about. I have mid-length hair with only 1/4 head blonde foils, but it is dry and brittle, even after a fresh cut and in the summer, humid months. This conditioner made my hair so nice and soft and silky, and after letting it air dry and putting in a little bit of mousse, it looked like I had blow dried it smooth! It reduced my frizz (which I can't seem to tame with other products).

Though the silkiness doesn't stay forever, it made my blonde look fresh. Would recommend!

Somewhat effective

I found this product worked somewhat to tame the brass in my dark blonde hair. But I have thick hair and so I needed a lot of product to get an even application, which meant it didn't go very far. It's also messy to apply - but I suppose all purple conditioners have that problem. Ultimately, I've tried many other blonde conditioners and Evo wasn't really that much better than the rest. I'd say the one positive is it did make my hair very soft afterwards.

Best Blonde Conditioner

This is by far the best blonde toner/conditioning treatment i have ever used. I use this maybe once per week and its prefect to get a nice shy blonde and your hair never goes purple. Will keep using this!

No more brassy blondes

This is one of the best purple conditioners I have used. I use this once a fortnight (with normal shampoo and conditioner in between) and it removes all brassy tones. It doesn't leave my hair dry like other blonde shampoo/conditioner products seem to do. Highly recommend this product.

Love it

I've always used this product when I go blonde. it's great toner, my hair always goes that orange/golden look and this product brings back that beautiful ash blonde tone back to my hair and everyone comments on my hair once I've used it.
I wish they supplied a bigger amount not just 250ml as it goes quick

Awesome conditioner for coloured blonds!

This conditioner for platinum blond hair is the best I have ever used. I have fine light blond streaked hair. I wash my hair every day, but only need to use this a few times a week in between other bottles on my shelf. It's rich purple and smells amazing! It lathers up when you apply. It doesn't leave my hair dry or greasy. I use this after my night shower. I Don't blow dry and once dry naturally my hair feels soft but manageable. A great buy. Highly recommended this product.

Absolutely Love

I use once a week as a refresher - makes my hair blonder brighter and healthier!

Best toner I've ever used !

I have been a blonde for 20 years and this is the BEST toner I've ever used . It also makes your hair super soft like having a treatment in . I leave it on for about 15 minutes to get a creamy clean result . Love this product !

A must for brassy blondes

Love this stuff, just purchased my first bottle and having been using it for 2 weeks (I have to wash my hair daily as it's extremely oily).

I have been using this each wash and my colour is so pretty - I also use De Lorenzo Novafusion shampoo in rose gold and rosewood mixed together - to get a soft pink/mauve colour.

I think I will need to alternate this conditioner with a normal non toning one to stop my hair from going too ash.

My hair feels super smooth and is shiny without being weighed down.

Will definitely buy again and recommend it to all my blonde friends battling brassy tones!

Great product for blondes

Great product for blondes. I have tried many blonde shampoo and conditioners and never been as happy with a product as I am with evo. Keeps your blonde beautiful in between colours, smells great and conditions the hair

The best toning product ever!

I love keeping my hair super ashy, but hate the look of streaky purple bits that so many other products give. I can leave this on my hair for 15-20 minutes and it will never go weirdly purple, just the perfect ashy tone! Originally recommended by my hairdresser, and started buying it here between visits. The best toning product I have ever used!!

Best toning treatment out there

I have blonde highlights which can begin to look dull. I used this product as a masque treatment- putting it on towel dried hair, and having for around 15 minutes. It worked a treat. The colour has been revived and without the epic dryness of other toners I have used in the past. I did not think this product was the holy grail of moisture, however I used an Olaplex treatment in my hair a day later and the combination of the two really improved my hair quality. I will definitely be keeping this product in my routine

Lasts forever, best toner!

Tone your blonde hair and treat it at the same time? What's not to love?! The pump means you get exactly the right amount. It tones blondes beautifully without stripping your hair. I get heaps of complements when I use this product!

Best conditioner for a blonde!

I brought this for the first time over a year ago, I stopped using it after I ran out and forgot how much I loved it until I ordered it just recently and it's amazing! It looks like I've just put a toner in my hair so it's really good in between hairdresser appointments, it's also leaves my hair feeling healthy.

An absolute must!

I purchased this product to give it a go after many years relying on my Delorenzo Violet shampoo (which is still awesome by the way!)
After using this product my hair is an even ashy blonde and if your like me and your hair is easily dry, this is an absolute life saver! It keeps my hair soft and silky after toning. It's auper gentle on my skin on my face and hands if you're sensitive to harsh toners it is worth a go. Recommend this to any blonde that suffers from brassy undertones.

Best blonde shampoo I've ever used

- hands down the best blonde shampoo that makes a noticeable difference after 1 use
- very hydrating at the same time as excellent at removing yellow tones
- smells great
- easy to use pump
- cute packaging
- Only thing is, it's a very strong shampoo- it stained my bath blue when I accidentally left a bit of the conditioner on it. Don't leave on your hair too long.
- am now a regular and committed user to Fabuloso

AMAZZZINGGG

Leaves my hair so silky and smooth and corrects any brassy tones! I have recommended this to so many friends and they love it too! Not heavy at all and a little goes a long way!

A blondes necessity!

This is awesome for blondes in between colour appointments – totally freshens the blonde and I receive questions if I've had my hair done! I also found you don't really have to wear gloves, it didn't stain my hands which was a bonus as I couldn't be bothered with gloves.

Holy grail product

I have definitely given my hair a run for its money, I went black then (as you do) wanted to be blonde again. Song my journey to lighter locks I found I now throw a lot of brass real quick. Along comes EVO And saves the day. I've tried a lot of other products but always come back to it. Worth the investment and such great value for money!

In love

This product by far is the only product to date that tames my hair. I have damaged hair but after using this beauty my hair is soft and silky. Recommend 100%

Best blonde conditioner

Hands down best ever. Gets rid of my brass doesn't dry out my hair as it's not a shampoo. I use on my extensions safely also. Have converted so many people to evo over fudge and fanola

A great toning conditioner

I've tried a few different purple shampoos and conditioners and this one definitely does a good job of toning my blonde highlights a nice ashy colour. It makes the hair feel nice and soft too - I've repurchased my second bottle now and will continue to do so.

Great toner and very conditioning

I switch between hair products a lot, but this is one of the few that I have repurchased time and again. I have fine, dry, coloured, hair and I really struggle to keep the ends soft. This was recommended to me by my hairdresser and it's definitely the best blonde toning conditioner I've used. I wash and towel dry my hair and then leave this on for about 15 - 20 mins before rinsing off. I use this every 2-3 weeks. It leaves my hair lovely and soft and keeps the colour from going brassy between hair appointments.

Great for blonde hair

This is great for blonde hair, helps keep the colour in place.

Keep hair blonde & silky

After reading positive online reviews and constantly seeing it pop up on Instagram, I was excited to receive a free trial with an order from AB. I have to admit though it wasn't the holy grail product I was expecting. However, it does EXACTLY what it promises.

It took a few tries before I nailed the product. At first I followed the instructions and waited 3 minutes; there wasn't much change in my hair colour. Realising that my hair is much thicker than most and takes double as long to "cook" in the salons, I used it another day waiting 10 minutes. Still not the blonde change I was expecting. Then a few weeks later, I was reading the back and realised I forgot to towel dry my hair before applying - THIS was the key in it working. I waited about 8-10 minutes and it made my hair a nice cool blonde. I also wasn't expecting my hair to feel so soft after using a product that typically dries hair out.

It wasn't the white blonde that I saw on photos online but more of a creamy blonde... in saying that, when I put a filter on a photo after using this it looked exactly like online so I'm sure other influencers are also doing this which alters the colour!

Leaves your hair so soft!

After bleaching my hair a couple of times my hair became so dry and brittle. Using blonde toning shampoo just left my hair even more dry! My hair dresser recommending this to tone my hair, it isn't as toning as a shampoo but still does a good job for being a conditioner and leaves your hair so silky soft! My hair defiantly looks better condition now!

Must have

I love this product! I have thin, dry hair which throws a lot of red and this keeps it moisturized and less brassy. I tend to use it each time I shampoo my hair. Great scent too

Love this amazing product, really hydrating and soft on hair!

Every blonde should own this product! It leaves my hair feeling soft and hydrated which is so good for blonde hair. It leaves a lovely cool tone in the hair and great for an at home toner in between salon visits! I will continue to buy this product forever!!

Best ever

this is the Best ever! i cant get enough of this.. i use mine 2 - 3 times a week and my colour stays fresh! plus my hair feels so so soft afterwards!

Tones brassiness

This product removes brassiness and deeply conditions my hair when it is looking dull. I leave the product in for longer when my hair is extra dull and it brings it back to life immediately.

Great toning treatment!

This conditioner works super well for bleached blondes... always get asked if I've had my hair freshly done after using it. Also pretty softening and reduces frizz. Would definitely recommend, it's the best toning conditioner that I have tried!

My Go-To Conditioner

This product was recommended to me by my hairdresser and it has been my go to conditioner for months. Really removes the brassy-ness out of my hair and de-tangles amazingly. I also really like the scent.

Smooth locks

This was a good product but I felt you needed to use a lot, which meant it didn't last long. It is worth trying as peoples hair reacts differently, I found I still needed to use a purple shampoo to get rid of any yellow tinge.

The best

This was recommended to me by my hairdresser and has kept my balayage looking amazing for 6 months.

Good toning conditioner

This product is great for toning unwanted brassy tones in between salon visits! I leave it on for longer than the recommended time to get a more ashy, silvery effect. It also leaves hair feeling soft as well. Really good!

Amazing

I absolutely love this product!
I have blonde hair (not platinum), and it gives my hair a beautiful tone & condition.
I hate washing my hair without it! It's great that it is a 3 minute treatment and easy to spread over your whole head. Definitely recommend.

Will buy again

Really happy with this product, I have stopped using a purple shampoo and now just use this with a regular shampoo. I find that my hair feels healthier but I think that's because toning shampoos seems to take out a lot of moisture. I prefer an ashy blonde so I leave in for a bit longer, each time I use this I always get compliments the next day that I've been to the hairdresser. Definitely great for dark blondes trying to stretch out their next hairdresser appointment and also smells great not like the chemically smell of purple shampoos.

Highly recommended

I'm glad I believed all the hype bc after only one wash my blonde hair is amazing

pretty good

I love this for the moisture it gives my hair, but I do find I need to use a lot of the product to make a difference with the brassy tones. I usually use quite a deeper purple.

Fabulous Fabuloso

All other purple conditioners, i gunna let you finish, but Fabuloso has the best BEST PURPLE CONDITIONER OF ALL TIME.. of ALL TIME (reads in Kanye West's voice)

But seriously, this product is BEYOND amazing. It leaves hair feeling silky smooth, doesn't smell heinous like other products and has never made me look like an old lady who favors a purple rinse.. what more can you ask for.

Would recommend 1000 times over for anyone wanting to refresh their blonde between salon visits.

Excellent!!

My hair is naturally a dark blonde with balayage highlights. Brightens up the ends for a that just been to the hairdressers look! love love love.

It works

Best purple conditioner I've used to date. Hair feels amazing after and it does what it says on the bottle!

Fabuloso

A great conditioner for colour treated blonde hair. Initially i wasnt wowed by this product, however over time i have grown to love it. The way it refreshes my colour each wash is very impressive - it hasnt left my hair with an uneven purple hue that other blonde conditioners can do. My hair does feel a little dry after use, but i dont know if i can put that on this product or the amount of styling my hair goes through?

AMAZING PRODUCT

Smells like lollies and does a fabulous job of keeping my hair a clean, creamy blonde without over toning or turning grey. I swear by this product to keep my hair looking blonde between treatments. I get so many comments on the shade of my blonde too so I have this conditioner to thank for keeping my hair this way after my colours x

Does what it says on the tin

I have naturally light brown/blonde hair with a mix of highlights and lowlights layered over the top, and had some brassy interactions the last time I had my highlights done as it interacted with the sections that had had previously been dyed darker - this stuff definitely helps mitigate the brassiness, although in some sections it almost seems to make my highlights darker. Can't say that it did anything for how healthy my hair felt/looked, because it's already in pretty good condition, but can say it didn't leave it feeling limp or dried out.

Smells gorgeous

Didn't quite cover my brassy tones as well as I'd hoped but it smells divine and left my hair sooo soft

Very gentle on blonde locks

I go back and forwards from brunette to blonde-ish and this conditioner was one of the nicest treats for my hair. Highly recommend. The worst part was the dispenser as it broke easily.

Another favourite ++++

Highly pigmented, smells yummy and does the job.

Eliminates brassy tones, doesn't weigh hair down, leaves hair smooth and smells good!

Be carefully not to leave on too long, this product is sooo good that it is easy to over tone....which is not bad for those wanting a more ashy finish.