Burt's Bees Lip Shimmer 2.6g
Frequently bought with
Please wait while we find a match
Questions & Answers
(No Questions Yet)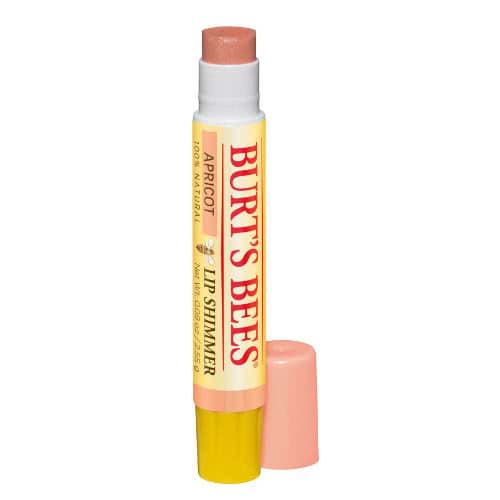 Burt's Bees Lip Shimmer
Get an expert to answer your question about this product!
Ask a Question
76% recommend this product
Most Helpful Positive
Very happy with it
Looks stunning and feels great on the lips. Very happy with it!
Most Helpful Criticism
Lovely colour but no staying power
I got the dark plummy colour of this to try, the fragrance is lovely and the packaging is great, very slim and will fit in your tiniest clutch bag or pocket which is handy. The colour itself is really nice, however the formula is not for me- the shimmer makes the formula quite gritty feeling (although the appearance of the shimmer is extremely fine) and the colour slides all over your lips which ended up looking quite messy, and is not a problem I've ever had before.
Very happy with it

Looks stunning and feels great on the lips. Very happy with it!

Love Love Love

Absolutely love Burts Bees lip products, natural, lovely shades and great staying power. Ive repurchased these lip balms many many times.

Lovely colour but no staying power

I got the dark plummy colour of this to try, the fragrance is lovely and the packaging is great, very slim and will fit in your tiniest clutch bag or pocket which is handy. The colour itself is really nice, however the formula is not for me- the shimmer makes the formula quite gritty feeling (although the appearance of the shimmer is extremely fine) and the colour slides all over your lips which ended up looking quite messy, and is not a problem I've ever had before.

Natural tint

This balm adds a beautiful natural glow with hint of colour. Looks beautiful on and smells amazing

Fussy with lip products

I'm a girl that's very fussy with her lip products. I want something that makes my lips look moisturised and juicy, and this does the trick. Has peppermint oil in it so it has a tingling sensation that feels like it's almost plumping the lips. Beautiful natural colour, but more on the pink side than peach.

I like it a lot

Looks really pretty, I love this colour. Really lovely lip balm!

Soothing for chapped lips

Perfect for my cracked and sensitive lips. Smells amazing, is thick and definitely lasts!

Great colour

I have this in the colour fig and it is such a reliable lip shimmer. Gives you the signature burt's bees' tingle and the shimmer is lovely. Shame the colour doesn't last longer though

Very natural

Love the natural colour this gives and is also quite moisturising. Great for every day use

Great shimmer

I love this products as it adds a natural shimmer. It is very moisturising and adds a nice colour to the lips. love this lip balm

Great

I love this stuff so much it doesn't have senthitic comers and it feels good on my lips I have peony, caramel, rubarb, strawberry, apricot, watermelon, gauva, and grapefruit I love them all my usual is peony though plus u can line your lips with them too


I keep this everywhere

I have one of these on my desk, car and handbag! i love this colour

Nice

I love this product because it's all natural and it does moisturise my lips. I am not a big fun of the smell and unfortunately the colour doesn't stay too much

An Essential

I have one in my handbag. One in my desk draw and one in my bedside table. And a couple of shares hanging around, Needless to say I love this and its my go too.


Love this product

It is underestimated and great value for money. I have had the same one for months and months, It is a purple colour and is shiny and tends to stay on my lips. It also feels like it plumps the lips! (Little bit tingly great for winter ladies)

Beautiful

It's a great alternative to lipstick - I find that most of the colours aren't super pigmented, but that's perfect for me because I don't like a very bold lip. The shimmer is absolutely gorgeous and leaves your lips looking AND feeling fantastic.

Gorgeous colour and texture

Looks amazing. I like the shimmery shade, it looks really natural.

Nice

This product is a great alternative to lipstick. It has a more subtle look and leaves my lips feeling moisturised throughout the day.

Nice product but not for me

Pretty nice product and nice colours however I'm not really a fan of shimmery lip products. Great price though and I like the packaging. I would recommend if you like the chunky shimmery look

Rhubarb yum!

Have this in rhubarb which is perfect for me - I am very fair with auburn hair/green eyes. A swipe of this gives me perfect colour without a heavy lipstick coloured look. Not super hydrating i'll admit, but great for a pretty look.

Beautiful natural look

I bought this compact lip gloss to keep in my handbag for quick touch ups & it keeps my lips hydrated & shimmery. Would recommend!

Good for the price

Not a huge fan with how the shimmer looks but the colour is nice and hydrating and super affordable!

Great shimmer lip

Beautiful natural colour

I love these, always have a few lying around the house and car. Great colour, great moisture looks very natural and healthy without looking to over the top

moisturizing

applies nicely and smells good. have a minty feeling and the shine and colour make my lips look juicy. very moisturizing which i like coz i have dry chapped lips. it doesn't last long and has to be reapplied a few times throughout the day.

Nice and moisturising

I quite like this, it is very moisturising and applies evenly. I quite like the peppermint, it's not too overpowering but makes it feel refreshing. There is a little bit too much shimmer in it for my liking for daily wear, but it's great for going out when you don't feel like maintaining lipstick.

Great pop of colour

Beautiful product that moisturises and looks good at the same time!

Very moisturising

Love it! I've been using it every day and not bothering with lip stick anymore, the colour lasts well and it's moisturizing.

My every day go to

I have one in my handbag. One in my desk draw and one in my bedside table. And a couple of shares hanging around, Needless to say I love this and its my go too.

Nice

Shimmery and minty - not great

I don't think you get a lot of product for the price, it smells minty which I don't like and it's a shimmery product which isn't my preference. All in all not the product for me.

BURT'S BEES LIP SHIMMER

love this lib balm, and I am very picky about my lip care products. It smells so good, and it feels so silky on the lips. It's really wonderful stuff, and I would definitely recommend this product to others.

Prefer the tinted lip balm

This product is okay however I find that sometimes the shimmer particles can look a bit strange on the lips and apply unevenly, particularly it may look a bit patchy with some wear or eating.

Easy use tinted lip balm

More a tinted lip balm than a lipstick, but still a good strong colour.
Not super long lasting, but is lovely on lips so you dont mind re-applying often.
Have purchased many times over many years.
A good everday colour option.
Not sticky or thick, easy to wear and lasts a good while.

Great

Can't go wrong with Burt's bees. I love everything they sell. This product in particular makes my lips so smooth. I absolutely love it.

I guess its OK

For the price it's a bit yikes for what it is. This kind of doesn't have the best lasting or moisturising properties. It is pretty though. I got the champagne shade and even though it's super pretty, it's SO minty and is just OK. I just wished it wasn't so minty and it lasted a bit longer!!!

Mint flavour

These have a minty flavour and scent which I don't love, and there is also not much product at all for the price.

Shade Raisin is a dupe for Lipstick Queen Medieval

I've got Raisin and Apricot and both are great.

The raisin is a little more neutral than Medieval which is slightly more blue toned, but it's definitely passable and much cheaper.

They are moisturising, non drying, the wear isn't long but I don't expect it to be for a balm, and the colours are nice. Payoff is good too.



Lovely lip balm

I really like this lip balm! The shimmer is beautiful and I love the formula. Would definitely recommend

Love these

I love Burt's bees products and these are no exception

So good for the price!

This lip balm/gloss is really nice. The colour is gorgeous and buildable if you want a deeper colour. The balm itself is hydrating and leaves my lips feeling moisturised for hours. Would buy all the colours!

NIce quality Lip Gloss

For the price this Lip gloss is great, comes in the nicest shades and applies so smoothly it has a twist bottom. It lasts ages and has great ingredients that are good for your lips instead of damaging

Not great

The product feels nice on the lips initially, however, the glitter pieces are too large for me and tend to settle into any lip crevasses. It also does not provide hydration for very long, and starts to feel drying after a while.



A natural looking alternative to lipstick

I love to use these lip shimmers when my lips need a little color but I don't want to commit to wearing lipstick! They are easy to apply, and reapply throughout the night without the worry of product ending up on your lips!

a bit cakey

I bought this after seeing it on other people and was a bit disappointed. it felt dry and sat in lumps on my lips. I ended up wiping it all off as I felt self conscious. maybe people with less dry lips would benefit?

So glittery

I thought it would be a light shimmer but it reminded me of the 90s frosted/glitter phase. The actual balm is nice though.

staple balm

good at moisturizing i love that it adds an extra dimension and life with that hint of shimmer, but its very hydrating and good at restoring chapped lips or wind burn.

Not bad

Smooth and hydrating. Good for the price!

Smooth youthful lips with a hint of shimmer

A great moisturizing lip balm that gives a little something extra, without being too noticeable. It isnt sticky, and smells lovely!

pretty good

The pigmentation swatched beautifully and I figured they'd be an ideal way to top up my fading lipstick after lunch or coffee. they smelt so good and wore beautifully, but would have been better in a bigger size

Adds a beautiful shimmer

Hydrating lip balm that adds a beautiful shimmer. Wears well and fells extremely soft on the lips.

Love the peppermint

It has a nice peppermint flavour, wear it on its own for a pretty shimmer, or apply it over Matt lipstick to get some colour through the shimmer. Good for softening the shade of your lipstick.

Not the best

Whilst it does moisturise the lip, I didn't like the lip tint (it was too shimmery) and I feel there are better products out there that will provide you with a lip tint and moisturising lip balm then this one.

too light and glittery

I have to avoid lighter shades. I have 'champagne' and it is too light for me, even though I have quite pale skintone.The shimmer is quite glittery and large and settles in my lip lines. I also find it to dry my lips after a while unlike the other lip balms i have tried

Pretty good

This provides a nice colour to my lips and makes them nice and shiny! However I recommend a darker colour for a more natural and flattering look

Love

Love these, have in almost every colour. My only wish is that it would leave a slight stain on the lips so the colour lasted a bit longer

Not a fan

Definitely avoid lighter shades. I have 'Guava' which is too light for me, even though I have light skintone. It looks like concealer on my lips. The shimmer is quite grainy and settles in my lip lines. It's very minty due to the peppermint oil.

Hydrating

I purchased this in the shade 'shimmering rhubarb' because I wanted a lip balm that gave me a bit of colour whilst also being hydrating. I have found that it definitely does a good job of this, but it doesn't stay for very long and I find myself having to reapply often. However, I would still probably repurchase this as I am a big fan of the colour.

Really nice

Really nice lip balm with a great shimmer. This hydrates my lips and I love how this feels.

LOVE

I love the shimmer. It achieves the hue only with one application and also smells so minty! love it.

Disappointed!

I love Burts Bees products however was very disappointed with this range. I will just stick to the tinted lip balm range. I purchased this in the colour Guava which is a cool pink in the tube. Upon application, this has a very cooling peppermint tingle on the lips which I did not like. Secondly, when I first applied this (without a mirror) I applied multiple layers as I do with tinted lip balms, I was horrified to see my reflection! It was a a very Barbie pink with a metallic white cast which was really ugly and unnatural. This now sits at the bottom of my make up bag never used again!

Such a lovely shimmer

I love this Burt's Bees lip shimmer. This product has the most amazing pearlescent shimmer to it. It has a minty scent/ taste to it which I find pleasant on the lips.

Pleasantly Suprised

I have most of these shades but am most fond of the Champagne shade. On my lips it looks like a glossy, brown nude lipstick and feels exactly like a balm. They are quite cooling on contact and smell like peppermint! I didn't expect this from Burt's Bees!

Good

These shimmer sticks give you colour and the lipstick look with much less and much more hydrating

Pretty moisturizing

This is a staple of mine. Very moisturizing and very beautiful shimmer. Great for everyday.

Minty

Has a minty smell and taste,. Lips also tingle from that which I'm not too fond of. Shimmer is a bit much and makes me look odd/washed out. Does feel lightly moisturising though, and the tube is cute and slim.

Nice product, with a tingle from the peppermint

This is a nice enough lip product, that has a tint of colour and isn't overly drying on the lips. I have the rhubarb colour and on me it adds a nice vibrant your lips but better colour, perfect for work. I'm not a huge fan of the peppermint tingle that you get from the product though, so I'm not sure if it is something I would repurchase.

All time favourite!

I have been using this lip gloss for years now.
It glides on easily, doesent feel sticky and leaves a beautiful subtle yet vibrant colour.
I especially love the "deep rose" shade".


Perfect for work

I absolutely hate wearing lipstick-- no matter what I buy, it leaves my lips feeling dry and gross and I always end up smudging it. These shimmer sticks give you colour and the lipstick look with much less maintenance and much more moisture. I keep one in my purse (the peony colour) all the time.

Beautiful product!

I got this yesterday and I LOVE it! I can see that I will be purchasing a few more colours and regularly!

The peppermint zing is awesome, my lips feel great, the colour is rich and smell of peppermint is invigorating.

The packaging is small/slimline, so I think that I will be going through it quickly, but for the price I am certainly not complaining!

Beautiful product!

Heals dry chapped lips rapidly. Tingles a little. I bought the clear shimmer colour called Radiance. Great on it's own- it enhances your own lip colour- or is great to apply over another lipstick if you want extra conditioning.

This lip balm is so lovely! It is very reasonably priced and it leaves your lips soft and tingly. I recommend it highly and love the fig colour. I am going to order another colour right now!

I have both the Fig and Papaya colours of these and find them delightful. They have the long lasting moisture that I find unique from Burts Bees Lipbalms with a hint of colour. The colour does have a slight tendency to bleed, so it really should be used more sparingly as a gloss, rather than a lip balm. I'd like a bigger size too, but because I am a such a fan of Burt's Bees, I still find them value for money.

I tried the Guava colour. It's a lighter shade when you put it on than in the tube, and it's extremely shiny - very 60s! I like the slimline tube, it's a bit more sophisticated than normal lip balm tubes. It has about the same amount of staying power as the lip balm, not as much as a lipstick. I thought there was a bit too much peppermint oil in it. My whole mouth tastes like peppermint every time I apply it. I would have preferred it if it was the same flavour as the pomegranate lip balm. On the other hand, the shimmery particles are fine and not grainy like many brands I've tried. I'll definitely get this one again.

Love this. You get the same tingle and peppermint feel as the original but with a great colour to match! I have rhubarb which looks dark but gives a beautiful sheer rose pink colour. This is a great alternative to lipstick. The only problem is what colour to choose next.

Affordable and just a really great product. Tingly peppermint flavour and nice natural colours. I chose watermelon. Note - they are much more sheer on the lips than they look in the tube, i hardly notice any pinkiness from the watermelon. They do really moisturise though.

as i love the original so much i just had to try a lip shimmer . I got the fig , it is a pinky/ burgundy with a brown base , fab product . great for a "no" make up look . i will definately be getting more colours