Frequently bought with
Please wait while we find a match
Questions & Answers
(No Questions Yet)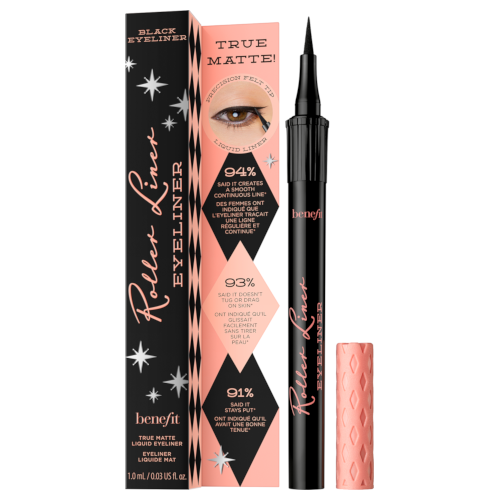 Benefit Roller Liner
Get an expert to answer your question about this product!
Ask a Question
100% recommend this product
Most Helpful Positive
Good
This liner gives me great precision and applies easily. Love the formula too as there is no smudging
Great

I always thought that using black eye liner was too bold for my colouring, so I bought the brown. it's a much softer colour and compliments my skin tones well. I also use it to accentuate a mole under my lip.

Good

This liner gives me great precision and applies easily. Love the formula too as there is no smudging

Great

I have used a lot of pen liners. This one is easy to use and has good pigment. Makes it easy to control and draw a perfect wing

Precise and matte

The liner is very matte and black - stays on all day, without running or transferring. User-friendly and precise tip

Easy liner

This liner is so easy to use, love it

Love it!

This eye liner is perfect for creating winged looks! It is so easy to apply and really does stay in place all day long, until I remove it! I love it's staying power. It creates a bold black line which doesn't ever smudge!

best liner

it is matte and glides over the eye very easily. the tip is really thin that ensures precise application of the product.

easy to use

such a nice liner it glides on to the eyelid so easily and smoothly. it creates the perfect winged eyeliner look. it is matte black and would stay on the entire day. a must have.

Good Liner

Glides on really smoothly, doesn't smudge, overall good product :)

Best liner I've tried!

The Benefit Roller Liner is one of the best liners I've used. The felt tip is thin so it's easy to do wings and tightline, it's actually black and doesn't fade or flake during the day.

Precise

Much prefer this to the they're real liner, far easier to use

True Black

Having already tried many felt tip liners from various Korean brands, I was pleased to see that many more western brands have caught on with the trend. Once you've used a felt tip liner you can never go back to brush. The felt tip allows for more control which enables you to draw a very clean line with ease and I find that the ink flow is continuous so there will be no need for you to be shaking the pen every few uses. I was also impressed with the colour of this liner and is one of the 'blackest' liners I have tried (I did a little swatch comparison). Although I have to mention though, that the claim for this product to be smudge proof is not entirely true. The product will only stay budge proof if it is drawn on lids that are non-oily or have been blotted but I guess a little powder will do the trick.