asap clear complexion gel 50ml 50ml
Skin Concern:
Acne, breakouts and blackheads
Skin Type:
Dry
Normal to dry
Normal to oily
Oily
Frequently bought with
Please wait while we find a match
Questions & Answers
(3 Questions)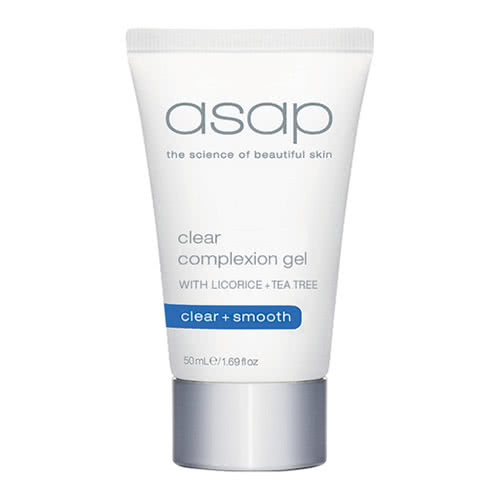 asap clear complexion gel 50ml
Get an expert to answer your question about this product!
Ask a Product Question
88% recommend this product
Most Helpful Positive
Pimple popper!
Gets it done! I absolutely love clear complexion gel!! Gets rid of pimples within days. Recommend for sure.

Most Helpful Criticism
Haven't noticed much result
I've been using this product for a few weeks now and I haven't really noticed much of an improvement in my skin from it. You don't need much as it spreads really well. It leaves my skin feeling really tight and dries it out. I'm not sure if I would order it again
Pimple popper!

Gets it done! I absolutely love clear complexion gel!! Gets rid of pimples within days. Recommend for sure.


Better skin

This product is amazing for my acne prone skin and it has helped my complexion.

So worth it!

I LOVE this.
I seen results in a couple of days. I am getting compliments on my skin and it feels amazing!

good

I really like ASAP products, this one hasn't failed to please either! I have sensitive skin and the gel doesn't agitate it, at all which is rare for me. Will last ages too so worth the price.

Life changing gel - MIRACLE

I have used this product for over 12 years. My derm recommended it to me when I had severe acne. This gel will change your life. It is the most incredible face product I've ever used in my life. It clears pores and blackheads/white heads to clear break outs. If you have a pimple and you use this, the pimple will dry up and disappear much quicker then on its own. It's clears up oil on your face and truly cleans your skin. I have recommended and spoke about this product for all these years to all my friends. It's truly a miracle worker and will definitely help with acne or even little breakouts. I currently use this on my chest as it's been breaking out from gym workouts and this gel works wonders. A bit of warning not to use too much as it's not necessary and can be strong if too much used. So much love for this!

Ingredients list misleading.in description

The ingredients list is only active ingredients not full ingredients list, example, so as it states alcohol as the last on the list it's actually second and salicylic acid is 10th and so on & so forth, it is misleading in the description on the site.
I have the product so I know.
With that said I retract my first review with regard to the ingredients but they r still good but the order isn't fantastic as I thought.
Still we will see how we go with this one with further use, Just be ware it's on all the products so if you care about what's in your products I'd be asking for the full ingredients list first!!!

Great Ingredients

I've only recently started using this gel and am impressed so far, it is a soft light weight gel and of good consistency and seems to help with the skin texture & tone, nice for combo oily skin like mine prone to problematic skin.
I'm hoping for more improvements as I go but not expecting miracles.
I purchased based on its ingredients list which I think is fantastic, non comedogenic and alcohol is at the end of the list not the first, also the majority of reviews are good.
A lot seems to come out of the opening of the tube if not careful so I only peel back the protection foil half way to stop waste of product because a little goes a long way & u don't need much as it spreads really well.
Seems so far to be good wth clearing blackheads which is amazing in such a short amount of time just love that, not sure get about raised pimples, blemishes or
whiteheads yet, may take longer for this to take affect but so far I am impressed with this gel as it's not drying on the skin, sticky or uncomfortable but I would definitely
use a true non comedogenic moisturiser afterwards if your skin tends to get dry or to
stop future dryness. I mainly use at night before bed and sometimes in the morning if skin is feeling ok from the night before.
I will report back in a few more weeks or so on progress.

Great

I'm really loving this product! My skin has cleared after only a weeks use, I am so impressed! I was using benzoyl peroxide which was just drying my skin and wasn't stopping the breakouts, this product has done the exact opposite. And a little goes a long way!

Haven't noticed much result

I've been using this product for a few weeks now and I haven't really noticed much of an improvement in my skin from it. You don't need much as it spreads really well. It leaves my skin feeling really tight and dries it out. I'm not sure if I would order it again

Relatively effective without being harsh

I love how this gel isn't harsh like other spot treatments can be. I find that it can have trouble targeting stubborn spots/ areas, but most of the time it can solve the problem. It isn't something that will clear a spot overnight though.

Good

ASAP is one of my favorite skincare brands so thought I'd give there acne gel a go. Well am quite glad I did as I had a breakout from no longer using the prescription cream and started using asap's gel. Started seeing noticeable results in the first week!! Would highly recommend this product

Amazing

Has significantly reduced acne. A must have product

It is okay

There are definitely better products than this one. It is great value for what you get but I don't think it has the same intense effect as other clearing gels/creams have.

Great treatment

I've always struggled with acne and generally problematic skin and it has always been difficult to find affordable, yet good quality products that treat these issues. I've found this product good for sensitive skin (a lot of acne products, inflame or sting upon application- this doesn't happen with this gel).
I find that overall, it is a very good product, however, I find it more effective at treating non-raised patches of acne, rather than raised individual ones- it does target these ones too, however, I find that it takes a bit longer than other treatments to get rid of them.

Saved my skin

After having to stop using Dermalogica due to the expense it was hard to find another skincare brand that kept my acne at bay. I tried Eco Sonya, The Ordinary, Paula's Choice and Proactive and all of them were useless on my skin. They either burnt layer's off my skin or my acne took over. I tried asap and I was a shocked at how fast it worked, how it didn't irritate my skin, how clear my skin has become and the very reasonable pricing. If you have problem skin you need to try this brand particularly the daily exfoliator and clear complexion gel. I can't wait to try the other products!

Swear by this product!

I absolutely love clear complexion gel!! Gets rid of pimples within days. Recommend for sure.

Awesome!!

I have oily skin and am prone to getting pimples on my forehead and chin, an ASAP consultant gave me a sample and after putting it on once you could see a difference! The affected area cleared up and my skin looked the best it had in a long time. I recommend this for anyone who has pimples and wants them to go away and not leave scaring. I find it's best if you apply it every day or the second that you spot a pimple emerging to get on top of it. HIGHLY RECOMMEND IT


Can't beat the serums

This does help with my active acne however I feel I have other products that help it more so.

Great for my teenage son

I bought this for my teenage son and it settled down any angry acne in no time.

Must have product!

This is a must have product! Brilliant on acne or pimples. Along with the rest of my ASAP routine, this is a product I could not go without. Thanks to this my acne is gone and my skin is bright and fresh again. Love it

Only used on spots

Using this on my whole face caused an irritation but it works on individual spots if I dab a small amount on them

Ouch!

My sensitive skin found this product way too harsh. I would apply this to my skin before bed and noticed that it was making my face red, blotchy, itchy and irritated. The only place I can use this product without a reaction is across my nose and I feel like my pores are thanking me for it but overall, not for me.

Fast results!

No joke, but this clears up break outs faster than anything I've ever used! And I have noticed that with regular use, I haven't had break outs at all! I have combination oily/dry skin and using this product with other products in the asao range has had amazing results for my skin!

Spot treatment

This is great for spot treatment on bumps! Lightweight and gentle on the skin. Love it.

Sting

So I've been using this product about 3 weeks and it has helped make my pimples go away a lot quicker then usual. I like how it feels and drys fast into the skin. I have sensitive skin and it hasn't flared me up. Only this is it can "sting" a little after exfoliating but it doesn't last long

Amazing! Does what it says it will do!

I absolutely love this product. I have a couple of asap products and was already in love with the brand and the products but this has quickly become my favourite!

I bought it because even though I was cleansing and scrubbing I still had a bunch of pimples that kept coming up on my jaw line and chin. I just couldn't budge them! I read the reviews on this product and thought I'd give it a go. I have not regretted that decision one bit.

I have been using the product for one week and it has already completely gotten rid of any pimples I had and small blemishes. I haven't found it drying as some other users have - I have combination skin. I make sure I moisturise well after using.

If you buy this product for pimples/breakouts/acne - you won't be disappointed!

amazing

This gel is incredible, it certainly does it's job and more! It has helped clear my face of those pesky pimples and has even helped with my enlarged pores, It is quite a strong gel though, so be sure to moisturize or use a hydrating cream with it.

really helps keep skin clear

I came across this product after searching for acne treatment products on Adore Beauty and was wowed by the fabulous reviews. Never had acne much as a teenager and even as an adult however now in my 40's I find myself with red, blind pimples popping up regularly on my chin, much to my horror. I have sensitive skin that cannot tolerate physical exfoliation which makes this product suitable for me. It's smooth, gel like texture is easy to use and you only need a very small amount. So far my skin is much clearer and even smoother. I have used it every 2nd to 3rd day with no problems at all.

The Best Serum/Gel I've used!

Again - big fan of asap's products! This one is no different. I was a bit worried when i purchased this as I have dry, sensitive and eczema-prone skin. That being said - I have been using it nightly since I purchased and it has not irritated my skin at all. The deep acne I get along my cheeks/cheekbones cleared up dramatically since using this gel! It has a really neutral and light scent which smells clean and fresh.The one tip I have would be to make sure you stay moisturised! It did dry my skin out slightly but this may be because I am prone to dryness already. At the moment I use it all over my face but it would be great as a spot treatment as well!

Really good

Within a week of using this product, I noticed a significant difference in my skin in regards to redness, texture as well as the reduction of acne on my skin. You really don't need a lot on your skin, a little goes a long way. There isn't really any smell and the texture and the feel of in on your skin is nice. Definitely, use a moisturizer tho.

Amazing Product

I was recommended this after a microdermabrasion by my beautician, I use it very liberally all over my face and find that it has improved skin texture, redness and really calms down any potential breakouts. Sinks into the skin quickly and leaves a soft a smooth texture. Has a lovely natural, clean smell. The only complaint from me is the dispenser is far too big for how much product you actually need. I am now on my third tube and peeled back the foil halfway to solve this problem.

Effective

This is a really good and effective spot treatment. Highly recommended.

My favourite spot treatment

I use this product as a spot treatment for blemishes and acne and I just LOVE it! It always clears up the blemish faster and leads to less scarring. It is non-irritating (I have sensitive skin with rosacea). I just apply at night over a blemish, and then layer my other serums/moisturisesr over the top.
Must try for acne!!

Amazing for acne prone skin

I love using this product all over my face every night to kill any bacteria and prevent acne. This product really helped clear up all my acne prone skin, to now having a few pimples here and there. It's not a harsh product so my skin didn't react in any weird way.
Would highly recommend to people with sensitive that's prone to acne, to help clear up your complexion.

INCREDIBLE

Does exactly what it says. I highly recommend this!

Making a difference

I have combination skin it's dry but I break out a lot.
This product has been fantastic to use really feels like it's improving the size of pimples and is toning down the oil in my problem areas without drying my skin out more. I had a sample of this and have just purchased the full bottle size! Would definitely recommend ☺️

Love this!

I use this at night under moisturiser. It helps with oily skin and clearing up blemishes!
Great product to help achieve clear skin!

Love!

Clears up my skin so fast without drying it out. It also absorbs into the skin really fast which means moisturiser can be applied straight away. Doesn't leave skin sticky

Love Love Love

I received a sample of this and I was really impressed. It's gentle on my skin but very affective, I've been using it as a spot cream and it clears them up within a few days. Definitely going to buy the full size product

A little goes a looooong way

This gel is amaaazing! When i first started using it my skin was really bad so I applied it all over my face every night and wow what great results. Now i use it as a spot treatment and within a couple days my spots are gone. Its so light weight and you only need the smallest amount and absorbs istantly.

Can't live without it!

I love this product, I've always had a problem with pimples and blackheads and the Clear Complexion Gel is great at clearing everything up and keeping my skin free from breakouts.

Fantastic product for ache

Only need a little rub into the area and bam in a day or 2 and my ache was gone as soon as I see a pimple coming up I apply it

Works Great!

I got a sample of this and it's great! I had terrible areas of break outs and the spot cream I was using wasn't working. Just spread some of this on the problem areas at night after cleansing and my pimples were all cleared up within two days! A little goes a long way, so I think this will last a while. Really gentle on my skin too as I often find I get reactions from some products. I'm back to buy the full sized product now, I'm so impressed.