Aesop Reverence Aromatique Hand Wash 500ml
Skin Concern:
Dull, dry or dehydrated skin
Pigmentation, uneven skin tone
Frequently bought with
Please wait while we find a match
Questions & Answers
(No Questions Yet)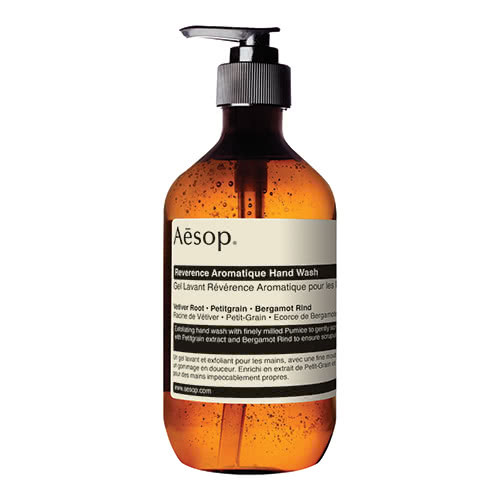 Aesop Reverence Aromatique Hand Wash
Get an expert to answer your question about this product!
Ask a Question
92% recommend this product
Most Helpful Positive
I like it
It is more expensive than other hand wash but its worth.
Most Helpful Criticism
lovely but resurrection is better
Like this one but Aesop resurrection smells better :)
lovely but resurrection is better

Like this one but Aesop resurrection smells better :)

I like it

It is more expensive than other hand wash but its worth.

Best hand wash

Love the smell while washing my hands, it is rather pricey but worth it, no residue and no dry hands afterwards.

Luxe

Luxurious hand wash - love the packaging because it is functional but looks luxe. The smell definitely has strong notes of Bergamot

Great for the bathroom

This is such a great hand wash! I put it in my bathroom and my partner loves is, to the point where he goes overboard and uses too much because it smells so good.

Such a luxury

This is such a lovely hand wash and I always get compliments from friends visiting about its smell! I am just not sure how anti-bacterial it really is...

not a fan of the scent

I'm really not a fan of the scent, it's just not for me and I've tried a lot of aesop products. That's probably personal preference. As a hand wash it's not bad, not overly drying but makes your hands feel clean

Luxurious

Beautiful and luxurious hand wash that smells and feels amazing and adds an expensive luxe feel to your home

Luxurious

Super luxurious hand wash that adds an expensive touch to your home! Product is lovely and doesn't dry out the skim

Nice

Nice hand wash, I know it's expensive compared to other hand washes on the market but I feel that it's worth paying the extra money for something that is good quality, leaves your hands smelling amazing and is gentle on my skin.

AMAZING

this cream is so good! I consistently have dry hands and this moisturizers them so much and makes them feel so soft and hydrated. Absolutely recommend

great hand wash

This is a great hand wash that doesn't leave my hands feeling too dry like other hand washes! I don't love the reverence scent, but I don't mind it either

Smells amazing

Smells great and love the bottle

Fantastic

Love this hand wash, it smells fantastic, looks good in my bathroom and leaves my hands smelling super fresh.

A hand wash for guests to remember

I have had this hand wash in my guest bathroom for a few motnhs now and each time they come out they comment on the scent of this hand wash and the silky texture of the bubbles. A perfect addition for the bathroom

Really good stuff

Wow, first time purchase and I love it, the smell and the texture when washing my hands is very nice. I will be buying more.

luxurious but amazing

There is no denying the price of this hand wash but I think it's worth it! I suffer from dry skin and this product keeps my hands very hydrated! I would recommend this to anyone!


Feels great

I love the smell and feel of this hand wash, it does not dry out my skin which is a big plus.

amazing hand wash

This hand wash is much pricier than others but I think it's worth it! I have very dry hands, and I find this product very moisturising as it doesn't strip away excess oils from my hands. Would recommend to anyone that doesn't mind the hefty price tag.

Beautiful Product

Amazing scent. I love this hand wash but can't justify the price so always buy alternatives. A great gift though.

Lovely product, cleansing and smells good

I bought this for a colleague and also purchased one for my guest room. It was a great gift and it cleans hands thoroughly and also smells amazing. Lasts for a long time too as it's a decent size.

buy again

This smells amazing, this is my favourite hand wash

Bathroom Must Have!

Every bathroom in my home has one of these - i love the smell and how soft my hands feel afterwards! The scents are just divine, I can't pick a favourite, I'm constantly rotating

Soft on hands

Really soft to use throughout the day smells lovely but doesn't dry my hands out at all, have one in the kitchen and both bathrooms and find it lasts for ages too

soft and gentle

This hand wash is soft, gentle and smells divine. Its one of my favourite products by Aesop

Gentle on the hands and the enviroment

This is an all round amazing hand wash, that although on the pricey side is worth it as your hands are extremely delicate and need to be looked after. I highly recommend the Aesop hands washes and the reverence aromatique is one of the nicest scents. Soothing and made with no nasty ingredients.

I wouldn't use any other hand wash!

I have been using this particular Aesop hand wash for years and for good reason. Aside from the fact that it's Australian made and owned, vegan and cruelty free it gently exfoliates my hands every time I wash them keeping them soft and smooth. Worth the money and the bottle lasts a while as it's huge.

Love this.. the smell is amazing!

This was my first aesop purchase and i love it, the smell and pumice texture really cleans well and it looks great in the bathroom..will definitely purchase again and again

Beautiful smell but a little drying

We normally buy Aesop hand wash because we love the smell and the packaging. This is the first time I have tried this particular variation and while the exfoliating feeling is nice it does leave hands quite dry whereas I haven't found that with their other hand wash. I'd buy this again but I'd buy the moisturising lotion to go with it.

Guilty pleasure

I bought this on a whim as I see it so often at the classy restaurants and I remember the linger of the smell after. I enjoy how it foams and washes off, there is no tightening if the skin and it slips off with the water leaving a very refreshing and moisturized but no synthetic after feel. It truly is a luxury hand wash. The after scent is divine and quite therapeutic. It lingers for ages after.

Amazing!

This hand wash leaves my hands feeling so nice, smooth and hydrated, and it has an amazing scent! However I do wish it was more affordable.

Best product

Bought this for my wife as her hands are always dry after ordinary soap, she loves the product and the smell and says her hands do not dry out and fell rough like they did before.

So Fresh

Overall really like this hand wash! It has a lovely earthly smell and leaves my hands feeling fresh. Would recommend the whole range of Aesop.


Love

I love this hand wash, it smells amazing and looks great by the sink. The exfoliating action feels super luxurious

Nice Hand wash

This is a nice hand wash, smells great, feels good on my hands after washing, I like it and would buy it again.

Love Aesop

Great hand wash and I love the smell. My hands always feel nice after using it and yes I will be purchasing more when this runs out.

Just Lovely

Bought this for my bathroom, and can't believe I hadn't tried it sooner. I love the mild exfoliation it gives, I haven't had to use any other exfoliant for my hands since I bought this and I think it will be really good to use in Winter. The scent is also nice and mild which is great.

Amazing scent

This product has a delightful scent, a great gift.

Great Product

Took a few days to warm up to the smell as it is quite strong, but now I love it. Leaves hands feeling soft and clean - love the petitgratin for an extra clean feeling.

Perfect gift!

Great housewarming present, really lovely.

Perfect Hand Wash, excellent birthday gift

I often gift this to people for Birthdays and special occasions. It just turns to handwash into a beautiful ritual. Very luxurious, perfect texture and lather and of course, another incredible Aesop scent.

Great

Quite pricey for a handwash but it feels and smells lovely and leaves your hands squeaky clean. Pumice is useful to me as my hands are regularly covered in fountain pen ink or dye stains. Bottle looks minimalist, smart and not at all girly. I don't regret buying it.

Lovely Hand Wash

Overall really like this hand wash! It has a lovely earthly smell and leaves my hands feeling fresh. Would recommend the whole range of Aesop.

Best product

This product was given to me as a gift and I absolutely love it. I will never return to using ordinary hand wash.

Stunning

Love the smell of this and love this for the home! Would also recommend as a wonderful gift option

Smells Amazing

This hand-wash smells so amazing and the smell lingers for hours after. I have been given this as a gift multiple times and I still get so excited every time i receive it! It feels thick and luxurious and cleans hands well.

Leaves hand clean & fresh

I love the smell and feel of my hands after using this hand wash, I thought I would try it as having bars of soap in the bathroom can leave such a mess especially with kids, not only is my bathroom cleaner but my hands feel clean and fresh.

great for the home!

I bought a number of these as gifts for Christmas - it was a well received gift all around. It's a delightfully scented and luxurious hand wash that people love to have for use and display in their homes, but which they are unlikely to purchase for themselves.


Love it!

I love the exfoliating aspect and it's gentle enough for every day!

Expensive, but my favourite

I absolutely adore this hand wash and even my partner commented on it. I have one in the bathroom and one in the kitchen. It smells lovely, a little goes a long way and my hands always feel clean without being left too dry. It's my go-to hand wash.

leaves residue

This is a nice hand wash but feel like it leaves a residue on my skin that I just don't really like the feel of.

So worth the price tag

Originally my partner was so against me spending $40 on hand wash - but after convincing him with the reviews, he caved in.
This hand wash is so devine and luxurious,
We have this scent both in our guest bathroom and ensuite and you can tell straight away when they've used the soap because they always come out saying how beautiful it is (or you can smell the freshness of it on them)
I will continue buying this soap for as long as I can afford it because it is amazing.
You have soft and hydrated hands and your bathroom gets an added touch of luxury with the bottle design. LOVE IT

Perfect for gifting

Beautifully scented hand wash - 'herbal' doesn't do it justice. It is natural, green and lush and has a fantastic texture as well as fragrance. The perfect unisex gift for someone who has everything, I always keep a few bottles for 'emergency' gifting. Subtracted one star for the price, it's meant to be a treat but gosh is it pricey hand soap and I wouldn't use it for my everyday wear and tear.

AESOP REVERENCE AROMATIQUE HAND WASH

The nice smell lingers. Cute packaging. Nothing too oustanding, just a normal overpriced handwash with herbal scent. Would also love to try other scents.

Lovely hand wash

This is a really nice hand wash that doesn't leave my hands feeling too dry but still clean. The scent I really like too, it's not too strong but is quite a nice and relaxing scent

Quality hand wash

a premium product for any guest bathroom, they present so well and are always such a treat for our guests when they come to stay. The scent is delicious and fresh and resonates through the bathroom.

Luxury everyday

LOVE this handwash. Smells divine. Yes it is expensive but it lasts a long time so I don't mind spending the money.

So divine

A really beautiful product. Love having this in my bathroom - scent, texture and ingredients are just divine.

Elevate your bathroom

I purchased three of these for the bathrooms in my house after seeing them everywhere in the display homes I was visiting. The soap itself is quite gentle and does not leave your hands feeling tight or too dry. The scent is absolutely delicious.

Love the scent

I have been using this for years for myself and gifting to people it's always a crowd pleaser and everyone always compliments the scent. Love it

Love the exfoliation

Love the exfoliating properties of this handwash. Smells amazing and leaves my skin so soft.

totally amazing

this is the best hand wash ever.. it does not dries out your skin and a little is enough to wash your hands with. 1 bottle lasts for a long time.

My favourite hand wash

I love this hand wash! Although it's quite expensive it smells amazing and really does clean and exfoliate your hands with the small grains. I keep rebuking this handwash as it smells amazing and leaves your hands smelling great (and clean!)

Love

Great idea for a gift! Aesop has great products

Expensive

This handwash smells really nice. It is expensive but I see it more as a styling piece rather than a practical piece

Great

Love this hand soap! Great scent, small grains inside that gently scrub your hands each time you wash them and leaves them smooth.

Great product, probably not worth the $40

Does a good job and smells lovely but i wouldnt pay $40, makes a nice gift though!

Good hand scrub

I like using this when I feel like my hands need a good scrub. I don't love the reverence scent, but it does make my hands feel very clean

The best

This is the most amazing hand-wash. Now I've used it there is no going back. As it exfoliates, it makes your hands feel extra clean, soft and smooth. And smelling gorgeous.

Great hand wash!

It has a great scent and nice scrub. It just makes me want to wash hands so many times a day!

LOVE LOVE LOVE

Have never had the desire to purchase a product so quickly after trying this.

Absolutely love everything about this hand wash. The gentle scrub, beautiful scent and the way it leaved your hands feeling soft. Will be buying more of this product for gifts in the future.

Loved this handwash

I love this handwash. I was unsure about the granules in it but they are gentle and seem to cleanse hands really well. Very economical and the smell is fresh and lovely. Will buy again to replace other handwashes as they run out.

This lasted for ages!

I would recommend this product - It is soft & gentle -
Lovely to have in the bathroom - It seems to last a long time! A little goes a long way.
Good investment - and an Australian brand.
Can't wait to try more products by Aesop.

Gentle hand scrub

Nice gentle hand scrub that isn't too harsh. The scent of the hand wash is nice and fresh

good

Love this hand soap! Great scent, small grains inside that gently scrub your hands each time you wash them and leaves them smooth.

Good exfoliation

I use this when I want to wash my hands really thoroughly. The exfoliating factor makes your hands feel extra clean and the scent of the hand wash is beautiful

another favourite!

Love the hand washes from aesop. They are all so luxurious and gorgeous smelling. I find this one is also quite gentle but cleanses effectively.

Super soft

Very soft and gentle on the skin with a beautiful scent to match! This has quickly become one of my favorites.

Expensive but worth it

It is a luxe hand wash and you know why you are paying the amount you are! The granules are super gentle and the smell is beautiful! I love the packaging also! Feels & looks expensive! Worth the money!

If you want great smelling hands

If you are looking for a really luxurious hand wash, then look no further. This lathers well, smells great and lasts for a long time. It is quite expensive as hand washes go, however the different notes experienced when using are amazing. I would also recommend the hand balm, however the balm is uber expensive. It makes a great gift if you really want to give luxury.

Love this

This hand wash is so good. Smells amazing and everyone compliments how good it is.

best products

I love the hand lotions and hand washes from Aesop range

My fave ever

Love this Aesop hand wash It smells nice and it looks nice. I particularly like the gritty hand wash as it exfoliates as well.

It is pricey but a little goes a long way (like 6 months or so in our ensuite).

I would recommend.

lovely!

this is so worth the price as it smells soooo nice and looks great in every bathroom!

Smells great, contains SLS

I purchased this handwash after sampling at an AESOP store. The gritty exfoliation and aroma of the handwash is quite nice, but, sadly the product contains sulphates (which dries out the skin on my hands). I wont repurchase, instead, when this runs out I'll just fill it up with a scrub from Lush.

Beautiful scent and packaging

Such a great scent to use to wash your hands and on top of that the bottle looks so beautiful next to the sink, which for me makes it worth the price! There is nothing better than having a beautiful bottle of soap rather than those plastic ugly ones from the supermarket. Plus it is a great handwash which smells lovely.

Worth the price tag

Such a great product, worth the price tag for me! Aesop products are always so high quality and have lovely scents and this isn't any different!

Exfoliation for the hands

I highly recommend this hand wash. The grains in the wash make it feel like you have just exfoliated every time you use it. The smell is divine! Big bottle so it lasts for ages.

It's nice but

But $50 for a hand wash seems pretty steep ????? Wouldn't buy for myself .. luckily I got it as a gift

Love it

The gentle exfoliator leaves my hands feeling lovely and soft. Everyone needs this in there home

High quality exfoliating hand was

If you haven't splashed out yet on an Aesop product, do it now! The lightly exfoliating handwash smells brilliant and natural, and the gentle 'scrub' effect works fine with repeated use daily. Terrific in the bathroom or kitchen.

Be aware this handwash contains exfoliate granules

Wanted to get a aesop handwash as I was missing the very herbal smell of their products.
But did not read the description carefully enough to realise that this one actually exfoliates.
It does make the skin softer, but since I was after the normal handwash so...

love at first wash

I fell in love with this after using it in a cafe bathroom and had to have it. I scoffed at the price tag but I don't use it every time I wash my hands so it's lasted me ages. my hands are prone to eczema and the skin on my knuckles have even been known to crack in the winter time when my hands are super dry. I haven't had this problem since I started on this. I just wash with this either morning or night and use a good hand cream and I have the softest hands I've ever had!

Amazing exfoliating handwash!

I love this handwash because it keeps my hands soft and moisturised while lightly exfoliating them at the same time. I have very dry skin and this is a must have for winter! It lasts a long time and it's really worth the price!

love

I keep this in my laundry because it's really good to use when I'm doing house work and touching a lot of chemical. It helps bring moisture back into my skin!

Good for dermatitis sufferers

This product is one of not many soaps that does not affect my dermatitis skin problems on my hands.
An interesting exfoliant scrub texture in the liquid, yet still soothing for skin.
I would recommend - Smells like a dream - It's a good way to treat yourself and guests in your bathroom!

A beautiful gift

I really love this hand wash its relaxing, elegant and smells amazing. I bought this hand wash as a present for a girlfriend - after receiving it myself as a present and just falling in love with it. Its most defiantly a lovely gift as most of us would not spoil ourselves with this type of hand wash on a regular basis. However after using it you can see why you would purchase it again. You only need a small amount and it is not drying at all. The tiny granules in the hand wash are softly exfoliating and on more mature skin it leaves your hands feeling softer. I am hoping all the hints Ive been dropping I will get the matching moisturiser as a present next.

A little disappointed.

I purchased this hand wash on the strength of the reviews already posted and I have to say its fragrance is no where near as nice as the 'Resurrection' hand wash. I was a little disappointed that I had chosen this one. How ever, I generally love all Aesop products

Most effective hand cleanser!

I love aesop, and usually have a bottle of their "Resurrection" hand wash on my bathroom vanity - but this one is fantastic in the kitchen. It removes all traces of odour and grease from your hands (think garlic, butter etc) all while smelling amazing and leaving hands soft. Invest in this - it lasts AGES!

Best on the market

This product will change your whole hand washing experience. Sounds outlandish but totally true! I put off purchasing Aesop hand wash for years due to the crazy price tag for something you wash straight down the sink but the aroma, texture and quality is better than any other. It is a really enjoyable product to use and I will only be purchasing Aesop Hand soap in the future. I have sensitive, dry skin and have had no irritations or issues with this product.